Pizza Hut
1121 6th Avenue NE

,

Swift Current

,

SK

S9H 4S1
Directions
306-778-4840
Pizza Hut - Details
Opening Hours
Please call 306-778-4840 for opening hours.
Features
Restaurant With Delivery Services
Take-out
Food
Rates
Categories
Pizza Hut - Deals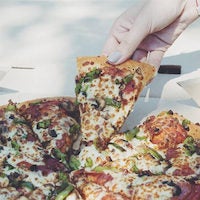 Pizza Hut: Order a Medium or Large Pizza and Get Up to 3 More Medium Pizzas for $5 Each!
Pizza lovers, here's a heads up that Pizza Hut's $5 Bucks, $5 Bucks, $5 Bucks deal is back!
Right now, order a medium or large pizza at regular price and you'll get the second, third and/or fourth medium pizza for just $5 each! All of Pizza Hut's pizza offerings are eligible for this promotion, but note that the second, third and fourth pizzas must be medium pizzas and must be of equal or lesser value as the first pizza.
If you reside in Quebec, you'll instead get a 50% discount on your second, third, or fourth pizza (medium or large).
To apply this discount online, simply place all the pizzas into your shopping cart and head to checkout. The discounts will be applied automatically. As an added bonus, Pizza Hut will also throw in a free $5 online gift voucher.
This offer cannot be combined with any other promotions.
Head on over to PizzaHut.ca to start ordering! Alternatively, click here to find a Pizza Hut near you.
featured businesses for Restaurants around me
Featured businesses for Restaurants around me
Pizza Hut 1121 6th Avenue NE, Swift Current, SK

S9H 4S1

Gigi Pizza 189 Harbord St, Toronto, ON

M5S 1H5


Distance -

2.4 km

Pizza Pizza

Mamma's Pizza 127 Yonge St, Toronto, ON

M5C 1W4


Distance -

0.6 km

Triple Triple Pizza & Chicken 2639 Eglinton Ave W, York, ON

M6M 1T6


Distance -

8.6 km

Oakwood Pizzeria 434 Oakwood Ave, York, ON

M6E 2W5


Distance -

6.3 km

Pizza Pan Pita Grill 1820-1822 St Clair Ave W, Toronto, ON

M6N 1J5


Distance -

6.8 km

Arbia Cafe & Eatery 113 Bond St, Toronto, ON

M5B 1Y2


Distance -

1.1 km

The Stone Pizza 281 Scarborough Rd, Toronto, ON

M4E 3M9


Distance -

8.7 km

Weston Favourites 1986 Weston Rd, York, ON

M9N 1W2


Distance -

12.3 km