Pizza Hut
1121 6th Ave NE

,

Swift Current

,

SK

S9H 4S1
Directions
306-778-4840
Pizza Hut - Details
Located at 1121 6th Ave NE near you, Pizza Hut is a local business inside the restaurants category of Canpages website.
Dial 306-778-4840 to get in contact with Pizza Hut that is located in your neighbourhood. Get the directions to 1121 6th Ave NE from your location. Or, simply add this company to the business favorites list.
Finally, please send this page to your friends by clicking on Facebook or Twitter links. It's also possible to save this business information to your Outlook contacts.
Opening Hours
Please call 306-778-4840 for opening hours.
Categories
Pizza Hut - Deals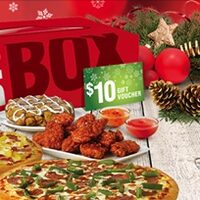 Buy a Pizza Hut Holiday Big Box for $29.99, Get a $10 Voucher + Add Up to 2 Medium Pizzas for $5 Each
This holiday season, get more Pizza Hut for your money with their Holiday Big Box deal.
For $29.99 you'll get two medium two-topping pizzas, 10 boneless bites, a cinnaparts dessert, two dipping sauces, and a $10 Pizza Hut coupon (valid off $25 purchase between January 9-16). Not enough for your holiday feast? You can add up to two more 2-topping medium pizzas for just $5 each!
For more information, or to order, visit PizzaHut.ca. Note: This offer is now live in some provinces, while others will have to wait for November 25.
featured businesses for Restaurants around me
Featured businesses for Restaurants around me
Pizza Hut 1121 6th Ave NE, Swift Current, SK

S9H 4S1

Pizza Nova 2247 Midland Ave, Scarborough, ON

M1P 4R1



Domino's Pizza 980 Portage Ave, Winnipeg, MB

R3G 0R6



Mamma's Pizza

Copper Kettle Restaurant, The 1953 Scarth St, Regina, SK

S4P 2H1



Mamma's Pizza 30 Eglinton Ave W, Mississauga, ON

L5R 3E7



Pizzatown One Number For All Locations NS

Pizza Tonite 699 Wilkins St, London, ON

N6C 5C8



Abruzzo Pizza 9010 Yonge St, Richmond Hill, ON

L4C 6Z8



Pizza Nova 400 Steeles Ave E, Brampton, ON

L6W 3R2



Aa-1 Mani's Pizza & Wings 11-4665 Central Pky E, Mississauga, ON

L4Z 2V5



Palace Pizza & Spaghetti House 727 Davis Dr, Newmarket, ON

L3Y 2R2