Tim Hortons
1320 Kingsway Ave

,

Port Coquitlam

,

BC

V3C 6P4
Directions
604-468-8870
Tim Hortons - Details
Opening Hours
Please call 604-468-8870 for opening hours.
Categories
Tim Hortons - Deals
Tim Hortons: Small Dark Roast Coffee for $1 (September 22 Through September 29)
If you weren't already aware, Tim Hortons has just introduced a new dark roast coffee for those of you who enjoy rich-tasting coffee.
Starting next week, you'll get to enjoy a small cup of this new roast for just $1 plus tax! This offer is great for those who have yet to try this coffee and for those who simply want their morning cup of joe at a great price.
Offer starts September 22 and will run through September 29. This offer is valid at participating restaurants. Only brewed hot dark roast coffee is eligible for this promotion.
Thanks to playnicee1 for posting this in our forums!
Posted:
2014-09-19
| Starts:
2014-09-22
| Expires:
2014-09-30
Deal source:
www.timhortons.com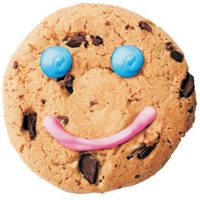 Tim Hortons: $1 Smile Cookies are Back Through September 21!
Treat yourself to a delicious cookie from Tim Horton's and donate to a local charity with their Smile Cookie campaign!
Smile Cookies are back now through September 21st. The $1 you'll pay for your Smile Cookie will be donated to a local charity, so it's a great way to treat yourself and help out out your community. Tim Hortons has compiled a list of local charities in each province so you'll have a general idea of where your money is going. This list can be found via the map here.
These yummy cookies are available in all Tim Hortons locations in Canada.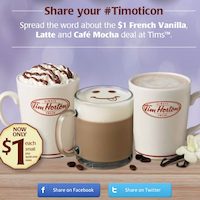 Tim Horton's: $1 French Vanilla, Latte or Cafe Mocha for a Limited Time
The dollar drink deals from Tim Horton's might be over, but they've launched another promotion which we're sure many of you will be happy to see. Right now, you can pick up a French Vanilla, Latte or Cafe Mocha for just a $1 which isn't too bad if you pick one up daily or have wanted to try one. It might not have the same great selection as the last deal but we'll take what we can get -- especially if it saves us a bit on our morning drinks. More details can be found here.
The promotion is live now at participating restaurants. To find the Tim's nearest you, check out the Store Locator here. Enjoy!
featured businesses for Restaurants around me
Featured businesses for Restaurants around me