Shoppers Drug Mart - Bayview & Elgin Mills
10800 Bayview Ave

,

Richmond Hill

,

ON

L4S 0A6
905-770-7050
Shoppers Drug Mart - Bayview & Elgin Mills - Details
Opening Hours
Monday 8:00 am - 12:00 am
Tuesday 8:00 am - 12:00 am
Wednesday 8:00 am - 12:00 am
Thursday 8:00 am - 12:00 am
Friday 8:00 am - 12:00 am
Saturday 8:00 am - 12:00 am
Sunday 8:00 am - 12:00 am

Categories
Shoppers Drug Mart - Bayview & Elgin Mills - Deals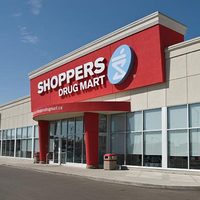 Shoppers Drug Mart Flyer Roundup: 20x the Points on $75 Beauty Purchases, $1.88 Lay's Chips, Herbal Essences Shampoo $2.99 + More!
Shoppers Drug Mart's newest flyer is now up and available for you to check out! Deals go live beginning Saturday, April 15 and run through Friday, April 21. All week long, head in store and spend $75.00 or more on cosmetics and fragrances and you'll get 20x the Optimum bonus points on your purchase!
If you need a few ideas to get your shopping list started, take a look at some of our flyer highlights below:
Saturday, April 15 and Sunday, April 16 Only:
Lindor Mini Eggs - 2 for $6.00
Plush Easter Baskets or 30 Count Filler Eggs - 20% off
Lay's Chips - $1.88
Kraft Peanut Butter - $2.99
Life Brand Acne or Skincare - 30% off
[Food Stores Only] 12 Grade A Large White Eggs - $1.77
[Food Stores Only] Neilson 1L Chocolate Milk - $1.19
Groceries:
Wonder Bread - $1.99
Peek Freans or Mrs. Fields Cookies - $1.99
Twistos Snack Bites - $1.99
No Name Tuna or Knorr Sidekicks - $0.99
Select PC Chips - 2 for $3.00
Household Essentials:
Finish Dishwasher Detergent - 20% off
Lysol Household Cleaning Products - 20% off
No Name or PC Facial Tissues - $0.59
PC Bathroom Tissue - $4.79
Health:
Webber Naturals Vitamins or Natural Health Products - 40% off
Flintstones, One a Day or Redoxon Vitamins - 30% off
Claritin 50's or Aerius 30's Allergy Tablets - $24.99
Life Brand Ibuprofen Caplets or Tablets - 25% off
Personal Care/ Beauty:
Gillette or Old Spice Antiperspirant - $2.99
Select NYX Lip Products - $6.99
Herbal Essences Hair Care Products - $2.99
Gillette or Satin Care Shave Gel - $2.99
Life Brand Sun Care Products - 15% off
Flyer deals will go live on Saturday, April 15 and run through Friday, April 21. Prices and product selection may vary by location, so make sure to check out your local flyer here.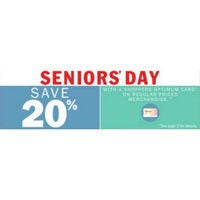 20% Off Your Purchase - Seniors Discount
Seniors over 65 can save 20% off their purchases on Thurs April 20.
Some exclusions apply.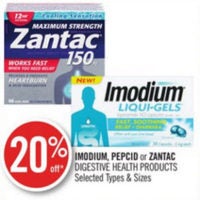 20% Off Imodium, Pepcid or Zantac Digestive Health Products
Selected types.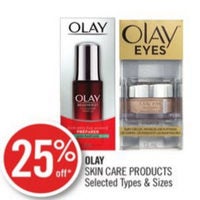 25% Off Olay Skin Care
Selected types.
Sensodyne Toothbrush or Toothpaste - $3.99
Selected types.
featured businesses for Pharmacies around me
Featured businesses for Pharmacies around me
Canadian Compounding Pharmacy 2917 Bloor St W, Etobicoke, ON

M8X 1B4


Distance -

9.8 km

Vitality Compounding Pharmacy 918 Kingston Rd, Toronto, ON

M4E 1S5


Distance -

8.5 km

Hooper's Pharmacy 2136 Queen St E, Toronto, ON

M4E 1E3


Distance -

7.8 km

Peoples Drug Mart 491 Lawrence Ave W, North York, ON

M5M 1C7


Distance -

8.6 km

Glenholme Pharmacy 896 St Clair Ave W, York, ON

M6C 1C5


Distance -

5.2 km

Total Health Pharmacy 997 Gerrard St E, Toronto, ON

M4M 1Z4


Distance -

4.4 km

Pape Drug Mart (Pape Pharmacy Ltd) 751 Pape Ave, Toronto, ON

M4K 3T1


Distance -

4.8 km

Glengrove Pharmacy 2760 Yonge St, Toronto, ON

M4N 2J2


Distance -

7.9 km

Parkside Pharmacy 1640 Bloor St W, Toronto, ON

M6P 1A7


Distance -

5.8 km

Rexall Drug Store 393 Spadina Rd, Toronto, ON

M5P 2W1


Distance -

5.0 km

Snowdon Pharmacy 264 Bloor St W, Toronto, ON

M5S 1V8


Distance -

2.4 km