Tim Hortons
1320 Kingsway Ave

,

Port Coquitlam

,

BC

V3C 6P4
604-468-8870
Tim Hortons - Details
Opening Hours
Monday 11:00 am - 11:00 pm
Tuesday 11:00 am - 11:00 pm
Wednesday 11:00 am - 11:00 pm
Thursday 11:00 am - 11:00 pm
Friday 11:00 am - 11:00 pm
Saturday 11:00 am - 11:00 pm
Sunday 11:00 am - 11:00 pm

Methods of Payment
Visa
MasterCard
Cash
Interac
American Express
Languages Spoken
Features
Take-out
Restaurant With Wifi Internet
Food
Rates
Restaurant Type
Categories
Tim Hortons - Deals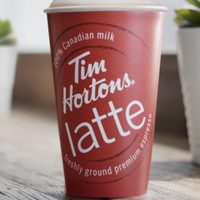 Tim Hortons: Perfectly Uncomplicated Lattes Now Available for $2.99
Tim Hortons wants to simplify the latte and they're hoping you'll be a fan, because they've launched their new Perfectly Uncomplicated Lattes, which are available now for $2.99!
The lattes are available in one size only and made with freshly-ground premium Arabica espresso beans and steamed Canadian milk. To promote the latte before the official launch, they even opened a pop-up cafe in Toronto to serve their new lattes to unsuspecting customers. Feedback was positive and all Tim Hortons locations are now equipped with new espresso machines to serve the drink.
The new lattes are available now at all Tim Hortons restaurants -- click here to find the location nearest you.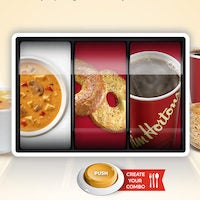 Any Soup, Classic Bagel And Beverage For Only $5.00
Get any soup, classic bagel and beverage for only $5.00 at Tim Horton's. Prices may vary by region and are subject to change without notice. Substitute your medium brewed coffee for a medium tea or bottled water or pop (414mL).
featured businesses for Restaurants around me
Featured businesses for Restaurants around me