Canadian Tire
3550 Johnston Rd

,

Port Alberni

,

BC

V9Y 7W8
250-720-0085
Canadian Tire - Details
Let Our Knowledgeable Licensed Mechanics Service Your Vehicle. Name Brand Parts and A Coast To Coast Warranty At Any Canadian Tire.

Opening Hours
Monday 8:00 am - 8:00 pm
Tuesday 8:00 am - 8:00 pm
Wednesday 8:00 am - 8:00 pm
Thursday 8:00 am - 8:00 pm
Friday 8:00 am - 8:00 pm
Saturday 8:00 am - 7:00 pm
Sunday 9:00 am - 5:00 pm

Products and Services
Accessories And Service
Automotive Parts
Label
Leisure And Home Products
Sports
Methods of Payment
Brands Carried
Blue Planet
Broadstone
Debbie Travis
Jobmate
Motomaster
Noma
Simoniz
Yardworks
Mastercraft
Categories
Canadian Tire - Deals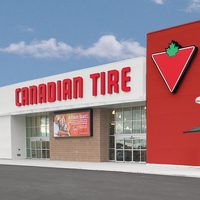 Canadian Tire Flyer Roundup: Master Chef Elite Convertible BBQ $250, Greenworks TwinForce Cordless Lawn Mower $500 + More!
Canadian Tire's latest weekly flyer is now available for viewing on RedFlagDeals! Valid from April 14 through April 20, this week's flyer focuses on the outdoors, with plenty of deals on yard tools, BBQs, bikes, and more.
Before you check out the full flyer, take a look at a few of our highlights below:
Appliances and Kitchen:
Automotive:
Household Essentials & Cleaning:
Home Improvement and Tools:
Yard/Patio:
Outdoor Play:
This flyer is effective from April 14 through April 20 at all Canadian Tire store locations. Certain items are also available via Canadian Tire's Pay & Pick Up tool, where you can pay for your items online and pick them up in-store to avoid line-ups, without any additional charges.
featured businesses for Garden Centres & Nurseries around me
Featured businesses for Garden Centres & Nurseries around me
Central Import Automotive Service Inc 472 King St E, Toronto, ON

M5A 1L7


Distance -

2.3 km

M B Auto Repair 5-85 Nantucket Blvd, Scarborough, ON

M1P 2N7


Distance -

14.8 km

Performance Worx 8C-325 Weston Rd, York, ON

M6N 4Z9


Distance -

7.9 km

Kevin Oneill 3327 Dundas St W, Toronto, ON

M6P 2A6


Distance -

7.9 km

Crown Steering & Brake 1766 Dundas St E, Mississauga, ON

L4X 1L8


Distance -

15.7 km

Jspec Performance 8-3520 McNicoll Ave, Scarborough, ON

M1V 4C5


Distance -

22.3 km

Vince's Auto 9 Connie St, North York, ON

M6L 2H8


Distance -

10.8 km

AML Auto Service 126 Laird Dr, East York, ON

M4G 3V3


Distance -

6.8 km

Deer Park Auto Service 40 Coulson Ave, Toronto, ON

M4V 1Y5


Distance -

5.2 km