Scotiabank - Details
Day-To-Day Banking, Mortgages, Mutual Funds, GICs, RSPS, RESPs, line of credit, credit cards, Financial Planning, Loans, Self Managed Brokerage, Full Service Brokerage, Estate and Trust Services

Opening Hours
Please call us for details.
Scotiabank - Deals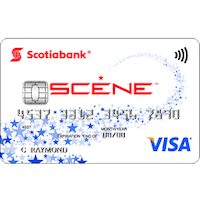 Scotiabank SCENE VISA Card: 2,000 Bonus SCENE Points, No Annual Fee
Here at RedFlagDeals.com, we talk regularly about credit cards and which provide the best value. A lot of the that conversation focuses on up market credit cards, but there are definitely other cards worth talking about. The Scotiabank SCENE VISA Card is a good example. It has rewards that a lot of people can make good use of, no annual fee, and modest requirements. We'd say it's a strong choice for someone's first credit card. Here's a closer look at the features:
2,000 bonus SCENE points
No annual fee
19.99% interest rate on purchases, 21.99% interest rate on cash advances, balance transfers
Earn one SCENE point for every dollar you spend
Earn five SCENE points for every dollar you spend at participating Cineplex Entertainment theatre or online at cineplex.com
Redeem points for free movies at Cineplex Entertainment theatres, music and other entertainment rewards
20% AVIS rental card discount
Up front, you get 2000 SCENE points after your first purchase -- that's 2 free movies (the equivalent of about $20). At the start of the application process, you can link it to your existing SCENE account, or create a new one.
Most other "entry level" credit cards don't have much in the way of bonuses to begin with. The Scotiabank SCENE VISA is definitely worth a look if you are student or looking for a basic credit card.
Click here for more information or to apply.
featured businesses for Banks around me
Featured businesses for Banks around me
Scotiabank
Bank of Nova Scotia - Scotia Plaza - Commercial Account Management 2nd Mezzanine, 2nd Mezzanine, Toronto, ON

Bank of Nova Scotia - Queen & Wineva 2080 Queen St. East At, Wineva, Toronto, ON

Bank of Nova Scotia - Eglinton & Bathurst 859 Eglinton Avenue W. At Bathurst, Toronto, ON

Bank of Nova Scotia - Scotia Plaza - Foreign Exchange Atrium, Atrium, Toronto, ON

Bank of Nova Scotia - Scotia Plaza - Customer Support Processing 1st Mezzanine East, 1st Mezzanine East, Toronto, ON

Bank of Nova Scotia - Scotia Plaza 1st Mezzanine, 1st Mezzanine, Toronto, ON

Bank of Nova Scotia - Scotia Plaza - Investor Services Centre Atrium, Atrium, Toronto, ON

Bank of Nova Scotia - Bloor & Yonge 19 Bloor Street West At, Yonge, Toronto, ON

Bank of Nova Scotia - Ontario International Trade Services 44 King St W, Toronto, ON

M5H 1H1



Bank of Nova Scotia - Dealer Lease Administration Centre 195 The West Mall, 195 The West Mall, Suite 201, Toronto, ON

Bank of Nova Scotia - East York Town Centre 2-45 Overlea Blvd, Toronto, ON

M4H 1C3