Toys R Us - Details
Opening Hours
Please call 819-820-8697 for opening hours.
Categories
Toys R Us - Deals
22" MIckey or Minnie Plush - With $50.00+ Purchase - $10.00
Excludes diapers, food, formula, gift cards, Apple items, prepaid cards, buyer protection, and this item.
7" 3 in 1 Emergency Vehicles - $14.97 (25% off)
7" 3 in 1 Emergency Vehicles - $14.97 (25% off)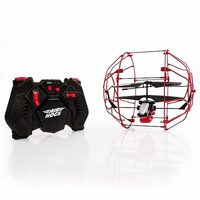 Air Hogs RC - Rollercopter - $44.97 ($10.00 off)
Obstacles - and gravity - are no barrier for the ground-to-air RC Air Hogs Rollercopter! With its exterior cage you can roll across the ground, up walls, across the ceiling and even fly through the air. The Air Hogs Rollercopter is both a ground RC and flight RC vehicle all-in-one machine, allowing you to roll anywhere!
Air Hogs RC - Zero Gravity Laser Racer - $34.97 ($10.00 off)
The Zero Gravity Laser Racer features award-winning, patented Wall Climber Technology that allows the car to defy the laws of gravity! Drive along the floor, up the walls and even upside down! Its 5 directional control and infrared sensors allow the Zero Gravity Laser Racer to chase a beam of light in whatever direction you want. Turn off the lights for maximum effect and watch the LED lights change colour as you race along the wall.
All $14.99 Babies R Us and Koala Baby 2 Pack Sleepers and 4 Pack Bodysuits - $11.17 (25% off)
All $14.99 Babies R Us and Koala Baby 2 Pack Sleepers and 4 Pack Bodysuits - $11.17 (25% off)
featured businesses for Video Games - Retail around me
Featured businesses for Video Games - Retail around me