Toys R Us
3050 boul de Portland

,

Sherbrooke

,

QC

J1L 1K1
See all locations
819-820-8697
Toys R Us - Details
Opening Hours
Monday 9:30 am - 5:30 pm
Tuesday 9:30 am - 5:30 pm
Wednesday 9:30 am - 5:30 pm
Thursday 9:30 am - 9:00 pm
Friday 9:30 am - 9:00 pm
Saturday 9:00 am - 5:00 pm
Sunday 10:00 am - 5:00 pm

Methods of Payment
American Express
Cash
Gift Certificate
Interac
MasterCard
Visa
Categories
Toys R Us - Deals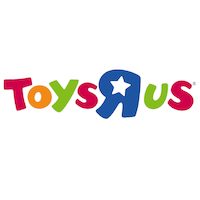 Toys R Us Flyer Roundup: Playmobil Water Park Play Area $36, Scrabble Classic $15, Diddy Kong Plush $11 + More
The latest Toys R Us flyer is here and you can see it right now on RedFlagDeals!
At four pages, this flyer is shorter than Kevin Hart, but there are plenty of deals to be found, including 1/2 price deals that are only effective between July 22 and 24! There is currently a wasp frolicking about in the office, so while our staff become insect hunters, our editors built a wasp-proof shield before rounding up this flyer.
Take a peek below to see some of the offers available.
July 22 to 24 Only
Board Games
Building Sets
Dolls and Action Figures
Outdoors
Play Sets
This flyer is effective until July 31 online and in Toys R Us stores. ToysRUs.ca offers free shipping on orders over $49.00, along with a free in-store pickup option with no minimum order.
10" Bolt Bike With Parent Handle And Canopy - $97.97 (30% off)
This bicycle is perfect for teaching your child how to ride a bike. With the parent handle there for support you are able to help build balance and confidence for your new rider. Also comes with a canopy to help protect from the sun on those hot summer days.
3-in-1 Spin Trike Bike - $199.97
The RollPlay Spin Trike is a 3-in-1 trike that easily converts from a stroller to trike. The stroller seat spins to face forward or backward, and the seat reclines for comfort. Remove the seat and turn the stroller into a push trike to push your toddler around.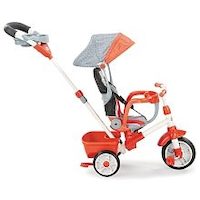 5-In-1 Deluxe Ride & Relax Recliner Trike - $129.97 ($40.00 off)
The new 5-in-1 Deluxe Ride & Relax Recliner Trike is not only a perfect fit for your child it's a "perfect fit" for parents too! The three-position reclining seat and stylish soft seat cover are great for a comfortable stroll, while the 5-mode trike features make it ready when your child wants to go, go, go! From parents pushing, to toddlers learning to pedal, to them starting to steer, and then going on their own, this trike keeps pace with your active, growing child. Stage 1-Recline (9+ months) Parents have 3 positions to recline their tired tikes for a safe, comfortable ride. Stage 2-Stroll (9+ months) Parents to push and control-When the foot platform is installed, the child will be unable to reach the pedals. Stage 3-Pedal (18+ months) Toddlers can learn how to pedal, child is unable to turn the wheel Stage 4-Learn (24+ months) Remove the waist bar, child can now steer while parent still has control with the push bar. Stage 5-Trike (30+ months) Remove the push bar to let kids go on their own with parent supervision.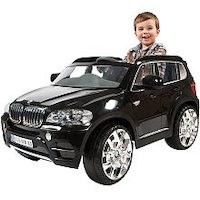 6V BMW X5 - $249.97 ($50.00 off)
Take a spin in luxury with the Rollplay 6V BMW X5! This 6V ride-on features 2 opening doors, LED headlights, chrome wheels, rubber traction strips, and more! Cruise around with poise, ease, and elegance in this easy to assemble ride-on!
featured businesses for Video Games - Retail around me
Featured businesses for Video Games - Retail around me
Toys R Us 3050 boul de Portland, Sherbrooke, QC

J1L 1K1