Toys R Us - Details
Opening Hours
Please call 819-820-8697 for opening hours.
Categories
Toys R Us - Deals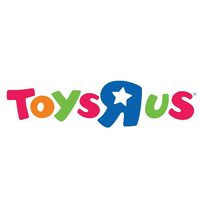 Toys R Us 1/2 Price Event: Imaginarium Magnetic Drawing Board $8, Super Soaker 2-Pack $10, Disney Frozen Playville $40 + More!
Toys R Us is having a 1/2 Price Event this week! If you need to shop for a new toy, here's your chance to save 50% on Frozen, Transformers, Monster High, Super Soaker toys and more.
Here are some of our picks:
Prices online already reflect any applicable discount. Most items online will be eligible for free shipping when you shop over $49. However, larger items, such as the Step 2 Crabbie Sandbox or the Avigo Bike will be exempt from this offer. Items are also available for free in-store pick up.
This 1/2 Price Event is live now and will expire at the end of the day on May 28.
Check out more great deals in their flyer or online at ToysRUs.com.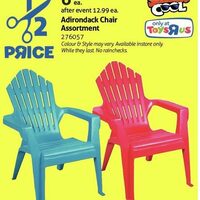 Adirondack Chair Assortment - $6.47 (50% off)
Colour & style may vary.
Air Hogs RC Rollercopter - $27.47 (50% off)
Obstacles - and gravity - are no barrier for the ground-to-air RC Air Hogs Rollercopter! With its exterior cage you can roll across the ground, up walls, across the ceiling and even fly through the air. The Air Hogs Rollercopter is both a ground RC and flight RC vehicle all-in-one machine, allowing you to roll anywhere!
Animal Planet - Mega Dino Park Playset - $19.97 (50% off)
From Apatosaurus to Stegosaurus, rule your own prehistoric habitat with the Animal Planet Mega Dino Park Playset, exclusively from Toys'R'Us. This set is jam-packed with a cool range of figures and landscape pieces, so you can build a mighty dinosaur sanctuary. It even includes an all-terrain vehicle for touring the grounds and taking exciting expeditions!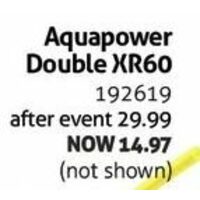 Aquapower Double XR60 - $14.97 (50% off)
Aquapower Double XR60 - $14.97 (50% off)
featured businesses for Video Games - Retail around me
Featured businesses for Video Games - Retail around me