Subway St-Laurent
9720, boul Saint-Laurent

,

Montréal

,

QC

H3L 2N3
Directions
514-858-5222
Subway St-Laurent - Details
Situated at 9720, boul Saint-Laurent in Montréal, Québec, Subway St-Laurent is an enterprise within the restaurants section of Canpages.ca online directory.
Phone 514-858-5222 to do business with Subway St-Laurent that is near your area. Find the directions to this company from your current location. Or, simply add this enterprise to your business favorites at the bottom of this page.
Finally, please share this info with your contacts by using Facebook or Twitter icons. It's also possible to save this merchant information to your Outlook contacts.
Opening Hours
Please call 514-858-5222 for opening hours.
Categories
Subway St-Laurent - Deals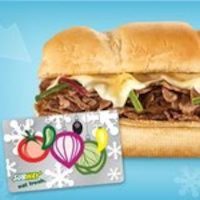 Subway Restaurants Give This Get That: Load a Gift Card w/$25+, Get a Free 6" Sub This Holiday
The best gifts are the ones that come from the heart, or the ones that come with a free sandwich. This holiday season at Subway Restaurants, you'll get a free 6" Subway sandwich when you purchase or reload a $25 gift card.
You'll instantly receive any regular 6" sub for free when you load or reload a Subway Card with a minimum of $25 in store. Free sandwiches are limited to one per gift-card purchase (even if you are buying more than one gift card). Gift cards are not valid for the purchase of another gift card, just in case you were looking for a loophole of un-ending free sandwich offers! Double meat, extra cheese, or bacon will be an additional charge.
For more information visit your local Subway restaurant or Subway.ca.
Posted:
2013-12-03
| Expires:
2014-01-01
Deal source:
www.subway.ca
Subway: $5 Footlongs Are Back (At Participating Restaurants)
The $5 Footlong promotion is back at Subway! This means you can get a footlong cold cut combo, veggie delite, ham, egg salad, pizza sub or egg and cheese sandwich for just $5.
There's additional confirmation that the offer is available in Canada on Subway's Canadian homepage, but keep in mind that participation may vary so confirm that your local Subway is taking part in the promotion before ordering.
featured businesses for Restaurants around me
Featured businesses for Restaurants around me
Subway St-Laurent 9720, boul Saint-Laurent, Montréal, QC

H3L 2N3

Red Lobster 790 Burnhamthorpe Rd W, ,

Bardi's Steak House 56 York St, Toronto, ON

M5J 1S8



Bairrada Churrasqueira Grill 1002 College St, Toronto, ON

M6H 1A7



Muddy Duck Restaurant 2200 Dundas St E, Mississauga, ON

L4X 2V3



Wise Guys 2301 Danforth Ave, , ON

M4C 1K5



El Trompo Taco Bar & Cactus Grill 277 Augusta Ave, Toronto, ON

M5T 2M1



Churrasco Of St Clair - The Best Chicken In The City 679 St Clair Ave W, Toronto, ON

M6C 1A7



The Keg Steakhouse & Bar

BPC Best Portuguese Chicken 942 The Queensway, Etobicoke, ON

M8Z 1P4



The Keg Steakhouse & Bar

Paisano's Italian Garden Cafe 116 Willowdale Ave, Toronto, ON

M2N 4X9