McDonald's Restaurants
213, ch d'Aylmer

,

Gatineau

,

QC

J9H 1A3
Directions
819-684-4556
McDonald's Restaurants - Details
Opening Hours
Please call us for details.
Categories
McDonald's Restaurants - Deals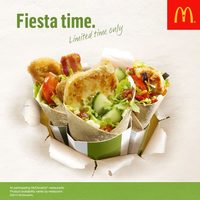 McDonald's Signature McWraps are 50% Off, May 22-25
Try one of McDonald's new Signature McWraps between May 22-25 and you'll save 50% off the regular price!
At time of posting, there is not an "official" link to this offer via the McDonald's Canada website, but RedFlagDeals.com members have reported seeing this deal advertised in McDonald's restaurants in BC and Ontario. You can check out the Hot Deals forum thread here for more information.
The Signature McWrap is available in Chicken and Bacon, Sweet Chili, or Fiesta flavours with your choice of grilled or crispy chicken. Thanks to forum poster Catman86 for the heads up!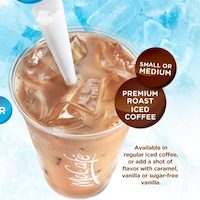 McDonald's Drink Days Are Back! Any Size Soft Drink or Small/Medium Iced Coffee for $1 (Starts 4/30)
April 19 Update: Just a heads up, the promotion doesn't start until April 30. Sorry for any confusion!
It's back! The popular Dollar Drink Days at McDonald's is back again for the summer which means you can indulge in any sized soft drinks or small or medium iced coffees for just $1. This is a sweet deal for those of you who want to switch up your normal coffee routine or just prefer to get a refreshing soft drink at lunch without having to spend too much out of pocket.
That's all there is to it but more details can be found here.
Usually the promotion runs until September, or late August, so enjoy it while you can!
Posted:
2013-04-30
| Starts:
2013-04-30
| Expires:
2013-09-02
Deal source:
www.mcdonalds.ca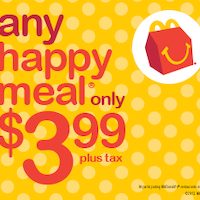 McDonald's Restaurants: All Happy Meals Now $3.99+ Tax
Parents, now you can treat your kids to a McDonald's Happy Meal for less at participating restaurants across Canada! The ever-popular McDonald's Happy Meal is now available for $3.99.
Meal options include:
4-Piece Chicken McNuggets
Chicken Snack Wrap
Cheeseburger
Hamburger
Grilled Cheese
Happy Meals also come with choice of small fries, mini-size fries, or apple slices with caramel dip as well as yogurt, a child-size drink, and a toy.
While some McDonald's locations have been offering the reduced $3.99 price off and on for awhile, it's nice to see that it has now become standardized. For more information on Happy Meals, including their nutritional content, visit McDonalds.ca.
McDonald's McCafe Monday: Any Small Hot McCafe Speciality Coffee for $1
If you've heard a lot about the new McCafe speciality drinks but haven't had an opportunity to try them just yet, McDonald's is here with a Monday promotion to help you. Starting now, you can get any small hot McCafe speciality drink, excluding hot chocolate, for just $1. Normally, you're looking to pay a few dollars, at the very least, for a small so here's your chance to try something new without straying too far from your allotted coffee budget. Some of the drinks include:
Mocha
Latte
Cappuccino
Espresso
Premium Tea
Premium Roast Brewed Coffee
The deal is live now and, the great news is, there's no expiry date! The longer you wait, though, the longer you'll be missing out on these new drinks.
McDonald's $1.39 Value Picks Menu
McDonald's $1.39 Value Picks Menu
is the lowest priced of the major fast food chains but also has some of the best variety thanks to both breakfast and after breakfast items. In the morning you can get the following for $1.39 each:
Muffin and Coffee
Sausage McMuffin
Sausage Buttermilk Biscuit
After breakfast it's over to their all-day Value Picks Menu which includes the following:
Junior Chicken
McDouble
Bacon Cheeseburger
Small Fries
2 Apple Pies
Coffee and Muffin
Vanilla Cone
Small Soft Drink
The Value Picks Menu should be available at all stores though the pricing may vary depending on location.
featured businesses for Restaurants around me
Featured businesses for Restaurants around me
McDonald's Restaurants 213, ch d'Aylmer, Gatineau, QC

J9H 1A3

Bardi's Steak House 56 York St, Toronto, ON

M5J 1S8



Muddy Duck Restaurant 2200 Dundas St E, Mississauga, ON

L4X 2V3



Churrasco Of St Clair - The Best Chicken In The City 679 St Clair Ave W, Toronto, ON

M6C 1A7



El Trompo Taco Bar & Cactus Grill 277 Augusta Ave, Toronto, ON

M5T 2M1



KI Restaurant & Lounge 181 Bay St, Toronto, ON

M5J 2T3



Chartreuse Restaurant 10512 Islington Ave, Kleinburg, ON

L0J 1C0



The Keg Steakhouse & Bar

Rossini Restaurant ON

Golden Wok Restaurant 120 Eringate Dr, Etobicoke, ON

M9C 3Z8



Yumei Sushi 2116 Queen St E, Toronto, ON

M4E 1E2



KI Restaurant & Lounge ON