Costco Wholesale
9430, boul Taschereau

,

Brossard

,

QC

J4X 2W2
Directions
450-444-4466
Costco Wholesale - Details
Opening Hours
Please call us for details.
Categories
Costco Wholesale - Deals
Costco Photo Centre: 4"x6" Prints for $0.08 Each (Ends 5/26)
Here's a pretty good deal for those of you looking to get some digital prints into hard copy. Right now, you can get 4x6 prints at Costco for just $0.08 each which isn't too bad considering there are no minimums or maximums required. Average cost per print is around $0.30 so now would be a great time to get some pictures printed for family and friends. If you have a backlog of vacation or family photos that you need to distribute, now would be the time to start searching your hard drives for pictures.
Photos can be submitted online or in-store at participating Costco locations.
The deal is live now but only until May 26. We expect this to be a very popular promotion so you'll want to submit your photos ASAP.
Posted:
2013-05-15
| Expires:
2013-05-27
Deal source:
www.costco.ca
Scotts Turf Builder Lawn Fertilizer - $10.00 off
Scotts Turf Builder Lawn Fertilizer (19.8 Kg) - $10.00 off
Folgers Ground Coffee - $7.99 ($3.00 off)
Folgers Ground Coffee (1.36 kg) - $7.99 ($3.00 off)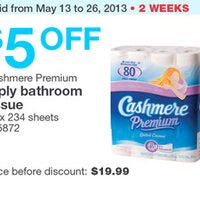 Cashmere Premium 2-Ply Bathroom Tissue - $14.99 ($5.00 off)
Cashmere Premium 2-Ply Bathroom Tissue (40 x 234 sheets) - $14.99 ($5.00 off)
Danone Danactive - $10.99 ($3.00 off)
Danone Danactive (24 x 93 mL) - $10.99 ($3.00 off)
featured businesses for Opticians - Glasses, Frames & Contact Lenses around me
Featured businesses for Opticians - Glasses, Frames & Contact Lenses around me
Costco Wholesale 9430, boul Taschereau, Brossard, QC

J4X 2W2

Thomson Groceries Limited 20 Wagstaff Dr, Toronto, ON

M4L 3W9



Worldwide Food Distribution 130 Fernstaff Crt, Concord, ON

L4K 3L8



Raj Grocers 114 Norfinch Dr, North York, ON

M3N 1X1



Aurora Importing & Distributing Ltd 815 Gana Crt, Mississauga, ON

L5S 1P2



Peter The Chef Fine Food Ltd 1941 Albion Rd, Etobicoke, ON

M9W 5S8



Can-Roxy Trading Inc 10-55 Ironside Cres, Toronto, ON

M1X 1N3



MVR Cash & Carry 3655 Weston Rd, North York, ON

M9L 1V8



Costco Wholesale 100 Billy Bishop Way, Toronto, ON

M3K 2C8



FKK Wholesale Cash & Carry Inc 920 Caledonia Rd, North York, ON

M6B 3Y1



Costco Wholesale 1411 Warden Ave, Scarborough, ON

M1R 2S3



Costco Wholesale 50 Queen Elizabeth Blvd, Etobicoke, ON

M8Z 1M1