Home Depot - Details
Opening Hours
Monday 8:00 am - 9:00 pm
Tuesday 8:00 am - 9:00 pm
Wednesday 8:00 am - 9:00 pm
Thursday 8:00 am - 9:00 pm
Friday 8:00 am - 9:00 pm
Saturday 8:00 am - 5:00 pm
Sunday 8:00 am - 5:00 pm

Products and Services
Categories
Home Depot - Deals
Amber Hickory Handscraped Laminate Flooring - $1.57/Sq.Ft.
This European made laminate flooring has an E1 HDF core for healthier homes and is Greenguard air quality certified. The wood used in the core of the product is harvested from PEFC certified forests. The product is 12mm thick has an AC4 melamine wear layer impregnated with Aluminum Oxide for added resistance against wear.Offers Kaindl's 35 year residential / 5 year triple warranty against staining, fade and wear. This Product Contains 16.53 Sq.Ft./Case.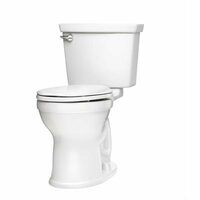 American Standard Champion 4 Max HET Complete Two Piece 1.27 Gal. Round Bowl Toilet - $259.00
Champion 4 Max Round Front High Efficiency Toilet produces a faster, more powerful flush that can move a 70% larger mass than the industry norm to virtually eliminate clogging. The space-saving, round-front design's 16-½" rim height enhances ease of use. And its Ever Clean® surface stays cleaner, longer.
American Standard Fairbury Single Handle Pull Down Sprayer Kitchen Faucet - $152.00
The sophisticated design of the American Standard Fairbury Single-Handle Pull-Down Sprayer Kitchen Faucet in stainless steel finish works well with many home decors. The faucet features a pull-down spray wand that enables you to reach every corner of your sink. It has a spout that swivels to make dish duty quick and easy.
Posted:
2015-10-01
| Starts:
2015-10-01
| Expires:
2015-10-08
Deal source:
www.tkqlhce.com
American Standard Mainstream Complete Two Piece 1.59 Gal. Two Piece Elongated Toilet - $119.00
The Mainstream Complete toilet includes a standard height elongated bowl, with a 6L lined tank, toilet seat and a wax ring. Qualifies for some municipal Rebates, check your municipality for details.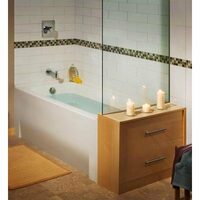 American Standard Minimalist Left Hand Acrylic Tub - $345.00
Minimalist, unobtrusive décor lines enhance the simple and clean Spa like look providing a peaceful and tranquil bathing environment.
Posted:
2015-10-01
| Starts:
2015-10-01
| Expires:
2015-10-08
Deal source:
www.jdoqocy.com
featured businesses for Furniture - Retail around me
Featured businesses for Furniture - Retail around me
Home Depot 2400 boul du Faubourg, Boisbriand, QC

J7H 1S3

Pat's Home Hardware 257 Coxwell Ave, Toronto, ON

M4L 3B5


Distance -

6.0 km

St Lawrence Hardware 130 Lower Sherbourne St, Toronto, ON

M5A 4J4


Distance -

1.4 km

Peppermills 2098 Yonge St, Toronto, ON

M4S 2A3


Distance -

6.1 km

Beach Hardware 2215 Queen St E, Toronto, ON

M4E 1E8


Distance -

7.6 km