Tim Hortons
566 Norwich Ave

,

Woodstock

,

ON

N4V 1C6
Directions
519-539-0079
Tim Hortons - Details
Opening Hours
Please call 519-539-0079 for opening hours.
Categories
Tim Hortons - Deals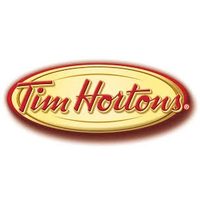 Tim Hortons: Free Dark Chocolate Dream Latte After 2 PM With Coupon
Fan of the Dark Chocolate Dream Latte from Tim Hortons? For a limited time only, they're offering a coupon that will allow you to enjoy one for free after 2 PM at participating Tim Hortons locations.
To redeem your coupon, you'll need to head over here and fill in the form at the bottom of the page. Once you do so, the coupon will be emailed to you shortly after, but don't be surprised if it takes up to 24 hours for the coupon to arrive.
Each individual is limited to just one coupon and the coupon is valid for one use.
Click here to use their store locator and find a Tim Hortons location near you.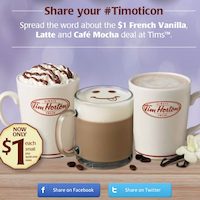 Tim Horton's: $1 French Vanilla, Latte or Cafe Mocha for a Limited Time
The dollar drink deals from Tim Horton's might be over, but they've launched another promotion which we're sure many of you will be happy to see. Right now, you can pick up a French Vanilla, Latte or Cafe Mocha for just a $1 which isn't too bad if you pick one up daily or have wanted to try one. It might not have the same great selection as the last deal but we'll take what we can get -- especially if it saves us a bit on our morning drinks. More details can be found here.
The promotion is live now at participating restaurants. To find the Tim's nearest you, check out the Store Locator here. Enjoy!
featured businesses for Restaurants around me
Featured businesses for Restaurants around me
Tim Hortons 566 Norwich Ave, Woodstock, ON

N4V 1C6

Cups Cafe 35-35 St Joseph St, Toronto, ON

M4Y 1J8


Distance -

1.9 km

Faema Cafe 672 Dupont St, Toronto, ON

M6G 1Z6


Distance -

3.9 km

Mezzetta Restaurant & Tapas Bar 681 St Clair Ave W, Toronto, ON

M6C 1A7


Distance -

4.9 km

Carole's Cheesecake Cafe Yorkv 114 Cumberland St, Toronto, ON

M5R 1A6


Distance -

2.5 km