Pizza Pizza
1 Market Place

,

Stratford

,

ON

N5A 1A4
See all locations
519-273-1111
Pizza Pizza - Details
Call, click or come in!

Opening Hours
Monday 11:00 am - 2:00 am
Tuesday 11:00 am - 2:00 am
Wednesday 11:00 am - 2:00 am
Thursday 11:00 am - 2:00 am
Friday 11:00 am - 3:00 am
Saturday 11:00 am - 3:00 am
Sunday 11:00 am - 2:00 am

Products and Services
Methods of Payment
Interac
Cash
MasterCard
Visa
Brands Carried
Cuisine Type
Features
Restaurant With Delivery Services
Take-out
Food
Rates
Categories
Pizza Pizza - Deals
Pizza Pizza: Get a 10" Pepperoni Half-Smile Pizza for $2.00
A delicious lunch is only $2.00 away, as Pizza Pizza is holding their semi-annual Slices for Smiles fundraiser, which means you can get a 10" cheesy pepperoni half-smile pizza slice for $2.00!
The pizza slice is a 10" semi-circle with pepperoni placed along the crust to form a smile. Not only is it delicious, but your purchase also goes towards a good cause, as the fundraiser aims to raise more than $400,000.00 for the Children's Miracle Network and its eight-member children's hospitals across the country!
This offer is available at all participating Pizza Pizza locations until November 20, so get yours before they're gone! Click here to find the location nearest you.
Posted:
2016-10-25
| Starts:
2016-10-17
| Expires:
2016-11-21
Deal source:
www.pizzapizza.ca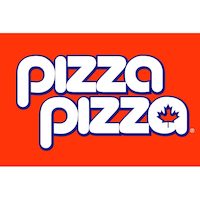 Pizza Pizza Loyalty Program: Get 10% Back On Every Purchase
Pizza Pizza has just launched a loyalty program called Club 11-11, and if you're a regular pizza-eater, it's worth checking out! Here's how it works -- you'll collect 10% on every walk-in or pick-up transaction and every eleventh purchase, you can cash out your "Earned Dough" on a purchase.
There's one catch to the program -- you have to have a Pizza Pizza gift card in order to register. That gift card will be tied to your account and accumulate your cash back, although when you're making purchases you can use any form of payment.
To find the Pizza Pizza nearest you, use this page.
featured businesses for Restaurants around me
Featured businesses for Restaurants around me
Pizza Pizza 1 Market Place, Stratford, ON

N5A 1A4

Mamma's Pizza 127 Yonge St, Toronto, ON

M5C 1W4


Distance -

0.6 km

Pizza Pizza 170N Front St, Belleville, ON

K8N 2Y7


Distance -

170.2 km

Gigi Pizza 189 Harbord St, Toronto, ON

M5S 1H5


Distance -

2.4 km

Triple Triple Pizza & Chicken 2639 Eglinton Ave W, York, ON

M6M 1T6


Distance -

8.6 km

Oakwood Pizzeria 434 Oakwood Ave, York, ON

M6E 2W5


Distance -

6.3 km

Pizza Pan Pita Grill 1820-1822 St Clair Ave W, Toronto, ON

M6N 1J5


Distance -

6.8 km

Pizza Thick & The Ice Cream Bake Shop 536 Queen St W, Toronto, ON

M5V 2B5


Distance -

1.4 km

Pizza Thick & The Ice Cream Bake Shop 1026 Queen St E, Toronto, ON

M4M 1K4


Distance -

4.0 km

The Stone Pizza 281 Scarborough Rd, Toronto, ON

M4E 3M9


Distance -

8.7 km