Pizza Pizza
1 Market Place

,

Stratford

,

ON

N5A 1A4
Directions
519-273-1111
Pizza Pizza - Details
Call, Click Or Come In!

Opening Hours
Please call 519-273-1111 for opening hours.
Categories
Pizza Pizza - Deals
Pizza Pizza Date Night Deal: Medium Pizza, Two Toppings + 2 for 1 Cineplex Movie Admission $10.99
Here's a nice deal Date Night Deal from Pizza Pizza -- but don't worry, no actual dating is required. Right now you can get a medium pizza with two toppings plus a voucher for two-for-one admission to Cineplex Movie Theatres for just $10.99.
With movie tickets running easily $10 each, this deal works out really well if you've been planning to head to the movies with the a friend -- basically, you're getting the pizza for free! If you have a larger appetite, you can grab the Twin Medium deal -- it's two medium pizzas with a total of four toppings, four cans of soda and the same voucher for two-for-one CIneplex admission for $17.99. Or you can get Dinner & a Movie -- one pizza of any size (small, medium or large), three toppings and three cans of soda plus the movie voucher for $14.99.
Pizza Pizza: Order Any Pizza Over $9.99 and Get 10 Wings for $5 + Free $5 Gas Card at Petro Canada
The limited time restaurant deals continue with this one coming courtesy of Pizza Pizza. Right now, when you order a pizza over $9.99, you can get either 10 crispy chicken wings or 10 boneless chicken bites plus a free $5 gas card from Petro Canada. If you were looking for a lunch or dinner alternative this is one to keep in mind. All in, it's not a bad deal if you ask us!
We're not sure when the deal will end so you'll want to get a move on if you want to take advantage of the promotion.
To find the Pizza Pizza nearest you, check out the store locator here.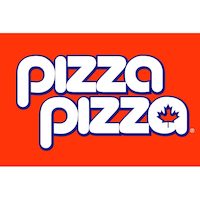 Pizza Pizza Loyalty Program: Get 10% Back On Every Purchase
Pizza Pizza has just launched a loyalty program called Club 11-11, and if you're a regular pizza-eater, it's worth checking out! Here's how it works -- you'll collect 10% on every walk-in or pick-up transaction and every eleventh purchase, you can cash out your "Earned Dough" on a purchase.
There's one catch to the program -- you have to have a Pizza Pizza gift card in order to register. That gift card will be tied to your account and accumulate your cash back, although when you're making purchases you can use any form of payment.
To find the Pizza Pizza nearest you, use this page.
featured businesses for Restaurants around me
Featured businesses for Restaurants around me
Pizza Pizza 1 Market Place, Stratford, ON

N5A 1A4

Pizza Nova 18025 Yonge St, Newmarket, ON

L3Y 8C9



Pizza Pizza 300 Harwood Ave S, Ajax, ON

L1S 2J1



Naples Pizza 17915 Leslie St, Newmarket, ON

L3Y 3E3



Little Caesars 17730 Leslie Street, Newmarket, ON

L3Y 3E4



Pizza Pizza 5-16640 Yonge St, Newmarket, ON

L3X 2N8



Al Forno Pizza 161 Davis Dr, Newmarket, ON

L3Y 2N3



Pizza 77 19181 Centre St, Mount Albert, ON

L0G 1M0



Pizza Pizza 14846 Yonge St, Toronto, ON

Pizza Nova BC

Lemars Pizza 95 Holland St W, Bradford West Gwillimbury, ON

L3Z 2A4



Pizza Nova 478 Holland St W, Bradford, ON

L3Z 0A2