E B Games
311 Geneva St

,

St Catharines

,

ON

L2N 2G1
905-937-8325
E B Games - Details
Opening Hours
Please call 905-937-8325 for opening hours.
Categories
E B Games - Deals
Force FX Lightsabers - $149.99 ($50.00 off)
Force FX Lightsabers - $149.99 ($50.00 off)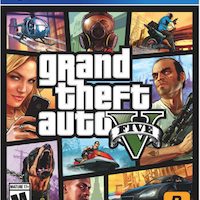 Grand Theft Auto V for PS4/Xbox One - $29.99 ($40.00 off)
Explore the stunning world of Los Santos and Blaine County in the ultimate Grand Theft Auto V experience, featuring a range of technical upgrades and enhancements for new and returning players. In addition to increased draw distances and higher resolution, players can expect a range of additions and improvements including:
Pokemon Trading Card Game Sun & Moon Theme Decks - $19.99
Welcome to the tropical Alola region! Choose your first partner Rowlet, Litten, or Popplio and begin your journey with three 60-card theme decks, each ready to play right out of the box. Take aim with the Forest Shadow theme deck, add fuel to the fire with the Roaring Heat theme deck, or overwhelm your foe with the Bright Tide theme deck.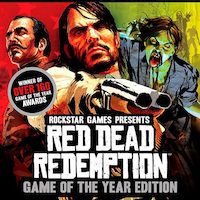 Red Dead Redemption Game of the Year Edition for Xbox One - $14.99 ($15.00 off)
Winner of over 160 Game of the Year awards. Plays on Xbox 360 and Xbox One with Backward Compatibility. America, 1911. The Wild West is dying. When federal agents threaten his family, former outlaw John Marston is forced to pick up his guns again and hunt down the gang of criminals he once called friends. Experience an epic fight for survival across the sprawling expanses of the American West and Mexico, as John Marston struggles to bury his bloodstained past, one man at a time. When federal agents threaten his family, former outlaw John Marston is forced to pick up his guns and hunt down the gang of criminals he once called friends. Winner of over 160 Game of the Year awards, experience Marston?s journey across the sprawling expanses of the American West and Mexico as he fights to bury his blood-stained past and seek a new future for himself and his family. Red Dead Redemption Game of the Year Edition also features Undead Nightmare, the companion single-player story that turns the stunning world of Red Dead Redemption upside down as a mysterious plague transforms the West into an apocalyptic fight for survival against the zombie horde. Red Dead Redemption Game of the Year Edition comes packed with a complete suite of multiplayer modes including Free Roam, Co-Op, online Poker and Liar?s Dice, Deathmatch and Undead Overrun survival mode. Disclaimer: Xbox LIVE®System Requirements with Xbox 360 system & games: In available games, paid subscription required for online multiplayer; some LIVE services and downloads require additional hardware and/or fees. LIVE is not available in all countries, visit www.xbox.com/live/countries for more information. Features and system requirements may change without notice. Subject to Terms of Use (at www.xbox.com/live/termsofuse). Broadband Internet service, Xbox 360 hard drive or 256 MB memory unit or greater required (sold separately). Hard drive recommended, and is required for some features. Some broadband services may not work with LIVE and performance may vary. Under 13 requires parental consent. See www.xbox.com/live for full details. Xbox 360 disk. 15GB download required for Xbox One backward compatibility. Software license terms available in game manual and at www.rockstargames.com/eula; online account terms at www.rockstargames.com/socialclub. Non-transferable access to special features such as exclusive, unlockable, downloadable or online content, services, or functions may require single-use serial code, additional fee and/or online account registration (13+). Access to special features may require internet connection, may not be available to all users, and may, upon 30 days notice, be terminated, modified, or offered under different terms. Violation of EULA, Code of Conduct, or other policies may result in restriction or termination of access to game or online account. For customer& tech support visit www.rockstargames.com/support. Rockstar Games, 622 Broadway, New York, NY, 10012 Separate cables may be required for HDTV and Dolby Digital. Sold separately. Dolby and the double-D symbol are trademarks of Dolby Laboratories. ©2005 - 2010 Rockstar Games, Inc. The Rockstar Games, Rockstar Games R* logo, Rockstar San Diego, Red Dead Redemption, marks and logos are trademarks and/or registered trademarks of Take-Two Interactive Software, Inc. in the U.S.A. and/or foreign countries. All other marks and trademarks are properties of their respective owners. The ratings icon is a trademark of the Entertainment Software Association. Euphoria is a registered trademark of NaturalMotion ltd. Uses Bink Video Technology. Copyright © 1997-2010 by RAD Game Tools, Inc. All rights reserved. Xbox, Xbox 360, Xbox LIVE, and the Xbox logos are trademarks of the Microsoft group of companies and are used under license from Microsoft. The content of this video game is purely fictional, and is not intended to represent or depict any actual event, person, or entity. Any similarity between any depiction in this game and any actual event, person, or entity is purely coincidental. The makers and publishers of this video game do not in any way endorse, condone or encourage engaging in any conduct depicted in this video game.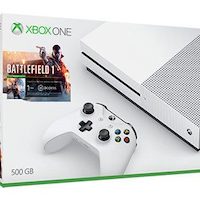 Select Xbox One S 500GB/1TB Consoles - From $349.99 (Up to $50.00 off)
Select Xbox One S 500GB/1TB Consoles - From $349.99 (Up to $50.00 off)