Burger King Restaurants Of Canada Inc
740 Ellesmere Rd

,

Toronto

,

ON

M1P 2V9
Directions
416-292-8840
Burger King Restaurants Of Canada Inc - Details
Opening Hours
Please call us for details.
Categories
Burger King Restaurants Of Canada Inc - Deals
Burger King: 2 for 1 Chicken Sandwich Deal
Thanks to forum member rocket96, a few of us know what we'll be having for lunch a few times this week! Right now, Burger King is promoting a 2 for 1 Chicken Sandwich deal with no coupon required. We don't have exact details of the deal, but forum members have pointed out they've heard and seen advertisements from different parts so we're assuming this is Canada wide. If you're looking to get your BK fix, now would be a good time to grab a chicken sandwich or two!
With a couple new chicken sandwiches available, this is also a good opportunity to try them out without paying full price -- provided you have a friend or co-worker willing to split the cost.
We're not sure how long the deal is on for so, if you're interested, you'll want to take part in the promotion when you get the chance.
Burger King $1.99 King Deals, A Different $1.99 Sandwich Every Day of the Week
Burger King fans, most of you know that Burger King features a different sale sandwich each day of the week (Whopper Wednesday, anyone?) but they've actually just made some changes to their lineup that are worth noting. Here's a look at their
$1.99 daily offering
:
Sunday: Double Whopper Jr
Monday: King Supreme
Tuesday: Original Chicken Sandwich
Wednesday: Whopper
Thursday: BK Double Stacker
Friday: BK Big Fish
Saturday: Double Cheeseburger
Use this page
to find the Burger King nearest you.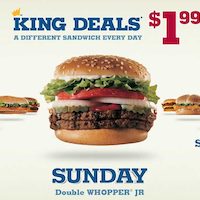 featured businesses for Restaurants around me
Featured businesses for Restaurants around me
Burger King Restaurants Of Canada Inc 740 Ellesmere Rd, Toronto, ON

M1P 2V9

Pizza Nova 2247 Midland Ave, Scarborough, ON

M1P 4R1



Mamma's Pizza 1030 Eglinton Ave W, Toronto, ON

M6C 2C5



Gigi Pizza 189 Harbord St, Toronto, ON

M5S 1H5



Mamma's Pizza

The Big Slice 385 Yonge St, Toronto, ON

M5B 1S1



Panago Pizza

Cora Pizza 656A Spadina Ave, Toronto, ON

M5S 2H7



Amico's Pizza 1648 1/2 Queen St W, Toronto, ON

M6R 1B2



Honeybee Restaurant 2028 Queen St E, Toronto, ON

M4L 1J4



Pizza Pizza 300 Harwood Ave S Ajax, Toronto, ON

New York Subway 520 Queen St W, Toronto, ON

M5V 2B3