Wendy's
1411 16th St E

,

Owen Sound

,

ON

N4K 1Z4
519-371-2979
Wendy's - Details
Opening Hours
Please call 519-371-2979 for opening hours.
Cuisine Type
Atmosphere
Features
Food
Rates
Categories
Wendy's - Deals
Wendy's: Get a Spicy Chicken Sandwich for Only $3.00
Add some heat to your lunch with this offer from Wendy's, as you can get a Spicy Chicken Sandwich for only $3.00!
Made with chicken breast and topped with mayo, lettuce, tomato and a fiery blend of peppers and spices, this sandwich is perfect for a quick meal or hearty snack. Those who don't like spicy foods can also get the standard Chicken Sandwich for the same price.
This offer is only available until February 26 at participating restaurants, so try one (or several) now before it's too late -- click here to find Wendy's location nearest you.
Posted:
2017-02-06
| Starts:
2017-02-06
| Expires:
2017-02-27
Deal source:
twitter.com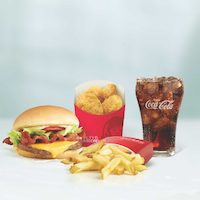 Wendy's: Get a Jr. Bacon Cheeseburger or 5-Piece Nugget Value Meal for $4!
If you're looking for an affordable lunch option, you'll want to take advantage of this new offer from Wendy's!
For a limited time only, you can grab a JBC or 5-piece nugget value meal from Wendy's for just $4.00! With this deal, you can choose between Wendy's popular Jr. Bacon Cheeseburger, or 5-piece nuggets, plus fries and drink, for nearly half the cost of a regular Wendy's combo.
This offer is valid for a limited time only at participating Wendy's locations and no coupon is required.Follow this link to find a Wendy's location near you.
Thanks to Spiderpal93 for posting this deal in our Hot Deals forum!
Wendy's $1.89 Everyday Value Menu
Wendy's is featuring eight items available for only
$1.89 each on their Everyday Value Menu
. The prices and participation may vary by store and location according to their website but here are the eight items they're featuring:
Chessy Cheddarburger
Jr. Bacon Cheeseburger
Chili Cheese Nachos
Pico Grilled Chicken Fresh Wrap
Small Fries
5-Piece Chicken Nuggets
Frosty Parfait
Spicy Chicken BLT Fresh Wrap
featured businesses for Restaurants around me
Featured businesses for Restaurants around me
Red Lobster 790 Burnhamthorpe Rd W, Mississauga, ON

L5C 3X3


Distance -

23.0 km

Bairrada Churrasqueira Grill 1002 College Street, Toronto, ON

M6H 1A7


Distance -

3.5 km

Bardi's Steak House 56 York St, Toronto, ON

M5J 1S8


Distance -

0.3 km

District Oven 842 College St, Toronto, ON

M6H 1A2


Distance -

3.1 km

Tavolino 619 Mount Pleasant Rd, Toronto, ON

M4S 2M5


Distance -

6.2 km

Kit Kat Italian Bar & Grill 297 King St W, Toronto, ON

M5V 1J5


Distance -

0.5 km

Bodega Restaurant Inc 30 Baldwin St, Toronto, ON

M5T 1L3


Distance -

1.1 km

Megas Restaurant 402 Danforth Ave, Toronto, ON

M4K 1P3


Distance -

4.2 km

Panorama Lounge & Restaurant 55 Bloor St W, Toronto, ON

M4W 1A5


Distance -

2.4 km

Mirto Italian Restaurant & Bar 25 Toronto St, Toronto, ON

M5C 2R1


Distance -

0.8 km

The Kennedy Public House 2199 Bloor St W, Toronto, ON

M6S 1N2


Distance -

7.2 km