Jason's No Frills #704
1029 Brodie Dr

,

Orillia

,

ON

L3V 6H4
Directions
705-329-1140
Jason's No Frills #704 - Details
Opening Hours
Please call 705-329-1140 for opening hours.
Categories
Jason's No Frills #704 - Deals
No Frills $0.88 Sale Flyer Roundup: $0.44 Campbell's Condensed Soup , $1.88 Lay's Chips, $0.88 I Can't Believe It's Not Butter
No Frill's newest flyer is now up on RedFlagDeals.com! Get ready for more $0.88 deals, including 2 cans of Campbell's Condensed Soup for just $0.88! Deals are live starting tomorrow but first, here's a quick roundup of our highlights to get you started:
Campbell's Condensed Soup (284 mL) - 2 for $0.88
Unico Solid Light Tuna - $0.88
Medium Ground Beef Chub (1 lb) - $3.88
Ziggy's Salad (1.25 kg) - $2.88
Red Grapefruit (5 lb bag) - $2.88
Farmer's Market Mini Carrots - $0.88
Chapman's Canadian Collection or Chapman's Sundae - $1.88
Gold Seal Sockeye Salmon (418 g) - $4.88
Heinz Ketchup (1.25 L) - $3.88
I Can't Believe It's Not Butter! (454 g) - $0.88
Tostitos, Doritos or Lay's Chips (220 - 320 g) - $1.88
Furlani Garlic Bread (284 g) - $0.88
Flyer prices are in effect starting tomorrow and will run through January 27.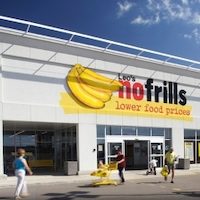 No Frills Stores are Now in the PC Plus Points Program!
Loblaws launched the PC Plus points program in 2013 but up until now, you could not collect or redeem PC Points at No Frills stores. After a short test on the east coast, Loblaws has finally expanded PC Points to all No Frills stores! No Frills is considered to be the Loblaws chain with the lowest prices and the addition of PC Points is certainly welcome!
There are more than 200 No Frills locations across Canada, although they're heavily concentrated in the province of Ontario.
featured businesses for Grocery Stores & Markets around me
Featured businesses for Grocery Stores & Markets around me