Boston Pizza - Details
Opening Hours
Please call 705-329-0994 for opening hours.
Categories
Boston Pizza - Deals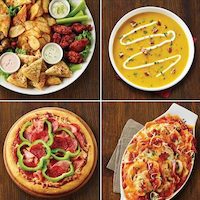 Boston Pizza: Get a Free $10 Bonus Card When You Purchase a $50 Gift Card
Here's Boston Pizza's holiday gift card offer!
For a limited time only, purchase a $50 Boston Pizza gift card in-stores or online and you'll receive a $10 bonus gift card for yourself. This $10 bonus card is redeemable starting January 1, 2015 and will expire at the end of the day on January 31, 2015.
Note that if you order your gift card online, there will be a shipping fee applied to your order, so you'll probably want to purchase them in-stores instead. Also, customized photo gift cards are exempt from this offer.
This offer is live for a limited time only. Click here to purchase a gift card online or here to find a local Boston Pizza near you.
Boston Pizza: Five Free Kids Meals with a $5 Donation to the Boston Pizza Foundation
Kids Card is back at Boston Pizza! As with previous years, donate a minimum of $5 to the Boston Pizza Foundation and you'll receive 5 free kids meals. All proceeds will go towards the foundation which supports organizations such as Big Brothers Big Sisters, Kids Help Phone and more. You can find out more about the foundation here.
With your free kids meal, your child can get one of six options for free, including BP Mini Cheeseburgers, Bugs 'n' Cheese, Grilled Cheese, Pint-Sized Pizza and more. All meals include a choice of dessert and drink as well. Plus, Boston pizza has introduced a new Kids Pack that will be free with every Kids Meal. Without the Kids Card, meals range from $4.99 to $6.99 in price.
To redeem your free meal, you must make a purchase of one adult entree. Only one free meal can be redeemed per adult entree. While you can purchase Kids Cards online, they can be redeemed only on dine-in orders. Cards will expire at the end of the day on March 30, 2015. Use this page to find the Boston Pizza nearest you!
featured businesses for Restaurants around me
Featured businesses for Restaurants around me
Boston Pizza 3300 Monarch Dr, Orillia, ON

L3V 8A2

Gigi Pizza 189 Harbord St, Toronto, ON

M5S 1H5


Distance -

2.4 km

Pizza Pizza

Mamma's Pizza

Pizza Pan Pita Grill 1820-1822 St Clair Ave W, Toronto, ON

M6N 1J5


Distance -

6.8 km

Cora 656A Spadina Ave, Toronto, ON

M5S 2H7


Distance -

2.2 km

Pizza Culture Bar & Grill 2590 Weston Rd, North York, ON

M9N 2A9


Distance -

13.9 km

Amico's Pizza 1648 1/2 Queen St W, Toronto, ON

M6R 1B2


Distance -

4.7 km

Triple Triple Pizza & Chicken 2639 Eglinton Ave W, York, ON

M6M 1T6


Distance -

8.6 km

Da-Maria Pizzeria & Spaghetti House 4 Kenwood Avenue, Toronto, ON

M6C 2R7


Distance -

4.8 km

Oakwood Pizzeria 434 Oakwood Ave, York, ON

M6E 2W5


Distance -

6.3 km