Shoppers Drug Mart - Hopedale Mall
1515 Rebecca St

,

Oakville

,

ON

L6L 5G8
See all locations
905-827-4141
Shoppers Drug Mart - Hopedale Mall - Details
Opening Hours
Monday 8:30 am - 9:00 pm
Tuesday 8:30 am - 9:00 pm
Wednesday 8:30 am - 9:00 pm
Thursday 8:30 am - 9:00 pm
Friday 8:30 am - 9:00 pm
Saturday 9:00 am - 6:00 pm
Sunday 11:00 am - 5:00 pm

Categories
Shoppers Drug Mart - Hopedale Mall - Deals
Shoppers Drug Mart Flyer Roundup: Life Brand Paper Towels 2/$5, L'Oreal Hair Expertise Shampoo $4, Ferrero Rocher Hearts $6 + More
Shoppers Drug Mart's newest flyer is now up and available for you to check out! This Saturday, February 13 and Sunday, February 14 you can redeem your Optimum points for up to $200.00 of savings on your beauty purchase! In addition to that, there are some great deals on cosmetics, snacks and last minute Valentine's Day gift ideas. Before you dive into the flyer, take a look at some of our highlights below:
Saturday February 13 and Sunday February 14 Only:
Quaker Chewy Bars or Nutrigrain Bars - $1.88
Lindt Excellence Chocolate Bars - 2 for $5.00
Christie Cookies or Crackers - $1.88
Coca-Cola or Pepsi 710ml 6 Pack - $2.49
Select Duracell Batteries - $10.99
Life Brand Paper Towels 8 Roll - 2 for $5.00
Groceries:
Lay's Stax or Quaker Crispy Minis - 4 for $5.00
Lay's Chips - $1.99
Shreddies, Great Grains or Honey Bunches of Oats - $2.99
PC Natural Spring Water 12 Pack - 2 for $3.00
Campbell's Soups - 3 for $2.00
Household Essentials:
Life Brand Bathroom Tissue 9-12 Rolls - $4.79
Bio-Life or Royale Facial Tissue - $0.69
PC Flushable Wipes - 2 for $5.00
No Name or PC Dish Soap - $2.29
Bounty Paper Towels 6 Roll - $5.99
Health:
Jamieson Natural Health Products - 40% Off
Life Brand Cough & Cold Liquids or Nasal Sprays - 25% Off
Life Brand Omega or Fish Oil Products - 20% Off
Personal Care:
L'Oreal Hair Expertise Shampoo or Conditioner - $3.99
St. Ives Skin Care Products - $4.99
Dove Body Wash or Antiperspirant - $2.99
Playtex Pads or Tampons - 2 for $8.00
Olay Skin Care Products - 25% Off
Beauty:
Maybelline New York Lash Sensational Mascara or Fit Me Products - $6.99
Select L'Oreal Infallible or True Match Makeup - 30% Off
Essie Nail Enamel - $7.99
Select Rimmel London Cosmetics - $3.99
Sally Hansen Salon Gel Polish Nail Colour or Treatment - 15% Off
Valentine's Day:
Valentine's Day Boxed Cards - 20% Off
Ferrero Rocher Hearts - $5.49
Lindt Lindor - $9.99
Select Fragrances - $19.99
Flyer deals will go live on Saturday, February 13 and run through Friday, February 19.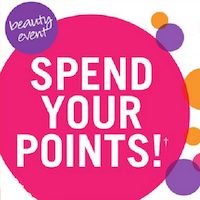 Shoppers Drug Mart Spend Your Points Beauty Event: Spend 95,000 Points and Get Up to $200 Off Your Purchase! (February 13 & 14)
If you've got an abundance of Optimum points stashed away, Shoppers Drug Mart is running a bonus redemption event this weekend, so you can save even more on your favourite beauty products when you spend your points!
On February 13 and 14, head to your local Shoppers Drug Mart and you can save up to $200.00 on your purchase with your Optimum Card. This weekend's offer is a limited to beauty products only, and there are the two tiers available for redemption:
Spend 50,000 points, get up to $100.00 off (extra $15.00 over regular redemption)
Spend 95,000 points, get up to $200.00 off (extra $30.00 over regular redemption)
This offer is valid only on cosmetics, select skin care, hosiery, fragrances, jewellery, hair colour, bath foam & gel, as well as nail care.
This offer is live in-store only on February 13 and February 14. Click here to find a Shoppers Drug Mart near you.
featured businesses for Pharmacies around me
Featured businesses for Pharmacies around me
Shoppers Drug Mart - Hopedale Mall 1515 Rebecca St, Oakville, ON

L6L 5G8

Hooper's Pharmacy 2136 Queen St E, Toronto, ON

M4E 1E3


Distance -

7.8 km

Vitality Compounding Pharmacy 918 Kingston Rd, Toronto, ON

M4E 1S5


Distance -

8.5 km

Peoples Drug Mart 491 Lawrence Ave W, North York, ON

M5M 1C7


Distance -

8.6 km

Shoppers Drug Mart

Total Health Pharmacy 149 997 Gerrard St E, Toronto, ON

M4M 1Z4


Distance -

4.4 km

Canadian Compounding Pharmacy 2917 Bloor St W, Toronto, ON

M8X 1B4


Distance -

9.8 km

Glenholme Pharmacy 896 St Clair Ave W, York, ON

M6C 1C5


Distance -

5.2 km

Pape Drug Mart (Pape Pharmacy Ltd) 751 Pape Ave, Toronto, ON

M4K 3T1


Distance -

4.8 km

Beech Medical Pharmacy 855 Kingston Rd, Toronto, ON

M4E 1R9


Distance -

8.4 km

The Palmerston Pharmacy & HomeCare 499 College St, Toronto, ON

M6G 1A5


Distance -

2.1 km

Rexall Drug Store 393 Spadina Rd, Toronto, ON

M5P 2W1


Distance -

5.0 km