Shoppers Drug Mart - Hopedale Mall
1515 Rebecca St

,

Oakville

,

ON

L6L 5G8
Directions
905-827-4141
Shoppers Drug Mart - Hopedale Mall - Details
Opening Hours
Please call 905-827-4141 for opening hours.
Categories
Shoppers Drug Mart - Hopedale Mall - Deals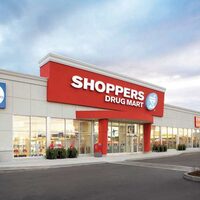 Shoppers Drug Mart Surprise Points Event: Spend $75 and Get 18,500, 38,000 or 50,000 Points (July 26 through July 28)
Here's a unique points event from Shoppers Drug Mart. Starting on Saturday, July 26th, instead of offering you a set amount of points, Shoppers Drug Mart is testing your luck by giving you a Surprise Points Card when you spend over $75. Opening this Surprise Points Card will reveal whether you get 18,500, 38,000 or 50,000 points! Make sure you're gentle when you open the card, as if it's damaged and unreadable, you'll get 18,500 points by default.
Basically, you'll be automatically given the default 18,500 points at the end of your transaction. If you opened a Surprise Points Card that awards you more than 18,500 points, the difference will be added to your account on a later date. You may also need to answer a mathematical skill-testing question if you reveal an award of 38,000 or 50,000 points.
The following won't count towards the $75 purchase requirement: prescription purchases, products that contain codeine, non-pointable items, tobacco products (where applicable), lottery tickets, stamps, transit tickets and passes, event tickets, gift cards, prepaid card products and Shoppers Home Healthcare locations.
Each customer is limited to just one Surprise Card per transaction per customer. This offer cannot be combined with any other SHoppers Optimum Points promotions or offers.
This offer starts Saturday, July 26th and will end on Monday, July 28th.
Check out their flyer here to start planning your trip.
Shoppers Drug Mart: 10% off Plus 10x The Shoppers Optimum Points on Friday, July 25
Here's a Double Deal from Shoppers Drug Mart. On Friday, July 25, you'll get 10x the Shoppers Optimum Points plus 10% off all Regular-Priced Items when you spend $50 or more and use this printable coupon!
The $50 total must be reached before taxes and after any point redemptions. Excluded from this promotion are prescription purchases, products with codeine, insulin, milk where discounts are prohibited by law, tobacco, stamps, lottery tickets, transit tickets and prepaid phone cards.
Your bonus Optimum Points will be awarded by the end of the day on August 8, 2014.
25% Off Enfamil A+, Enfamil A+2 Or Gentlease A+ Baby Food Refills
Select types.
20% Off Q-Tips, Vaseline Or Dove Baby Wash
Select types.
30% Off Calgon Or Body Fantasies Bath Products
Select types.
featured businesses for Pharmacies around me
Featured businesses for Pharmacies around me
Shoppers Drug Mart - Hopedale Mall 1515 Rebecca St, Oakville, ON

L6L 5G8

Etobicoke IDA Pharmacy 201-666 Burnhamthorpe Rd, Etobicoke, ON

M9C 2Z4


Distance -

15.4 km

Canadian Compounding 2917 Bloor St W, Etobicoke, ON

M8X 1B4


Distance -

9.8 km

Vitality Compounding Pharmacy 918 Kingston Rd, Toronto, ON

M4E 1S5


Distance -

8.5 km

Shoppers Drug Mart

Aurora Compounding Pharmacy 15017 Yonge St, Aurora, ON

L4G 1M5


Distance -

39.0 km

Pape Drug Mart (Pape Pharmacy Ltd) 751 Pape Ave, Toronto, ON

M4K 3T1


Distance -

4.8 km

Hooper's Pharmacy 2136 Queen St E, Toronto, ON

M4E 1E3


Distance -

7.8 km

Beech Medical Pharmacy 855 Kingston Rd, Toronto, ON

M4E 1R9


Distance -

8.4 km

Glenholme Pharmacy 896 St Clair Ave W, York, ON

M6C 1C5


Distance -

5.2 km

Deen Pharmacy G 11-3852, Finch Ave E, Scarborough, ON

M1T 3T9


Distance -

18.2 km

Rexall Drug Store 393 Spadina Rd, Toronto, ON

M5P 2W1


Distance -

5.0 km