Burger King Restaurants Of Canada
2460 Winston Churchill Blvd

,

Oakville

,

ON

L6H 6J5
Directions
905-829-4792
Burger King Restaurants Of Canada - Details
Opening Hours
Please call 905-829-4792 for opening hours.
Categories
Burger King Restaurants Of Canada - Deals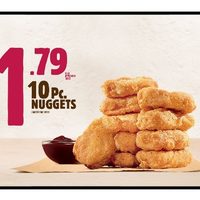 Burger King: $1.79 for 10 Piece Nuggets + 2 Sauces Of Your Choice!
Here's a pretty killer deal from Burger King for anyone looking for a quick and easy meal!
For a limited time only, you can get 10 piece nuggets plus two sauces of your choice for just $1.79 plus tax! At this price, you're essentially paying just $0.17 per nugget. Coupons won't be required to redeem this offer.
This offer is live at participating Burger King restaurants in Canada for a limited time only.
Thanks to mark! for posting this one in our forums!
featured businesses for Restaurants around me
Featured businesses for Restaurants around me
Burger King Restaurants Of Canada 2460 Winston Churchill Blvd, Oakville, ON

L6H 6J5

Red Lobster 790 Burnhamthorpe Rd W, ,

L5C 3X3


Distance -

23.0 km

Bairrada Churrasqueira Grill 1002 College Street, Toronto, ON

M6H 1A7


Distance -

3.5 km

Bardi's Steak House 56 York St, Toronto, ON

M5J 1S8


Distance -

0.3 km

Annapurna Vegetarian Restaurant 1085 Bathurst St, Toronto, ON

M5R 3G8


Distance -

3.6 km

Honeybee Restaurant 2028 Queen St E, Toronto, ON

M4L 1J4


Distance -

7.4 km

Bodega Restaurant Inc 30 Baldwin St, Toronto, ON

M5T 1L3


Distance -

1.1 km

Parmagiano 3186 Yonge St, Toronto, ON

M4N 2L1


Distance -

8.9 km

Chartreuse Restaurant 10512 Islington Ave, Kleinburg, ON

L0J 1C0


Distance -

29.2 km

The Bottom Line Restaurant & Bar 22 Front St W, Toronto, ON

M5J 1C4


Distance -

0.6 km

KI Restaurant & Lounge 181 Bay St, Toronto, ON

M5J 2T3


Distance -

0.5 km

Lake House Bar & Grill 2252 Queen St E, Toronto, ON

M4E 1G2


Distance -

8.4 km