Burger King Restaurants Of Canada
2460 Winston Churchill Blvd

,

Oakville

,

ON

L6H 6J5
Directions
905-829-4792
Burger King Restaurants Of Canada - Details
Opening Hours
Please call 905-829-4792 for opening hours.
Categories
Burger King Restaurants Of Canada - Deals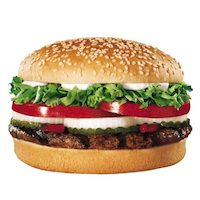 Burger King Coupons: 2 Can Dine for $9.98, Whopper Combo for $5 + More
New Burger King coupons are live! All coupons can be found here, so feel free to print away to your heart's desire! Here's a look at the offers available this round:
Buy 1 Whopper sandwich with medium fries and medium soft drink for $5
Buy one Whopper Sandwich, BK Big Fish Sandwich, or BK Veggie Sandwich at regular price and get the second for free
2 Whopper sandwiches/Original Chicken sandwiches/BK Veggie sandwich, 2 medium french fries, 2 medium drinks for $9.98
Print or present via your mobile device at your local Burger King location to redeem these offers.
Coupons are live through November 21.
featured businesses for Restaurants around me
Featured businesses for Restaurants around me
Burger King Restaurants Of Canada 2460 Winston Churchill Blvd, Oakville, ON

L6H 6J5

Bardi's Steak House 56 York St, Toronto, ON

M5J 1S8


Distance -

0.3 km

Red Lobster 790 Burnhamthorpe Rd W, ,

L5C 3X3


Distance -

23.0 km

Bairrada Churrasqueira Grill 1002 College Street, Toronto, ON

M6H 1A7


Distance -

3.5 km

KI Restaurant & Lounge 181 Bay St, Toronto, ON

M5J 2T3


Distance -

0.5 km

Moxie's Grill & Bar
Distance -

2710.3 km

The Keg Steakhouse & Bar
Distance -

6.5 km

The Bottom Line Restaurant & Bar 22 Front St W, Toronto, ON

M5J 1C4


Distance -

0.6 km

Honeybee Restaurant 2028 Queen St E, Toronto, ON

M4L 1J4


Distance -

7.4 km

Copa Cabana 230 Adelaide St W, Toronto, ON

M5H 1W7


Distance -

0.2 km

Yumei Sushi 2116 Queen St E, Toronto, ON

M4E 1E2


Distance -

7.7 km

Bodega Restaurant Inc 30 Baldwin St, Toronto, ON

M5T 1L3


Distance -

1.1 km