Shoppers Drug Mart - Jane Finch Mall - Details
Opening Hours
Please call 416-630-2553 for opening hours.
Categories
Shoppers Drug Mart - Jane Finch Mall - Deals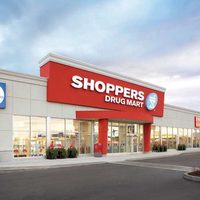 Shoppers Drug Mart Flyer Roundup: Get 18,500 Bonus Points on August 1, Grade "A" Large Eggs $2.29, Classico Pasta Sauce $2 + More!
Shoppers Drug Mart's newest flyer is now up and available for you to check out! This Saturday, August 1, they'll be running a rack up the points event, where you can earn 18,500 bonus Optimum points with a purchase over $75. (And check out this article if you want to know more about maximizing your Optimum points!) Plus, they've got special weekend deals that are live only on August 1 and August 2. Check out these specials and more of our highlights below:
Groceries:
Miss Vickie's potato chips, Sunchips, Tostitos - 2 for $7
Minute Maid, Kiju or Rubicon juice (1 L) - 2 for $3
Grade "A" Large White Eggs - $2.29
Maple Leaf bacon (375 g) - $3.99
Ben & Jerry's ice cream or Magnum ice cream - 2 for $10
Classico pasta sauce - 2 for $4
Health & Beauty:
Sally Hansen Miracle Gel Duo Kit - $16.99
Secret or Degree antiperspirant/deodorant - 2 for $6
L'Oreal Preference hair colour - $12.99
25% off Aveeno, Neutrogena or Hawaiian Tropic sun care products
20% off Polysporin antibiotic cream or Band-Aid bandages
Saturday, August 1 and Sunday, August 2 Only:
Lay's potato chips (180 g) - $1.88
Christie cookies or crackers - $1.88
Motrin Super Strength Tablets or Tylenol Extra Strength EZ Tabs - $6.99
30% off Neutrogena skin, acne or hair care products
Flyer deals will go live on Saturday, August 1 and run through Friday, August 7.
featured businesses for Pharmacies around me
Featured businesses for Pharmacies around me
Shoppers Drug Mart - Jane Finch Mall 3975 Jane St, North York, ON

M3N 2K1

Dr. Nutrition 980 Tapscott Rd, Toronto, ON

M1X 1C3


Distance -

22.8 km

MapleLife Nutrition and Formula 3681 McNicoll Ave, Toronto, ON

M1X 1C3


Distance -

22.7 km

Shoppers Drug Mart

Hooper's Pharmacy 2136 Queen St E, Toronto, ON

M4E 1E3


Distance -

7.8 km

Vitality Compounding Pharmacy 918 Kingston Rd, Toronto, ON

M4E 1S5


Distance -

8.5 km

Peoples Drug Mart 491 Lawrence Ave W, North York, ON

M5M 1C7


Distance -

8.6 km

Canadian Compounding Pharmacy 2917 Bloor St W, Toronto, ON

M8X 1B4


Distance -

9.8 km

Pape Drug Mart (Pape Pharmacy Ltd) 751 Pape Ave, Toronto, ON

M4K 3T1


Distance -

4.8 km

Glenholme Pharmacy 896 St Clair Ave W, York, ON

M6C 1C5


Distance -

5.2 km

Parkside Pharmacy 1644 Bloor St W, Toronto, ON

M6P 1A7


Distance -

5.8 km

Snowdon Pharmacy 264 Bloor St W, Toronto, ON

M5S 1V8


Distance -

2.4 km