Shoppers Drug Mart - Jane Finch Mall - Details
Opening Hours
Please call 416-630-2553 for opening hours.
Categories
Shoppers Drug Mart - Jane Finch Mall - Deals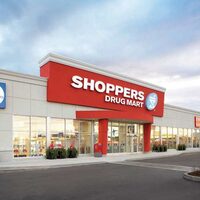 Shoppers Drug Mart Perfect Pair Event: Free $10 SDM Card & $10 Tim Hortons Tim Card with $75 Purchase (May 23 through 24)
This weekend, Shoppers Drug Mart will be hosting their Perfect Pair event.
Starting Saturday, May 23, spend $75 on almost anything at Shoppers Drug Mart and you'll receive a free $10 Shoppers Drug Mart card and a free $10 Tim Hortons Tim Card!
As with all Shoppers Drug Mart promotions, prescription purchases, codeine, tobacco products, stamps, lottery tickets, event tickets, transit tickets, electronic gift cards, prepaid phone cards and Shoppers Home Health Care locations are excluded from this offer.
The Shoppers Drug Mart card can be redeemed on your next purchase of $10 or more and will expire at the end of the day on June 14. There is no expiry date on the Tim card.
This offer will expire at the end of the day on May 24.
Find your closest Shoppers Drug Mart here.
featured businesses for Pharmacies around me
Featured businesses for Pharmacies around me
Shoppers Drug Mart - Jane Finch Mall 3975 Jane St, North York, ON

M3N 2K1

MapleLife Nutrition and Formula 3681 McNicoll Ave, Toronto, ON

M1X 1C3


Distance -

22.7 km

Dr. Nutrition 980 Tapscott Rd, Toronto, ON

M1X 1C3


Distance -

22.8 km

Vitality Compounding Pharmacy 918 Kingston Rd, Toronto, ON

M4E 1S5


Distance -

8.5 km

Shoppers Drug Mart

Canadian Compounding 2917 Bloor St W, Etobicoke, ON

M8X 1B4


Distance -

9.8 km

Pape Drug Mart (Pape Pharmacy Ltd) 751 Pape Ave, Toronto, ON

M4K 3T1


Distance -

4.8 km

Hooper's Pharmacy 2136 Queen St E, Toronto, ON

M4E 1E3


Distance -

7.8 km

Keele & Rogers Pharmacy 605 Rogers Rd, York, ON

M6M 1B9


Distance -

8.1 km

Peoples Drug Mart 491 Lawrence Ave W, North York, ON

M5M 1C7


Distance -

8.6 km

Beech Medical Pharmacy 855 Kingston Rd, Toronto, ON

M4E 1R9


Distance -

8.4 km

Glengrove Pharmacy 2760 Yonge St, Toronto, ON

M4N 2J2


Distance -

7.9 km