Subway
2136 Burnhamthorpe Rd W

,

Mississauga

,

ON

L5L 5Z5
Directions
905-606-2370
Subway - Details
Located at 2136 Burnhamthorpe Rd W near you, Subway is a local business in the restaurants category of Canpages website.
You can call 905-606-2370 to get in contact with Subway that is located in your neighbourhood. Get the directions to 2136 Burnhamthorpe Rd W from your location. Or, simply add this company to your personal business favorites list.
Finally, feel free to send this to your friends by clicking on Facebook or Twitter links. It's also possible to save this business information to your Outlook contacts.
Opening Hours
Please call 905-606-2370 for opening hours.
Categories
Subway - Deals
Posted:
2013-12-10
| Starts:
2013-12-13
| Expires:
2013-12-14
Deal source:
www.facebook.com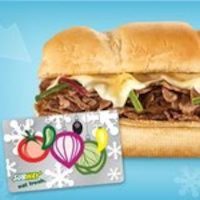 Subway Restaurants Give This Get That: Load a Gift Card w/$25+, Get a Free 6" Sub This Holiday
The best gifts are the ones that come from the heart, or the ones that come with a free sandwich. This holiday season at Subway Restaurants, you'll get a free 6" Subway sandwich when you purchase or reload a $25 gift card.
You'll instantly receive any regular 6" sub for free when you load or reload a Subway Card with a minimum of $25 in store. Free sandwiches are limited to one per gift-card purchase (even if you are buying more than one gift card). Gift cards are not valid for the purchase of another gift card, just in case you were looking for a loophole of un-ending free sandwich offers! Double meat, extra cheese, or bacon will be an additional charge.
For more information visit your local Subway restaurant or Subway.ca.
Posted:
2013-12-03
| Expires:
2014-01-01
Deal source:
www.subway.ca
Subway: $5 Footlongs Are Back (At Participating Restaurants)
The $5 Footlong promotion is back at Subway! This means you can get a footlong cold cut combo, veggie delite, ham, egg salad, pizza sub or egg and cheese sandwich for just $5.
There's additional confirmation that the offer is available in Canada on Subway's Canadian homepage, but keep in mind that participation may vary so confirm that your local Subway is taking part in the promotion before ordering.
featured businesses for Restaurants around me
Featured businesses for Restaurants around me
Subway 2136 Burnhamthorpe Rd W, Mississauga, ON

L5L 5Z5

Romi's Pizza & Ristorante 3062 Bloor St W, Etobicoke, ON

M8X 1C4



Chopstick Foods 3300 Danforth Ave, Scarborough, ON

M1L 1C4



Remezzo Italian Bistro 3335 Sheppard Ave E, Scarborough, ON

M1T 3K2



Paisano's Italian Garden Cafe 116 Willowdale Ave, Toronto, ON

M2N 4X9



The Big Slice 385 Yonge St, Toronto, ON

M5B 1S1



Honeybee Restaurant 2028 Queen St E, Toronto, ON

M4L 1J4



Panago Pizza

Cynthia's Chinese Restaurant 7700 Bathurst St, Thornhill, ON

L4J 7Y3



Maurya East Indian Cuisine 2481 Lake Shore Blvd W, Etobicoke, ON

M8V 1C5



BPC Best Portuguese Chicken 942 The Queensway, Etobicoke, ON

M8Z 1P4



Mystik Takeout & Catering 3579 Sheppard Ave E, Scarborough, ON

M1T 3K8