Future Shop
5935 Mavis Rd

,

Mississauga

,

ON

L5R 3T7
905-502-5438
Future Shop - Details
Opening Hours
Please call us for details.
Categories
Future Shop - Deals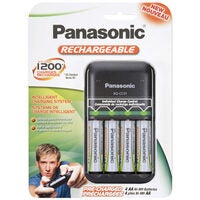 Panasonic 4 "AA" Ni-MH Rechargeable Batteries & Charger - $29.99 ($20.00 off)
These 4 "AA" cells are the next generation of Ni-MH batteries that can be charged up to 1,200 times. These batteries can be charged and stored for 365 days and still retain 80% of their charge. The Intelligent Charger adjusts the charge rate based on each cells existing power level, ensuring an optimum charge every time. On sale this week at Future Shop for $29.99 (reg. $49.99) until Mar 22.
Posted:
2012-03-03
| Starts:
2012-03-02
| Expires:
2013-05-31
Deal source:
www.futureshop.ca
featured businesses for Computers, Laptops & Parts around me
Featured businesses for Computers, Laptops & Parts around me
Future Shop 5935 Mavis Rd, Mississauga, ON

L5R 3T7

Toshiba Of Canada Limited

Brentview Electronics 556 Mount Pleasant Rd, Toronto, ON

M4S 2M6



Computer Geeks On Call Experts in Computer Repairs 842 Eglinton Ave W, Toronto, ON

M5N 1G1



Hi-Tech Electronic Service Centre 198 Harrowsmith Dr, Mississauga, ON

L5R 1R9



Active Surplus Electronics 347 Queen St W, Toronto, ON

M5V 2A4



Brentview Electronics 556 Mount Pleasant Rd, Toronto, ON

M4S 2M6



Around The Clock I T Solutions Inc ON

8421 Digital Ltd 184 Carlton St, Toronto, ON

M5A 2K6



2000's Technology Inc 202-250 Consumers Rd, North York, ON

M2J 4V6



AAB-TECH Electronics Inc 1050 McNicoll Ave, Scarborough, ON

M1W 2L8



A-1 Electronic Parts 196 North Queen St, Etobicoke, ON

M9C 4Y1