Best Buy-Heartland
1-6075 Mavis Rd

,

Mississauga

,

ON

L5R 4G6
Directions
905-361-8251
Best Buy-Heartland - Details
Situated at 1-6075 Mavis Rd near you, Best Buy-Heartland is a merchant inside the computers, laptops & parts section of Canpages.ca online directory.
Dial 905-361-8251 to contact Best Buy-Heartland that is close to your area. Find the directions to this merchant from your current location. Or, simply add this merchant to the business favorites at the bottom of this page.
Finally, you can share this with your contacts by clicking Facebook or Twitter icons. It's also possible to save this merchant information to your Outlook contacts.
Opening Hours
Please call 905-361-8251 for opening hours.
Categories
Best Buy-Heartland - Deals
Best Buy Flyer Highlights: Insignia 39" 1080p 60Hz LED HDTV $300, Sony VAIO Laptop w/i5-3337U $600
We've got the Best Buy flyer processed and ready to go and here's a quick list of the better deals available. As always, you can make a purchase in-store or online at BestBuy.ca. Now onto the deals!
Starting with laptops, the one that caught our eye this week was definitely the 15.5" Sony VAIO on sale for $600. It features a capable third-gen i5 processor, lots of RAM and sizable hard drive. Sony laptops are also generally well built so, for the price, it's one of the better notebooks available.
Moving onto HDTVs, if you're on a budget, the popular 39" Insignia would be our pick. We've written a lot about it but it remains one of the better value displays available with the price being a huge factor. No, it doesn't have a lot of the newer Smart or 3D technology but it's hard to complain at $300.
The deals are live now but expire on December 12.
Free shipping is available on most items over $20.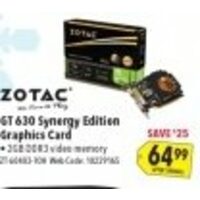 Zotac Gt630 Synergy Edition 2gb Ddr3 Pci-e Video Card - $64.99 ($25.00 off)
Zotac Gt630 Synergy Edition 2gb Ddr3 Pci-e Video Card - $64.99 ($25.00 off)
Wacom Intuos Wireless Graphic Tablet - $89.99 ($10.00 off)
Wacom Intuos Wireless Graphic Tablet - $89.99 ($10.00 off)
Vtech Dect 6.0 2-handset Cordless Phone W/answering Machine - $49.99 ($25.00 off)
Vtech Dect 6.0 2-handset Cordless Phone W/answering Machine - $49.99 ($25.00 off)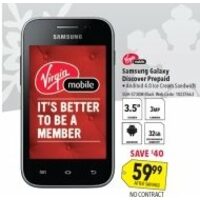 Virgin Mobile Samsung Galaxy Discover Prepaid Smartphone - $59.99 ($40.00 off)
Virgin Mobile Samsung Galaxy Discover Prepaid Smartphone - $59.99 ($40.00 off)
featured businesses for Computers, Laptops & Parts around me
Featured businesses for Computers, Laptops & Parts around me
Best Buy-Heartland 1-6075 Mavis Rd, Mississauga, ON

L5R 4G6

Computer Geeks On Call Experts in Computer Repairs 842 Eglinton Av W, Toronto, ON

M5N 1G0



Hi-Tech Electronic Service Centre 198 Harrowsmith Dr, Mississauga, ON

L5R 1R9



Connectability Inc 1004-20 Eglinton Ave W, Toronto, ON

M4R 1K8



Active Surplus Electronics 347 Queen St W, Toronto, ON

M5V 2A4



8421 Digital Ltd 184 Carlton St, Toronto, ON

M5A 2K6



Active Circuits Inc 787 Warden Ave, Scarborough, ON

M1L 4C2



Accurate Technologies Ltd 141 Willowdale Ave, North York, ON

M2N 4Y5



A-1 Electronic Parts 196 North Queen St, Etobicoke, ON

M9C 4Y1



Access Computer Solutions 89 Tycos Dr, North York, ON

M6B 1W3



2000's Technology (3T) Inc 202-250 Consumers Rd, North York, ON

M2J 4V6



A Action TV & Electronics