Best Buy-Heartland
1-6075 Mavis Rd

,

Mississauga

,

ON

L5R 4G6
Directions
905-361-8251
Best Buy-Heartland - Details
Opening Hours
Please call 905-361-8251 for opening hours.
Categories
Best Buy-Heartland - Deals
Wilton Recipe Right Non-Stick Bakeware Pan 3-Piece Set - Online Only - $14.99 ($3.00 off)
Got a soft spot for cookies, banana breads and all sorts of yummy treats? Plan your next foray into the delightful act of baking equipped with Wilton's Recipe Right non-stick bakeware set. It's made of heavy-gauge steel, which conducts heat evenly for perfectly browned baked goods. The non-stick finish prevents scraping and is easy to clean.
Wiltshire Staysharp 3-Piece Knife Set - Online Only - $34.99 ($15.00 off)
Stay on the edge with this Wiltshire Staysharp three-piece Knife Set. The unique sharpening system is like no other, thanks to the combination of innovative design features and functionality. Made from high quality stainless steel, this set includes a paring, utility, and carving knife, and a self-sharpening scabbard that hones each blade upon removal.
World Famous Sales Double Burner Stove - Online Only - $39.99 ($22.00 off)
Cook all your family favourites without fuss, from eggs to sausages, while surrounded by pine trees. Frying up delectables in this idyllic outdoor kitchen setup is possible with a powerful Double Burner Stove that has two propane cylinders to hold frying pans up to 10" in size. Great food helps your camping family feel right at home in wilderness.
WowWee MiP 2 Balancing Robot - Black / Silver - $99.99 ($10.00 off)
The perfect companion for gadget enthusiasts and allergy-plagued pet lovers alike, the WowWee MiP Robot offers fun and intuitive interaction controlled by your smartphone and GestureSense technology. MiP plays games, dances, battles, balances and more - with an immersive personality and impressive response time, you'll be a MiPster at first swipe.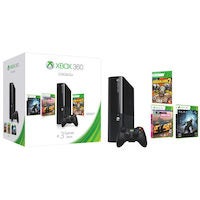 Xbox 360 250GB Spring 2014 Bundle - $249.99 ($50.00 off)
This exciting Xbox 250GB bundle will bring the fun this spring for your family and friends. It includes Borderlands 2, Halo 4, and Forza Horizon to amp up the excitement.
featured businesses for Computers, Laptops & Parts around me
Featured businesses for Computers, Laptops & Parts around me