Pizza Pizza - Details
Opening Hours
Please call 416-967-1111 for opening hours.
Categories
Pizza Pizza - Deals
Pizza Pizza Slices for Smiles: Get a 10" Half-Size Smile Pizza for $2 or a Large Cheese Pizza for $7
Slices for Smiles is back at Pizza Pizza!
Through May 3, visit a local Pizza Pizza and you can purchase a 10" half smile pepperoni pizza for only $2 or you can opt for a large cheese pizza for $6.99! A portion of these proceeds will be donated to the Children's Miracle Network. All in all, we're pretty impressed with this campaign as not only will you be doing some good, but you'll also be getting some sweet savings along the way.
Slices for Smiles is live now and will run through May 3. Offers are available for walk-in orders, so use their store locator to find a location near you.
For more details on Pizza Pizza's Slices for Smiles program, click here.
Thanks to sprung for letting us know about this one!
Posted:
2015-04-22
| Starts:
2015-04-20
| Expires:
2015-05-04
Deal source:
www.pizzapizza.ca
Pizza Pizza Slices for Devices: Trade in Old Electronic Devices for a Free Slice of Pizza!
For the month of April, Pizza Pizza is bringing back their Slices for Devices campaign!
Slices for Devices is a campaign that is held across Canada in honour of Earth Day. Visit 400 participating locations across Canada and trade in an old electronic device in exchange for a free slice of pepperoni or cheese pizza!
Eligible electronic devices include:
mobile and smart phones
digital cameras
iPods and MP3 players
handheld gaming consoles (i.e. Nintendo 2DS/3DS, Playstation Vita)
Each individual is limited to trading in 4 devices.
This year, companies and corporations can also participate in this campaign. By trading in large devices, Pizza Pizza will give out Club 11-11 gift cards that the company or corporation can use towards their next pizza party. Eligible devices include:
LCD displays
laptops
CPU towers
desktop computers
speakers
All in all, this is a pretty good opportunity to clear out any old electronics you have at home and earn some free pizza while you're doing it!
This campaign is live through the end of April. Click here to find a local Pizza Pizza near you!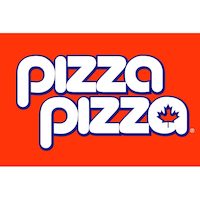 Pizza Pizza Loyalty Program: Get 10% Back On Every Purchase
Pizza Pizza has just launched a loyalty program called Club 11-11, and if you're a regular pizza-eater, it's worth checking out! Here's how it works -- you'll collect 10% on every walk-in or pick-up transaction and every eleventh purchase, you can cash out your "Earned Dough" on a purchase.
There's one catch to the program -- you have to have a Pizza Pizza gift card in order to register. That gift card will be tied to your account and accumulate your cash back, although when you're making purchases you can use any form of payment.
To find the Pizza Pizza nearest you, use this page.
featured businesses for Restaurants around me
Featured businesses for Restaurants around me
Pizza Pizza 1B-8601 Warden Avenue, Markham, ON

L3R 0B5

Mamma's Pizza 127 Yonge St, Toronto, ON

M5C 1W4


Distance -

0.6 km

Gigi Pizza 189 Harbord St, Toronto, ON

M5S 1H5


Distance -

2.4 km

Pizza Pizza

Cora 656A Spadina Ave, Toronto, ON

M5S 2H7


Distance -

2.2 km

Pizza Pan Pita Grill 1820-1822 St Clair Ave W, Toronto, ON

M6N 1J5


Distance -

6.8 km

Amico's Pizza 1648 1/2 Queen St W, Toronto, ON

M6R 1B2


Distance -

4.7 km

Pizza Culture Pub 2590 Weston Rd, North York, ON

M9N 2A9


Distance -

13.9 km

Triple Triple Pizza & Chicken 2639 Eglinton Ave W, York, ON

M6M 1T6


Distance -

8.6 km

Oakwood Pizzeria 434 Oakwood Ave, York, ON

M6E 2W5


Distance -

6.3 km

The Stone Pizza 281 Scarborough Rd, Toronto, ON

M4E 3M9


Distance -

8.7 km