Shoppers Drug Mart - Six Points Plaza - Details
Opening Hours
Please call 416-233-3269 for opening hours.
Categories
Shoppers Drug Mart - Six Points Plaza - Deals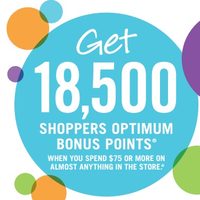 Shoppers Drug Mart: Spend $75 and Get 18,500 Bonus Points (August 1 Only)
This Saturday, August 1, Shoppers Drug Mart is running a bonus points event!
Stop by your local store and spend $75 or more on almost anything and you'll receive 18,500 bonus Optimum points! Since no coupon is required to redeem this offer, the points should be added automatically to your account.
As with most Shoppers Drug Mart offers, the following will not count towards the $75 purchase requirement: prescription purchases, products that contain codeine, non-pointable items, tobacco products (where applicable), lottery tickets, stamps, transit tickets and passes, event tickets, gift cards, prepaid card products and Shoppers Home Healthcare locations.
This offer cannot be combined with any other Shoppers Optimum Points promotions or offers.
This bonus points event is live on August 1 only.
Not sure what to buy? Check out our roundup of their newest flyer here!
If you're new to Shoppers' Optimum program, get the details on how the program works and the best way to take advantage of this bonus points event here.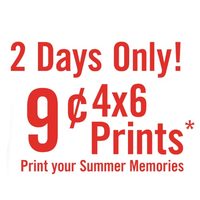 ShoppersPhoto.ca: $0.09 4x6 Prints are Back! (August 1 and August 2 Only, 100 Print Minimum)
Now that summer is coming to a close, it's the perfect opportunity to print off pictures from the summer with Shoppers Photo's promotion this weekend!
On August 1 and August 2, you can print 4x6 prints for just $0.09 at ShoppersPhoto.ca. This promotion comes around every so often and it's definitely a great way to save some money if you have a lot of photos to print off (a 100 print minimum is required to receive this special pricing). Since 4x6 prints regularly cost $0.19 each, you would normally have to pay $19 to print off 100 photos. With this promotion, you will need to pay only $9 -- so you'll be saving at least $10 on your purchase.
Once you're done selecting your prints, you can choose to ship your order to any Shoppers Drug Mart location for free.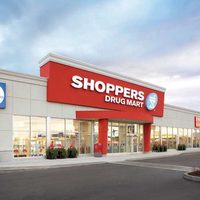 Shoppers Drug Mart Flyer Roundup: Get 18,500 Bonus Points on August 1, Grade "A" Large Eggs $2.29, Classico Pasta Sauce $2 + More!
Shoppers Drug Mart's newest flyer is now up and available for you to check out! This Saturday, August 1, they'll be running a rack up the points event, where you can earn 18,500 bonus Optimum points with a purchase over $75. (And check out this article if you want to know more about maximizing your Optimum points!) Plus, they've got special weekend deals that are live only on August 1 and August 2. Check out these specials and more of our highlights below:
Groceries:
Miss Vickie's potato chips, Sunchips, Tostitos - 2 for $7
Minute Maid, Kiju or Rubicon juice (1 L) - 2 for $3
Grade "A" Large White Eggs - $2.29
Maple Leaf bacon (375 g) - $3.99
Ben & Jerry's ice cream or Magnum ice cream - 2 for $10
Classico pasta sauce - 2 for $4
Health & Beauty:
Sally Hansen Miracle Gel Duo Kit - $16.99
Secret or Degree antiperspirant/deodorant - 2 for $6
L'Oreal Preference hair colour - $12.99
25% off Aveeno, Neutrogena or Hawaiian Tropic sun care products
20% off Polysporin antibiotic cream or Band-Aid bandages
Saturday, August 1 and Sunday, August 2 Only:
Lay's potato chips (180 g) - $1.88
Christie cookies or crackers - $1.88
Motrin Super Strength Tablets or Tylenol Extra Strength EZ Tabs - $6.99
30% off Neutrogena skin, acne or hair care products
Flyer deals will go live on Saturday, August 1 and run through Friday, August 7.
featured businesses for Pharmacies around me
Featured businesses for Pharmacies around me
Shoppers Drug Mart - Six Points Plaza 5230 Dundas St W, Etobicoke, ON

M9B 1A8

MapleLife Nutrition and Formula 3681 McNicoll Ave, Toronto, ON

M1X 1C3


Distance -

22.7 km

Dr. Nutrition 980 Tapscott Rd, Toronto, ON

M1X 1C3


Distance -

22.8 km

Shoppers Drug Mart

Hooper's Pharmacy 2136 Queen St E, Toronto, ON

M4E 1E3


Distance -

7.8 km

Vitality Compounding Pharmacy 918 Kingston Rd, Toronto, ON

M4E 1S5


Distance -

8.5 km

Canadian Compounding Pharmacy 2917 Bloor St W, Toronto, ON

M8X 1B4


Distance -

9.8 km

Peoples Drug Mart 491 Lawrence Ave W, North York, ON

M5M 1C7


Distance -

8.6 km

Pape Drug Mart (Pape Pharmacy Ltd) 751 Pape Ave, Toronto, ON

M4K 3T1


Distance -

4.8 km

Glenholme Pharmacy 896 St Clair Ave W, York, ON

M6C 1C5


Distance -

5.2 km

Snowdon Pharmacy 264 Bloor St W, Toronto, ON

M5S 1V8


Distance -

2.4 km

Smith's Pharmacy 3463 Yonge St, North York, ON

M4N 2N3


Distance -

9.6 km