Club Monaco-Sherway Gardens
25 The West Mall

,

Etobicoke

,

ON

M9C 1B8
Directions
416-622-7177
Club Monaco-Sherway Gardens - Details
Located at 25 The West Mall in Etobicoke, Club Monaco-Sherway Gardens is a company within the women's apparel - retail category of Canpages website.
Phone 416-622-7177 to get in touch with Club Monaco-Sherway Gardens that is in your neighbourhood. Get the directions to this business from your location. Or, simply add this enterprise to the business favorites list.
Finally, please send this page to your friends by accessing Facebook or Twitter links. It's also possible to save this business information to your Outlook contacts.
Opening Hours
Monday 10:00 am - 9:00 pm
Tuesday 10:00 am - 9:00 pm
Wednesday 10:00 am - 9:00 pm
Thursday 10:00 am - 9:00 pm
Friday 10:00 am - 9:00 pm
Saturday 9:30 am - 9:00 pm
Sunday 9:30 am - 6:00 pm

Products and Services
Parenting Rooms
Shopping Centre
Wheelchairs
Methods of Payment
Cash
Interac
MasterCard
Visa
Categories
Club Monaco-Sherway Gardens - Deals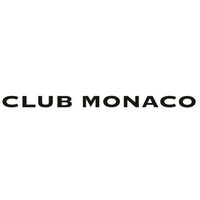 ClubMonaco.ca: Take an Extra 40% Off Sale & 50% Off Clearance Items With Promo Code
ClubMonaco.ca's Labour Day Sale starts today! For a limited time only, you'll get an extra 40% off all sale merchandise and an extra 50% off clearance items, including shoes. To redeem this offer, enter promo code HEYFALL.
Here are some of our highlights:
Women's:
Men's:
All prices listed above already include the extra 40% and 50% discount. Once you shop over $150, your order will ship for you for free. Otherwise, you will be charged a flat rate shipping fee of $8 for all orders under $150. Alternatively, if you can hold off on your shopping until August 28, you'll be able to start shopping this sale in-stores.
This sale is live now for a limited time.
featured businesses for Women's Apparel - Retail around me
Featured businesses for Women's Apparel - Retail around me
Club Monaco-Sherway Gardens 25 The West Mall, Etobicoke, ON

M9C 1B8

Body Blue 199 Danforth Ave, Toronto, ON

M4K 1N2


Distance -

3.9 km

Living2 1766 Avenue Rd, North York, ON

M5M 3Y9


Distance -

9.4 km

Images That Suit Limited 145 Front St E, Toronto, ON

M5A 1E3


Distance -

1.3 km

The Answer 2715 Yonge St, Toronto, ON

M4N 2H8


Distance -

7.7 km

Shopgirls Gallery Boutique 1342 Queen St W, Toronto, ON

M6K 1L4


Distance -

3.8 km

Mode Suzan 1647 Bayview Ave, East York, ON

M4G 3C1


Distance -

6.6 km

Gittas Stitches 203-7 Pleasant Blvd, Toronto, ON

M4T 1K2


Distance -

4.4 km

Jexy & Jax 375 Danforth Ave, Toronto, ON

M4K 1P1


Distance -

4.2 km