Ikea Canada
200 Interchange Way

,

Concord

,

ON

L4K 5C3
Directions
905-695-5075
Ikea Canada - Details
Located at 200 Interchange Way in Concord, Ontario, Ikea Canada is a local business inside the furniture - retail category of Canpages website.
Phone 905-695-5075 to get in contact with Ikea Canada that is located in your neighbourhood. Get the directions to 200 Interchange Way from your location. Or, simply add this business to your business favorites list.
Finally, feel free to send this to your friends by clicking on Facebook or Twitter links. It's also possible to save this business information to your Outlook contacts.
Opening Hours
Please call 905-695-5075 for opening hours.
Categories
Ikea Canada - Deals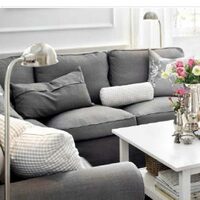 IKEA Sofa Event: Buy One Get One 50% Off On Fabric Sofas, Loveseats or Armchairs (through May 5th)
IKEA's Sofa Event starts today!
This event features a buy 1 get 1 50% off offer on all fabric sofas, loveseats or armchairs! Leather items, metal frame sofa beds and accessory cushions are not included in this offer. The 50% discount will be taken off the item of equal or lesser value at checkout.
Alternatively, you can choose to forgo the BOGO offer and instead opt for the second option of not paying for 6 months when you use your IKEA credit card! To redeem this offer, you'll need an IKEA credit card (with a $21 annual membership fee) and approved credit.
They've got tons of sofas that you can shop for this offer. Some will be available for purchase online while others are in-store exclusives.
You can check out all the styles available here, but to get you started, here are a few styles that we like:
Most of these items do require assembly, so make sure you've got someone on hand to help you put together your new sofa!
This offer is live now until the end of the day on May 5th.
Shop online at IKEA.com or at your local IKEA location!
Posted:
2014-04-14
| Starts:
2014-04-14
| Expires:
2014-05-06
Deal source:
www.ikea.com
$1 Breakfasts at IKEA!
Got a loonie? Then start your day with some flat-pack furniture and the
IKEA Restaurant
's $1 breakfast special!
The $1 breakfast includes eggs, sausage, and hash browns and is available until 11AM daily. You also have the option of adding on extras such as bacon and pancakes (for an additional charge).
To find an IKEA Restaurant near you, visit their
store locator
.
IKEA: Cinnamon Bun & Coffee are $1, Meatball Dinner is $2.99 on Weekdays
Hungry? Visit IKEA
for food deals
like these:
10-Piece Meatball Dinner w/potatoes, cream sauce and lingonberry jam for $2.99 Monday-Friday
Cinnamon bun and dark roast coffee combo for $1
Hot dog and soft drink combo for $1.50
Two hot dogs and one soft drink combo for $2
Children's meals with soft drink or milk for $1.99 (under age 12)
Organic pasta with marinara sauce for $1.99
To find an IKEA Restaurant near you, visit their
store locator
.
featured businesses for Furniture - Retail around me
Featured businesses for Furniture - Retail around me
Ikea Canada 200 Interchange Way, Concord, ON

L4K 5C3

Harkel Office Furniture Ltd 1743 Creditstone Rd, Vaughan, ON

M3J 2B9



ABCO Group Office Solutions Simplified 2480 Lawrence Ave E, Scarborough, ON

M1P 2R7



Office & Shop Furniture 181 King St E, Toronto, ON

M5A 1J4



Merit Office Solutions Ltd 232 Wilkinson Rd, Brampton, ON

L6T 4N7



Executive Furniture Rentals 81 Tycos Dr, North York, ON

M6B 1W3



CTI Working Environments Inc 6901 Edwards Blvd, Mississauga, ON

L5T 2T9



Calstone Inc 415 Finchdene Sq, Scarborough, ON

M1X 1B7



Pech Consulting ON

The Office Shop Inc 366 Denison St, Markham, ON

L3R 1B9



Rotblott's Discount Warehouse 443 Adelaide St W, Toronto, ON

M5V 1S9



Levrmark Inc 44 East Beaver Creek Rd, Richmond Hill, ON

L4B 1G8