Ikea Canada
200 Interchange Way

,

Concord

,

ON

L4K 5C3
Directions
905-695-5075
Ikea Canada - Details
Located at 200 Interchange Way in Concord, Ontario, Ikea Canada is a local business inside the furniture - retail category of Canpages website.
Phone 905-695-5075 to get in contact with Ikea Canada that is located in your neighbourhood. Get the directions to 200 Interchange Way from your location. Or, simply add this business to your business favorites list.
Finally, feel free to send this to your friends by clicking on Facebook or Twitter links. It's also possible to save this business information to your Outlook contacts.
Opening Hours
Please call 905-695-5075 for opening hours.
Categories
Ikea Canada - Deals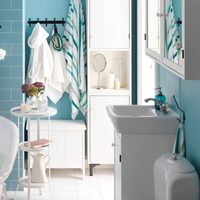 IKEA Bathroom Event: Take 15% Off All Bathroom Furniture Through November 3
IKEA's Bathroom Event is now live!
For a limited time only, all bathroom furniture, including sinks and faucets, are eligible for a 15% discount! If you're shopping online, you'll see that the prices already reflect this 15% discount. This event is only for those who are looking for furniture; bathroom accessories, interior fittings, and lighting are not included. Keep in mind that delivery and installation are also not eligible for any discounts.
This event is live through November 3. For some bathroom inspiration, check out their flyer here.
Visit IKEA.com or use the store locator to find your nearest IKEA.
Posted:
2014-10-21
| Expires:
2014-11-04
Deal source:
www.ikea.com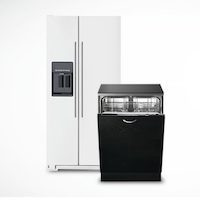 IKEA: Buy 2 Kitchen Appliances & Get a Third Free (Through November 2)
While the $200 gift card offer from IKEA excludes all kitchen appliances, IKEA has a separate offer on appliances so you can still save on your purchase!
For al imited time only, all appliances are buy 2, get the third free! IKEA has a pretty wide range of appliances, from ovens to fridges to dishwashers. Plus, all appliances from IKEA come with a 5-year warranty. You can either shop the appliances at your local store or head on over here to start shopping online. If you are planning on shopping online, we'd advise you to shop before the end of the day on September 29 to get 25% off your shipping costs!
This BOGO offer is live through November 2.
Posted:
2014-09-25
| Expires:
2014-11-03
Deal source:
www.ikea.com
$1 Breakfasts at IKEA!
Got a loonie? Then start your day with some flat-pack furniture and the
IKEA Restaurant
's $1 breakfast special!
The $1 breakfast includes eggs, sausage, and hash browns and is available until 11AM daily. You also have the option of adding on extras such as bacon and pancakes (for an additional charge).
To find an IKEA Restaurant near you, visit their
store locator
.
IKEA: Cinnamon Bun & Coffee are $1, Meatball Dinner is $2.99 on Weekdays
Hungry? Visit IKEA
for food deals
like these:
10-Piece Meatball Dinner w/potatoes, cream sauce and lingonberry jam for $2.99 Monday-Friday
Cinnamon bun and dark roast coffee combo for $1
Hot dog and soft drink combo for $1.50
Two hot dogs and one soft drink combo for $2
Children's meals with soft drink or milk for $1.99 (under age 12)
Organic pasta with marinara sauce for $1.99
To find an IKEA Restaurant near you, visit their
store locator
.
featured businesses for Furniture - Retail around me
Featured businesses for Furniture - Retail around me
Ikea Canada 200 Interchange Way, Concord, ON

L4K 5C3

Harkel Office Furniture Ltd 1743 Creditstone Rd, Vaughan, ON

M3J 2B9


Distance -

23.2 km

Executive Furniture Rentals 81 Tycos Dr, North York, ON

M6B 1W3


Distance -

8.5 km

ABCO Group Office Solutions Simplified 2480 Lawrence Ave E, Scarborough, ON

M1P 2R7


Distance -

14.8 km

Merit Office Solutions Ltd 5785 Kennedy Rd, Mississauga, ON

L4Z 2G3


Distance -

22.5 km

Office & Shop Furniture 181 King St E, Toronto, ON

M5A 1J4


Distance -

1.2 km

Coopers Office Furniture 7-34 Futurity Gate, Concord, ON

L4K 1S6


Distance -

17.0 km

CTI Working Environments Inc 6901 Edwards Blvd, Mississauga, ON

L5T 2T9


Distance -

25.4 km