Sears Canada Inc
1111 Elgin St W

,

Cobourg

,

ON

K9A 5H7
Directions
905-372-1281
Sears Canada Inc - Details
Situated at 1111 Elgin St W in Cobourg, Sears Canada Inc is a merchant within the furniture - retail section of Canpages.ca online directory.
Feel free to call 905-372-1281 to contact Sears Canada Inc that is close to your area. Find the directions to this merchant from your current location. Or, simply add this merchant to your business favorites at the bottom of this page.
Finally, you can share this with your contacts by clicking Facebook or Twitter icons. It's also possible to save this merchant information to your Outlook contacts.
Opening Hours
Please call 905-372-1281 for opening hours.
Categories
Sears Canada Inc - Deals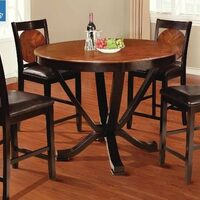 ''Elvina'' 5 Piece Counter Height Dining Suite - $699.96 (30% off)
This stunning ''Elvina'' 5 Piece Counter Height Dining Set brings a warmth, comfort and classic style together making this set is ideal for any home.
'Cypres' Bookcase Storage Bed - $699.99 (30% off)
Designed with storage in mind, this bed offers a clean, modern look. Cleverly designed with drawers on 3 sides and a bookcase built into the headboard, it allows you to maximize your storage space.
'Edgeley' Collection Queen Storage Bed - $699.99 (30% off)
Experience bedroom decor at its finest with this contemporary 'Edgeley' bed. Design features include full solid wood moldings and concave profile drawers for added retro charm. The bed is created with 2 footboard drawers to increase storage without using valuable floor space.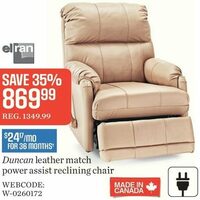 El Ran 'Duncan' Power Recliner - $869.99 (35% off)
Founded in 1967, EL RAN is a Canadian company that specializes in motion furniture, but now offers a full range of reclining chairs, loveseats and sofas, The designs are comfortable and timeless, and the products reflect the very latest trends in comfort and lifestyle features. Motion furniture has changed a great deal over the years, so EL RAN continually fine-tunes its recliner mechanisms and offers a terrific range of flexible styles and collections. Many of EL RAN's features will combine to ensure a comfortable piece of furniture, and the multitude of styles, colours and finishes will ensure that you can find the perfect piece for all of your décor decisions. Today, recliners fit right in with the way comfort is defined relaxing at home in your favourite chair and spending time with loved ones.
El Ran 'Renegade' Wall-Hugger Power Recliner - $659.99 (40% off)
Save space while maximizing your comfort. With the simple push of a button, this power recliner offers a full recline while in close proximity to a wall in an infinite number of positions. The back is removable for easy portability in small spaces.
featured businesses for Furniture - Retail around me
Featured businesses for Furniture - Retail around me