Home Depot
1050 Depalma Dr

,

Cobourg

,

ON

K9A 0A8
Directions
905-377-7600
Home Depot - Details
Opening Hours
Please call 905-377-7600 for opening hours.
Categories
Home Depot - Deals
Home Depot Garden Club Coupon: Take $4 Off Any Orchid (Through October 22)
Here's another Garden Club coupon from The Home Depot.
Through October 22, purchase any orchid at regular price and present this coupon to take $4 off! Each customer can receive discounts for up to 2 orchids and this coupon cannot be combined with any other offer or promotion.
Selection will vary from store to store. Coupon expires on October 22.
Veranda Dualglide Sliding Patio Door With Low E Glass -5 Foot Wide X 79 1/2 High-5 3/8 Inch Jamb Depth Features Double Operating D
This "NEW" DualGlide™ Patio door from Farley Windows opens effortlessly from either side. You choose which way you want it to operate! When the outdoor season kicks into high gear, nothing gets more wear and tear than your patio door. That's why it's important to know our finely crafted DualGlide™ doors slide smoothly on a patented dual-tandem wheel system. Our locking system creates a weatherproof seal with tight security. Best of all, our industry-leading warranty guarantees our doors will work effortlessly for life. Thanks to our Solid Frame™ Technology, our patio doors offer strength and durability, all at a surprisingly low cost. All DualGlide™ doors are tested against the toughest industry standards for air and water infiltration, wind load resistance, ease of operation, forced entry and more. Now you can create a high-quality, energy-efficient style for your home and still keep to your budget. A Door Designed to be Opened Time and Time Again.
Posted:
2014-10-16
| Starts:
2014-10-16
| Expires:
2014-10-23
Deal source:
www.tkqlhce.com
Vigoro Fall Lawn Fertilizer - $9.98 (33% off)
While regular fertilization throughout the growing season builds a deep green lawn, a fall application can actually do much more… Helps lawn recover from summer damage due to heat and drought. Builds a strong root system to help lawn absorb and store nutrients for the winter. Prepares the lawn for a quicker green-up in the spring.
Posted:
2014-10-16
| Starts:
2014-10-16
| Expires:
2014-10-23
Deal source:
www.anrdoezrs.net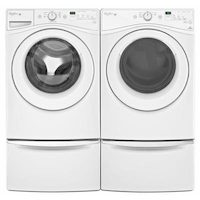 Whirlpool 4.8 Cu.Ft. Duet HE Front Load Washer w/Adaptive Wash Technology - $728.00
Colors stay vibrant wash after wash with the 4.8 cu. ft. Duet® front load washer. To keep clothes looking newer longer, Adaptive Wash technology senses the needs of each load and releases detergent at the right time during the cycle with Precision Dispense, while wash actions adapt to your load based on cycle and options selected. Plus, the Care Control temperature management system adjusts temperature so water dissolves detergent without overheating. And for even more fabric protection, the sleek interior surface of the Smooth Wave stainless steel wash basket helps prevent fraying and snags, while the Cold Wash cycle uses adaptive wash actions and a concentrated solution of HE detergent and cold water to gently lift stains from fabrics.
Posted:
2014-10-16
| Starts:
2014-10-16
| Expires:
2014-10-23
Deal source:
www.dpbolvw.net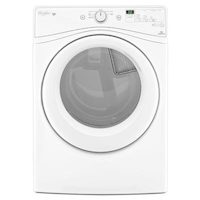 Whirlpool 7.4 Cu.Ft. Duet He Dryer w/Ecoboost Option - $538.00
Help prevent damage caused by over drying and spend less time in the laundry room with the Whirlpool® 7.4 cu. ft. Duet® dryer. Reduce over drying with Advanced Moisture Sensing, which uses three sensors to read incoming and outgoing air temperatures while monitoring moisture levels inside the dryer, so the cycle ends when everything is perfectly dry. For even more efficient drying, four shorter, staggered baffles increase the effectiveness of the dryer for small loads and promote more balanced tumbling. It's easy to start drying faster with Tap Touch controls with Memory, which allow direct access to dryer functions and even remember your last cycle and settings for a quick touch start. And, you'll be able to cut down on ironing by choosing the Wrinkle Shield™ Plus option to help keep wrinkles from setting into clean clothes.
Posted:
2014-10-16
| Starts:
2014-10-16
| Expires:
2014-10-23
Deal source:
www.dpbolvw.net
featured businesses for Furniture - Retail around me
Featured businesses for Furniture - Retail around me
Home Depot 1050 Depalma Dr, Cobourg, ON

K9A 0A8

Rotblott's Discount Warehouse 443 Adelaide St W, Toronto, ON

M5V 1S9


Distance -

1.1 km

Pat's Home Hardware 257 Coxwell Ave, Toronto, ON

M4L 3B5


Distance -

6.0 km

Dickson Home Hardware 2030 Avenue Rd, North York, ON

M5M 4A4


Distance -

10.1 km

St Lawrence Hardware 130 Lower Sherbourne St, Toronto, ON

M5A 4J4


Distance -

1.4 km

Beach Hardware 2215 Queen St E, Toronto, ON

M4E 1E8


Distance -

7.6 km