Beer Store, The - Beer Store Locations
132 Richmond St

,

Chatham

,

ON

N7M 1N9
519-352-6940
Beer Store, The - Beer Store Locations - Details
Opening Hours
Please call 519-352-6940 for opening hours.
Categories
Beer Store, The - Beer Store Locations - Deals
Belgian Moon - $2.40 ($0.25 Off)
The award-winning US wheat beer comes to Canada. This delicious Belgian-Style witbier is brewed with malted barley, wheat and rolled oats. Coriander, along with Valencia and navel orange peels are added to create a smooth and refreshing, unfiltered wheat beer.
Category:Domestic SpecialtyBrewer:MolsonAlcohol Content (ABV):5.4%.
Coors Light - $10.70 ($1.25 Off)
Brewed according to the high quality standards of Coors Brewing Company, Golden, Colorado, U.S.A. Aged slowly for that legendary ice cold, easy drinking taste that could only come from a brewing tradition born in the Rockies.
Category:PremiumBrewer:MolsonAlcohol Content (ABV):4.0%.
Cracked Canoe - $22.70 ($2.55 Off)
Cracked Canoe is a light beer brewed with independent spirit and full-bodied taste. Aged longer to impart its unique flavor, unlike other light beers, Cracked Canoe offers the simplicity of a light lager without compromising on taste. Proudly brewed by Moosehead, Canada's oldest independent brewery.
Category:Domestic SpecialtyBrewer:Moosehead Breweries LimitedAlcohol Content (ABV):3.5%.
Czechvar - $2.25 ($0.30 Off)
Czechvar is the special name given to the world famous beer brewed in the Czech Republic. Over 700 years of brewing experience have gone into this fine golden original, acknowledged by many connoisseurs to be one of the finest lagers in the world.
Category:ImportBrewer:Budejovicky Budvar NpAlcohol Content (ABV):5.0%.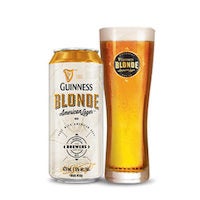 Guinness Blonde Lager - $57.95 ($3.25 Off)
A light, crisp refreshing amber beer with a floral, hoppy aroma. Brewed with both Mosaic & Willamette Hops and world famous yeast from St. James's Gate in Dublin. The flavor is light and hoppy on the nose with a long, biscuit malt finish.
Category:ImportBrewer:DiageoAlcohol Content (ABV):5.0%.
featured businesses for Beer & Liquor Stores around me
Featured businesses for Beer & Liquor Stores around me