Staples
C2-3060 Davidson Crt

,

Burlington

,

ON

L7M 4X7
Directions
905-332-1071
Staples - Details
Opening Hours
Please call 905-332-1071 for opening hours.
Categories
Staples - Deals
Staples Weekly Flyer Highlights: Samsung Wireless AiO Mono Laser Printer $150 and More!
We've got the Staples weekly flyer processed and ready to go and there are a couple of standout deals that we've listed below. As always, you can make a purchase in-store or online at Staples.ca. Now onto the deals!
Of the deals above, the one that caught our eye was the Lexar 32GB 300x micro SDHC on sale for $20. Normally a 32GB card will cost you anywhere from $25-30 so here's a good opportunity to add some extra space to a tablet or smartphone without spending too much.
The deals are live now but expire on April 22.
Shipping is available on orders over $45.
Sustainable Earth by Staples™ Sugarcane-Based Writing Pads, 8-1/2" x 11", Wide-Ruled, White, 50 Sheets, 2/Pack - $2.76 (25% off)
Perforated sheets for easy and clean sheet removal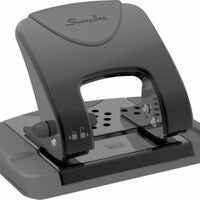 Swingline® SmartTouch™ Low-Force 2-Hole Punch, 20-Sheet Capacity - $17.99 (25% off)
Superior cutting action with patented pin technology
Swingline® SmartTouch™ Low-Force 3-Hole Punch, 20-Sheet Capacity - $23.99 (25% off)
Superior cutting action with patented pin technology
Targus® 17" Rolling Travel Laptop Case, Black - $104.91 ($35.00 off)
The unique design allows user to comfortably store large-size notebook in addition to clothing and personal accessories
featured businesses for Computers, Laptops & Parts around me
Featured businesses for Computers, Laptops & Parts around me
Staples C2-3060 Davidson Crt, Burlington, ON

L7M 4X7

Recon Office Services 2001 Thickson Rd S, Whitby, ON

L1N 6J3



ICC Vanson Inc 17-2691 Markham Rd, Scarborough, ON

ABCO Group Office Solutions Simplified 2480 Lawrence Ave E, Scarborough, ON

M1P 2R7



Executive Furniture Rentals 81 Tycos Dr, North York, ON

M6B 1W3



Akita Office Furniture 5A-7501 Woodbine Ave, Markham, ON

L3R 2W1



Fedex Office 4885 Yonge St, Toronto, ON

M2N 5N4



Coopers Office Furniture 7-34 Futurity Gate, Concord, ON

L4K 1S6



Fedex Office 459 Bloor St W, Toronto, ON

M5S 1X9



Babbco Office Services Limited 38 Skagway Ave, Scarborough, ON

M1M 3V1



Fedex Kinko's 357 Bay St, Toronto, ON

M5H 2T7



Grand & Toy 180 Bloor St W, Toronto, ON

M5S 2V6