2001 Audio Video
3350 Fairview St

,

Burlington

,

ON

L7N 3L5
Directions
905-637-2003
2001 Audio Video - Details
Located at 3350 Fairview St in Burlington, 2001 Audio Video is a local business within the television - sales & service category of Canpages website.
Phone 905-637-2003 to get in contact with 2001 Audio Video that is located in your neighbourhood. Get the directions to 3350 Fairview St from your location. Or, simply add this business to your personal business favorites list.
Finally, you can send this page to your friends by clicking on Facebook or Twitter links. It's also possible to save this business information to your Outlook contacts.
Opening Hours
Please call 905-637-2003 for opening hours.
Categories
2001 Audio Video - Deals
Yamaha Receivers and Amplifiers Home Theatre Receivers - $599.99 (14% off)
The Yamaha RX-V677 has all the inputs and outputs you need to hook up lots of gear. But it can also transform video signals from older components like DVD players into crisp HD and Ultra HD images. It can improve the clarity of dialogue while you watch a movie or a TV show. And it lets you listen to radio stations halfway across the world while you browse other exotic choices on your smartphone. Powering seven speakers across two rooms is just the tip of the iceberg for this receiver.
Yamaha Sound Bar - $219.99 (37% off)
Bluetooth compatibility, operation from an app and wireless convenience. All this and more in a one-body unit with a built-in subwoofer that offers high sound quality and exhilarating surround sound.
Yamaha Sound Bars Sound Bars - $299.99 (33% off)
This two-component system composed of a sound bar and subwoofer produces 160 W of total power. Clear, realistic, all-enveloping surround sound from the sound bar and deep bass from the subwoofer ensure high audio performance from TV and Blu-ray sources.
Nespresso Coffee Makers Espresso Machine - $199.99 (26% off)
Created to please both Nespresso coffee drinkers and lovers of modern design, the D110 Citiz represents the union of functionality and "retro-modern" design. And thanks to the Nespresso system and a variety of coffee capsules which caters to all coffee preferences, the Citiz machine offers an intuitive and user-friendly experience for a perfect cup each time.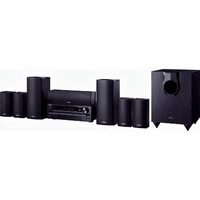 Onkyo Home Theater in a Box Receiver System - $499.99 (23% off)
Rediscover your favorite movies, music, and games in surround sound with the addition of this seven-channel home theater package from Onkyo. Duck for cover as Dolby Pro Logic IIz sends bullets whizzing over your head through two front height speakers, or just relax into a soundstage that's balanced and optimized courtesy of Audyssey 2EQ acoustic correction, Dynamic EQ, and Dynamic Volume. Four 3D-ready HDMI inputs are provided to connect your gaming consoles and media players, and for music, a front-panel USB for lossless and compressed audio from iPod®, iPhone®, or flash drive. The work of speaker selection has been done for you—a beautifully balanced eight-piece set features a dual-drive center speaker and punchy 120 W down-firing subwoofer. There's even powered Zone 2 outputs should you wish to distribute audio in another room.
featured businesses for Television - Sales & Service around me
Featured businesses for Television - Sales & Service around me
2001 Audio Video 3350 Fairview St, Burlington, ON

L7N 3L5

TV Repair @ Home 211 Forum Dr, Mississauga, ON

L4Z 4C1


Distance -

21.7 km

Home Theatre Installation Service 3307 Yonge St, Toronto, ON

M4N 2L9


Distance -

9.2 km

Toronto TV Repair 26-1770 Albion Rd, Etobicoke, ON

M9V 1C2


Distance -

20.5 km

Aireon T V Video Sales & Service 410 Moore Ave, East York, ON

M4G 1C8


Distance -

5.5 km

Audio Empire 1003 Albion Rd, Etobicoke, ON

M9V 1A6


Distance -

17.4 km