2001 Audio Video
3350 Fairview St

,

Burlington

,

ON

L7N 3L5
Directions
905-637-2003
2001 Audio Video - Details
Located at 3350 Fairview St in Burlington, 2001 Audio Video is a local business within the television - sales & service category of Canpages website.
Phone 905-637-2003 to get in contact with 2001 Audio Video that is located in your neighbourhood. Get the directions to 3350 Fairview St from your location. Or, simply add this business to your personal business favorites list.
Finally, you can send this page to your friends by clicking on Facebook or Twitter links. It's also possible to save this business information to your Outlook contacts.
Opening Hours
Please call 905-637-2003 for opening hours.
Categories
2001 Audio Video - Deals
SiriusXM Digital Satellite Radio - $64.99
The Starmate 7 radio has an easy-to-read, blue wide-screen display, push-button navigation and advanced features that give you everything you need to enjoy SIRIUS in your vehicle. Easily move your radio from your vehicle to docking kits or audio systems for the home, offi ce or other vehicles.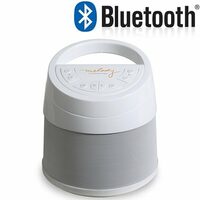 Soundcast Bluetooth Audio System - $449.99
The Melody is a portable all-weather Bluetooth® speaker that others can only aspire to be. Featuring the latest in Bluetooth connectivity and an auxiliary audio input combined with unmatched sound quality, Melody will become your modern day personal sound machine.
Vector Home Subwoofers 8" - $99.99
This high performance subwoofer delivers thundering bass at an affordable price. It's 8" driver is powered by a 100 watt amplifier.
X-Mini Portable Audio System - $35.00
The X-mini™ II Capsule Speaker™ offers a large 40 mm driver to project rich and full sounds resulting in superior experience from its innovative capsule design. Used for individual or group entertainment, the X-mini™ II Capsule Speaker™ is the perfect audio enhancement for any music or video player of your choice.
Yamaha Audio System - $99.99 ($50.00 off)
Enjoy your entire content library whenever you want, wherever you go. Built to last, the PDX-11 is an easy-to-carry, powerful speaker system which frees your iPod/iPhone music. Its unique modern design includes a rear AUX in which lets you listen to your music stocked on your PC of other MP3 player. Its octagon-shaped body is designed to deliver stability, toughness and style.
featured businesses for Television - Sales & Service around me
Featured businesses for Television - Sales & Service around me
2001 Audio Video 3350 Fairview St, Burlington, ON

L7N 3L5

Home Theatre Installation Service 3307 Yonge St, Toronto, ON

M4N 2L9


Distance -

9.2 km

Audio Empire 1003 Albion Rd, Etobicoke, ON

M9V 1A6


Distance -

17.4 km

Aireon T V Video Sales & Service 410 Moore Ave, East York, ON

M4G 1C8


Distance -

5.5 km

Toronto TV Repair 26-1770 Albion Rd, Etobicoke, ON

M9V 1C2


Distance -

20.5 km