2001 Audio Video
3350 Fairview St

,

Burlington

,

ON

L7N 3L5
Directions
905-637-2003
2001 Audio Video - Details
Located at 3350 Fairview St in Burlington, 2001 Audio Video is a local business within the television - sales & service category of Canpages website.
Phone 905-637-2003 to get in contact with 2001 Audio Video that is located in your neighbourhood. Get the directions to 3350 Fairview St from your location. Or, simply add this business to your personal business favorites list.
Finally, you can send this page to your friends by clicking on Facebook or Twitter links. It's also possible to save this business information to your Outlook contacts.
Opening Hours
Please call 905-637-2003 for opening hours.
Categories
2001 Audio Video - Deals
Zvox Soundbar - $499.99 ($100.00 off)
The ZVOX Z-Base 580 is a complete surround sound system - including dual powered subwoofers - all in one cabinet. Just place the 580 on a piece of furniture, place your flat-panel TV on top of the ZVOX system and simply connect one wire. You have just installed a high-performance home theater system in under 10 minutes.
Yamaha/Paradigm 5.1 Ch Network Receiver - $1299.99 (28% off)
Yamaha/Paradigm 5.1 Ch Network Receiver - $1299.99 (28% off)
Yamaha Slim Soundbar & Wireless Sub - $299.99 ($150.00 off)
This two-component system composed of a sound bar and subwoofer produces 160 W of total power. Clear, realistic, all-enveloping surround sound from the sound bar and deep bass from the subwoofer ensure high audio performance from TV and Blu-ray sources.
Yamaha Waterproof Speaker - $99.99 (33% off)
Designed with style in mind, the weather resistant NS-AW194 speakers offer an affordable and elegant way to enjoy the natural and renowned Yamaha sound, inside or outside. Their simple design allows them to be installed in many types of locations.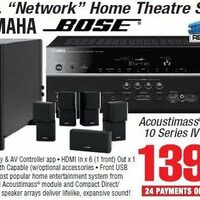 Yamaha/Bose 7.2 Ch. Network Home Theatre System - $1399.99 (15% off)
Yamaha/Bose 7.2 Ch. Network Home Theatre System - $1399.99 (15% off)
featured businesses for Television - Sales & Service around me
Featured businesses for Television - Sales & Service around me
2001 Audio Video 3350 Fairview St, Burlington, ON

L7N 3L5

Aireon T V Video Sales & Service 410 Moore Ave, East York, ON

M4G 1C8



Home Theatre Installation Service 3307 Yonge St, Toronto, ON

M4N 2L9



Toronto TV Repair 26-1770 Albion Rd, Etobicoke, ON

M9V 1C2



2001 Audio Video 20 Lebovic Ave, Toronto, ON

M1L 4V9



Delta Electronics & TV 107-2400 Midland Avenue, Scarborough, ON

M1S 5C1



Best Choice Electronics Ltd 13-7171 Torbram Rd, Mississauga, ON

L4T 3W4



Audio Empire 1003 Albion Rd, Etobicoke, ON

M9V 1A6



Sony Authorized Sales & Service Depot 3307 Yonge St, Toronto, ON

M4N 2L9



Action TV Repair

Howard Tv Stereo & Video Centre 3893 Bathurst St, North York, ON

M3H 5V1



A-Able Alltronics 1330 Mid-Way Blvd, Mississauga, ON

L5T 2K3