Home Depot Canada, The
49 First Gulf Blvd

,

Brampton

,

ON

L6W 4R8
Directions
905-457-1800
Home Depot Canada, The - Details
Located at 49 First Gulf Blvd in Brampton, Home Depot Canada, The is a company in the furniture - retail category of Canpages website.
Phone 905-457-1800 to get in touch with Home Depot Canada, The that is in your neighbourhood. Get the directions to this business from your location. Or, simply add this company to your personal business favorites list.
Finally, you can send this page to your friends by accessing Facebook or Twitter links. It's also possible to save this business information to your Outlook contacts.
Opening Hours
Please call 905-457-1800 for opening hours.
Categories
Home Depot Canada, The - Deals
Vigorox Triple Mix Garden Soil - $2.99 ($1.00 off)
Vigoro® Triple Mix® is a precisely blended mixture of humus, sphagnum peat moss and compost. A great mix to blend into existing soils or to use on its own when planting lawns, flowers, shrubs and trees.
Posted:
2014-04-17
| Starts:
2014-04-17
| Expires:
2014-04-24
Deal source:
www.dpbolvw.net
Whirlpool 30 Inch Free Standing Electric Range - $998.00 ($200.00 off)
Create delicious family meals with the help of the industry's largest capacity range available at 6.2 cu. ft. The TimeSavor™ Plus true convection cooking system uses a rear fan and a third heating element in the back of the oven, allowing you to roast up to 30% faster. Using convection cooking is easy with Convection Conversion. It automatically converts standard temperatures to the convection equivalent. Now you can save time when single-rack baking with 25% faster preheating. Rapid Preheat uses all of the elements and a rear fan to heat the oven quickly and efficiently. Our most energy-efficient self-cleaning cycle available offers quick, easy and odor-free oven cleaning with AquaLift® self-clean technology. The AccuBake® temperature management system delivers uniform baking results every time. A built-in sensor monitors oven temperature and controls the cooking elements.
Posted:
2014-04-17
| Starts:
2014-04-17
| Expires:
2014-04-24
Deal source:
www.tkqlhce.com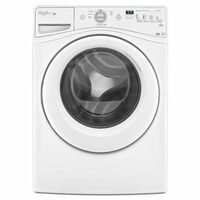 Whirlpool Duet 4.7 Cubic Feet Front Load Washer w/The Cold Wash Cycle - $748.00 (21% off)
Take home the best care for your clothes in its class with the Whirlpool® Duet® 4.7 cu. ft. front load washer. The Cold Wash cycle uses adaptive wash actions and a concentrated solution of HE detergent and cold water to gently lift stains and soils from fabrics. It protects fabrics from heat damage, while using less energy and delivering great cleaning performance. Thanks to the Adaptive Clean wash system with Precision Dispense, this ENERGY STAR® qualified model will also keep your clothes looking newer longer by creating the perfect mix of detergent and water to penetrate fabrics and virtually eliminate pretreating.
Posted:
2014-04-17
| Starts:
2014-04-17
| Expires:
2014-04-24
Deal source:
www.jdoqocy.com
Whirlpool Electric Dryer 7.4 Cubic Feet Capacity - $548.00 (27% off)
Innovative technology helps this Whirlpool® Duet® 7.4 cu. ft. front load dryer read incoming and outgoing air temperatures while monitoring moisture levels inside the dryer. Advanced Moisture Sensing also helps the drying cycle end when everything is perfectly dry, saving time and energy. Paired with this model's quad baffles, this dryer will even preserve the perfect fit of your favourite clothes. Quad baffles also help larger items billow out for better drying, while smaller items keep tumbling without getting stuck riding the baffles. You can even help wrinkles from setting into your clean clothes with the Wrinkle Shield™ option. It intermittently tumbles clothes after the cycle's end for up to 140 minutes.
Posted:
2014-04-17
| Starts:
2014-04-17
| Expires:
2014-04-24
Deal source:
www.jdoqocy.com
Whirlpool French Door Refrigerator 22 Cubic Feet - $1298.00 ($300.00 off)
Store all of your favourite foods at the right temperature without wasting energy thanks to the Accu-Chill™ temperature management system in this ENERGY STAR® qualified model, which uses built-in sensors to measure internal temperature and activates the compressor only when necessary. Food will look just as it should in this Whirlpool® 22 cu. ft. French door refrigerator with energy-efficient LED lights, which cast a more natural light. You'll be ready for special occasions with the temperature-controlled full-width pantry that easily fits wide items like party platters and sheet cakes. Also, the FreshFlow™ produce preserver extends the freshness of produce for up to 4 days longer to keep fruits and vegetables tasting great.
Posted:
2014-04-17
| Starts:
2014-04-17
| Expires:
2014-04-24
Deal source:
www.anrdoezrs.net
featured businesses for Furniture - Retail around me
Featured businesses for Furniture - Retail around me
Home Depot Canada, The 49 First Gulf Blvd, Brampton, ON

L6W 4R8

Royal Building Supplies 125 Ormont Dr, North York, ON

M9L 2S3



Vem Building Supplies Ltd 150 Bronoco Ave, York, ON

M6E 4Y1



Skyrider Equipment 1670 Bonhill Rd, Mississauga, ON

L5T 1C8



Hanford Lumber Ltd 45 Bethridge Rd, Etobicoke, ON

M9W 1M9



Rex Building Materials 405 Rogers Rd, York, ON

M6M 1A1



Downtown Rental & Building Supplies Ltd 393 Sorauren Ave, Toronto, ON

M6R 2G5



Central Mobile Concrete Ltd. 249 Supertest Rd, North York, ON

M3J 2M4



Home Hardware 172 Ossington Ave, Toronto, ON

M6J 2Z7



Danforth Lumber Company 25 Dawes Rd, Toronto, ON

M4C 5A8



Maxi-Rise Equipment Ltd 315 Deerhide Cres, North York, ON

M9M 2Z2



Costa Building Supplies Ltd 91 Costa Rd, Concord, ON

L4K 1M9