PJ's Pets
462 Bayfield St

,

Barrie

,

ON

L4M 5A2
705-719-2209
PJ's Pets - Details
Opening Hours
Please call 705-719-2209 for opening hours.
Categories
PJ's Pets - Deals
Apple Orchard Chew Sticks 10Pk - $3.99 ($0.50 off)
Helps keep your pet's teeth healthy, clean and trim.
Beak Blocks For Birds - $2.99 (Up to $1.50 off)
Provides parakeets, canaries and finches with a healthy, tasty way to keep beaks trim and sharp, whole providing essential vitamins and minerals.
Breath Drops 1.7Oz - $6.99 ($3.00 off)
Easy to use. Made with natural ingredients.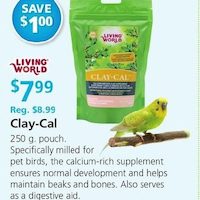 Clay-Cal 250g - $7.99 ($1.00 off)
Specifically milled for pet birds, the calcium-rich supplement ensures normal development and helps maintain beaks and bones.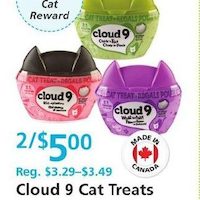 Cloud 9 Cat Treats 35g - 2/$5.00
High in protein, low in calories, big on taste.
featured businesses for Pet Supplies & Food around me
Featured businesses for Pet Supplies & Food around me
PJ's Pets 462 Bayfield St, Barrie, ON

L4M 5A2