Canadian Tire
5130 St Margarets Bay Rd

,

Upper Tantallon

,

NS

B3Z 1E2
Directions
902-826-2800
Canadian Tire - Details
Opening Hours
Please call 902-826-2800 for opening hours.
Products and Services
Accessories And Service
Automotive Parts
Leisure And Home Products
Sports
Brands Carried
Blue Planet
Broadstone
Debbie Travis
Jobmate
Mastercraft
Motomaster
Noma
Simoniz
Yardworks
Categories
Canadian Tire - Deals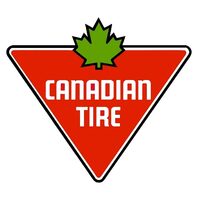 Canadian Tire Weekend Madness Sale: $400 Dyson DC29 Absolute Upright Vacuum, $5.48 Alaskan Ice Melter (10 KG) + More
This weekend, Canadian Tire will be having a Weekend Madness Sale! Deals go live starting tomorrow but we've checked out their flyer first and compiled a list of highlights that you may want to check out:
In our opinion, the stand-out deals include the Dyson DC29 Vacuum for $399.99, the Stanley Black Chrome Socket Set (183 pieces) for $79.99 and the Alaskan Ice Melter (10 kg) for $5.48. Dyson's are pretty pricey normally, and it's rare to see them at this price point. At $80, the socket set is a great addition to your tool kit and is pretty affordable. Since you can purchase up to 8 bags of Alaskan Ice Melter, we'd suggest stocking up in preparation for the winter.
These offers are available in-stores only. Sale ends November 23. Doorcrasher deals are live November 21 only..
Check out more deals in their flyer here.
Thanks to kayeyeare for posting this one in our forums!
featured businesses for Automobile Repairing & Service around me
Featured businesses for Automobile Repairing & Service around me
Canadian Tire 5130 St Margarets Bay Rd, Upper Tantallon, NS

B3Z 1E2

Avenue Motor Works Inc. 681 Rowntree Dairy Rd., Vaughan, ON

L4L 5T9


Distance -

20.5 km

Penn Auto Parts 4A-128 Manville Rd, Scarborough, ON

M1L 4J5


Distance -

11.9 km

JDM Auto Parts Inc 158 Toryork Dr, North York, ON

M9L 1X6


Distance -

18.4 km

Collision 360 Inc 185 Toryork Dr, North York, ON

M9L 1X9


Distance -

18.6 km

Ahon Auto Parts 2405 St Clair Ave W, Toronto, ON

M6N 1K9


Distance -

8.1 km

A & A Bumper & Fender Ltd 1111 Finch Ave W, North York, ON

M3J 2E5


Distance -

15.0 km

Luxury European Auto Parts Inc 125 Union St, Toronto, ON

M6N 3N4


Distance -

7.5 km

Mister Starter - Zex Racing (Turbo-Chargers) 1670 O'Connor Dr, Toronto, ON

M4A 1W4


Distance -

10.1 km

Consumer Auto Parts Inc 2562 St Clair Ave W, York, ON

M6N 1L7


Distance -

8.6 km

Nalain Pak Canada Private Ltd 338 Queen St E, Brampton, ON

L6V 1C4


Distance -

29.3 km

Ultimate Transportation Products 23 Markwood Lane, Thornhill, ON

L4J 7A6


Distance -

18.8 km