Canadian Tire
9212 Commercial Street

,

New Minas

,

NS

B4N 5J5
Directions
902-681-4576
Canadian Tire - Details
Situated at 9212 Commercial Street in New Minas, Nova Scotia, Canadian Tire is an enterprise included in the automobile repairing & service section of Canpages.ca online directory.
Phone 902-681-4576 to do business with Canadian Tire that is near your area. Find the directions to this company from your current location. Or, simply add this enterprise to the business favorites at the bottom of this page.
Finally, feel free to share this info with your contacts by using Facebook or Twitter icons. It's also possible to save this merchant information to your Outlook contacts.
Opening Hours
Please call 902-681-4576 for opening hours.
Products and Services
Accessories And Service
Automotive Parts
Leisure And Home Products
Sports
Brands Carried
Blue Planet
Broadstone
Debbie Travis
Jobmate
Mastercraft
Motomaster
Noma
Simoniz
Yardworks
Categories
Canadian Tire - Deals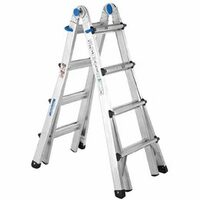 17-Ft Multi-Task Ladder - $104.79 ($155.00 Off)
17' (43 m) multi-ladder is designed to accommodate the most demanding applications, with 19 possible configurations in 1' (0.3 m) increment height adjustment. Capable of changing into a step ladder, extension ladder, stairway ladder, wall ladder, and scaffold frames. Step ladder uses multiple working heights, and each side supports a 250 lb. working load. Extension ladder adjusts to the exact height required. Stairway ladder features multiple positions, and is good for uneven ground. The scaffold position uses multiple working heights, and separates into 2 scaffold bases. Ladder is designed with a wide base for added stability, and a heavy-duty aluminum construction. Portable and compact for easy storage. Positive safety locking mechanism ensures safe use. Has a 300 lb weight capacity.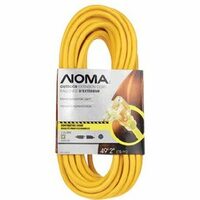 Outdoor Extension Cord - $18.89 - $73.49 (50% Off)
Grounded outlet with PowerLite? indicator plug that glows when the cord has power. 12/3 yellow.
Dead Down Wind Grand Slam Scent Eliminator Kit - $26.24 (50% Off)
Dead Down Wind Grand Slam Scent Eliminator Kit includes everything you need for a scent-free hunt. The products included in this kit are biodegradable and skin safe. Features laundry, hygiene, and field products with ESP enzyme-driven odour control technology. 7-piece set includes: laundry detergent, wind checker, bar soap, hand sanitizer, field spray, field spray refills, and fleece skull cap.
Cambridge 7 Piece Luggage Set - $83.99 (65% Off)
7 piece luggage set includes a 21" (53 cm) upright, 25" (64 cm) upright, 30" (76 cm) upright, 30" (76 cm) duffel, 15" (38 cm) tote, 20" (51 cm) soft duffel and a 9" (23 cm) kit. Features in-line wheels, with the largest piece having an expandable section. Luggage is made with a 500D X 300D polyester material with EVA backing. 21" (53 cm) upright 20.5 x 13.5 x 7" (52 x 34 x 18 cm). 25" (64 cm) upright 25 x 17 x 8" (64 x 43 x 20 cm). 30" (76 cm) upright 29.5 x 19 x 10.5" (76 x 48 x 28 cm). 30" (76 cm) duffel 13.5 x 30 x 14.5" (34 x 76 x 36 cm). 15" (38 cm) tote 15 x 10.5 x 5.25" (38 x 28 x 13 cm). 9" (23 cm) kit 9 x 5 x 4.25" (23 x 13 x 10 cm). 20" soft duffel 20 x 10.5 x 8.5" (51 x 25 x 20 cm).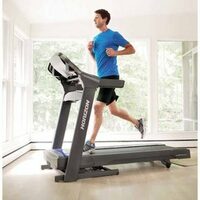 Horizon Ct9.3 Treadmill - $918.74 ($1,380.00 Off)
CT9.3 Treadmill features a powerful 2.5 CHP motor that is ultra-quiet at any speed. Large 20 x 60" (51 x 152 cm) deck with 2-ply running belt gives you more room and a comfortable stride at any speed, from walking to running. 0.5 to 12 mph, 0 - 12% incline. 12 cardio, performance and weight loss programming options add challenge and variety to your workouts, while the GoalCenter? helps you achieve your long-term fitness goals. Integrated grip pulse checks while you run. Time, calories, distance, heart rate, incline and speed readouts. 350 lbs (158 kg) weight capacity. COOLfit? fitness fan. Sonic Surround? speakers with MP3 compatibility . FeatherLIGHT? folding lift system .
featured businesses for Automobile Repairing & Service around me
Featured businesses for Automobile Repairing & Service around me
Canadian Tire 9212 Commercial Street, New Minas, NS

B4N 5J5

Rotblott's Discount Warehouse 443 Adelaide St W, Toronto, ON

M5V 1S9


Distance -

1.1 km

Dickson Home Hardware 2030 Avenue Rd, North York, ON

M5M 4A4


Distance -

10.1 km

Pat's Home Hardware 257 Coxwell Ave, Toronto, ON

M4L 3B5


Distance -

6.0 km

Beach Hardware 2215 Queen St E, Toronto, ON

M4E 1E8


Distance -

7.6 km

St Lawrence Hardware 130 Lower Sherbourne St, Toronto, ON

M5A 4J4


Distance -

1.4 km