Dave's No Frills
643 Fairville Blvd

,

Saint John

,

NB

E2M 4X5
506-633-2256
Dave's No Frills - Details
Situated at 643 Fairville Blvd in Saint John, New Brunswick, Dave's No Frills is an enterprise part of the grocery stores & markets section of Canpages.ca online directory.
You can call 506-633-2256 to do business with Dave's No Frills that is near your area. Or, simply add this merchant to your business favorites at the bottom of this page.
Finally, please share this info with your contacts by using Facebook or Twitter icons.
Opening Hours
Please call 506-633-2256 for opening hours.
Categories
Dave's No Frills - Deals
No Frills Flyer Roundup: Neilson 10% Cream, Astro Yogurt Tubs, Schneiders Lunchmate Kits + More for $2 Each!
The newest flyer for No Frills is now up on RedFlagDeals.com!
This week, No Frills is running a $2 sale, where, as you may have guessed, most items are on sale for just $2!
If you're looking for some shopping ideas, check out our flyer highlights below:
Neilson 10% half and half or Trutaste 5% light cream - $2
Arm & Hammer laundry detergent - $2
boneless skinless chicken breast - $2/lb
Butcher's Choice sausages - $2/lb
Schneiders Lunchmate kits or Stackers - $2
Astro yogurt tubs - $2
Lay's potato chips or Munchies snack mix - $2
Orville Redenbacher's popcorn - $2
McCain premium potatoes - $2
Coca-Cola or Pepsi soft drinks (2 L) - 3 for $2
Post cereal or Kellogg's cereal - $2
kiwi (1 lb bag) - $2
Farmer's Market mini cucumbers - $2
Flyer deals go live on February 16 and will run through February 22.
Alcan Foil Wrap 50 ft., Glad Plastic Wrap Cling 60m or Ziploc Sandwich Bags 72s - $2.00
Alcan Foil Wrap 50 ft., Glad Plastic Wrap Cling 60m or Ziploc Sandwich Bags 72s - $2.00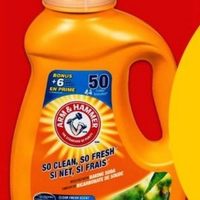 Arm & Hammer Laundry Detergent 1.81-2.21L - $2.00
Selected varieties
Astro Yogurt Tubs 650/750g - $2.00
Selected varieties
Axe Shower Gel 473ml, Body Deodorant 76/85g, Deodorant Body Spray 113g or Hair Care 355ml - $2.97
Selected varieties
featured businesses for Grocery Stores & Markets around me
Featured businesses for Grocery Stores & Markets around me