Dave's No Frills
643 Fairville Blvd

,

Saint John

,

NB

E2M 4X5
Directions
506-633-2256
Dave's No Frills - Details
Opening Hours
Please call 506-633-2256 for opening hours.
Categories
Dave's No Frills - Deals
No Frills 88's Sale Roundup: $3.88 Maple Leaf Bacon, $1.88 Diana Sauce, $0.88 Real Canadian Natural Spring Water (15 x 500 mL)
We've got No Frill's newest flyer up and ready here for you! This week, No Frills' 88's sale continues. We're seeing a decent deal on Schneiders sausages and Maple Leaf bacon; not to mention Diana Sauce is available for just $1.88 this week. Deals are live starting tomorrow but first, here's a quick roundup of our highlights to get you started:
Real Canadian Natural Spring Water (15 x 500 mL) - $0.88
Lean Ground Beef - $2.88 (was $4.09/lb)
Doritos Chips, Lay's Chips or Smartfood Snacks - $1.88 each
Schneiders Juicy Jumbos and Grill'ems - $2.88 (was $5.99)
Maple Leaf or Smithfield Bacon - $3.88 (was $6.99)
Navel oranges - $0.88/lb
Farmer's Market White Potatoes, Carrots, or Yellow Cooking Onions - 3 for $4.88
Bagels or Old Mill English Muffins - $0.88
Pillsbury Dough - $1.88 (was $2.57)
Palmolive Dish Soap - $1.88 (was $2.99)
Frank's Red Hot Sauce - $2.88 (was $3.49)
Gallo Extra Virgin Olive Oil (750 mL) - $2.88 (was $6.49)
Diana Sauce or Marinades - $1.88 (was $2.97)
Chapman's Super Novelties - $2.88
Del Monte Fruit - $0.88 (was $2)
Flyer prices are in effect starting tomorrow and will run through November 6.
Here's a quick reminder that No Frills is now part of the PC Plus program! Membership is free and you can earn points from your grocery purchases to use on your next purchase. Follow this link for more information.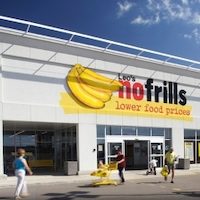 No Frills Stores are Now in the PC Plus Points Program!
Loblaws launched the PC Plus points program in 2013 but up until now, you could not collect or redeem PC Points at No Frills stores. After a short test on the east coast, Loblaws has finally expanded PC Points to all No Frills stores! No Frills is considered to be the Loblaws chain with the lowest prices and the addition of PC Points is certainly welcome!
There are more than 200 No Frills locations across Canada, although they're heavily concentrated in the province of Ontario.
featured businesses for Grocery Stores & Markets around me
Featured businesses for Grocery Stores & Markets around me