Staples Business Depot
233 Main St

,

Moncton

,

NB

E1C 1B8
Directions
506-860-6802
Staples Business Depot - Details
Opening Hours
Please call 506-860-6802 for opening hours.
Categories
Staples Business Depot - Deals
Staples Flyer Highlights: 13.3" MacBook Air w/i5, 4GB, 128GB SSD $949, Sennheiser Speaker $35 and More!
We've got the weekly Staples flyer processed and ready to go and there are some good deals to be had if you're in the market for a new laptop or some other electronics or accessories. As an added bonus, Staples has brought back the popular Saturday Door Crashers in full force with a large list of exclusive deals set to go live on December 14. Here's a quick rundown of what'll be available come Saturday:
Saturday Door Crashers
Of the deals above, the one that stands out to us would be the Google Nexus 7 FHD Tablet on sale for $230. While that's currently the regular US pricing, you're looking to pay at least $20 more for it this side of the border. It's arguably one of the best 7" tablets right now, so you'll want to jump on that deal if you've been looking for a better sale price.
The rest of the flyer highlights are as follows:
There's been a lot of positive discussion in the Hot Deals Forum floating around the MacBook Air and Pro models but another good value buy would be the Acer G276HL 27" LED Monitor on sale for $200. Average price is currently $100 more and, despite the lackluster 1080p resolution, it'll make a nice spare monitor or a display for video game consoles.
The Saturday deals go live on December 14 while the rest of the flyer highlights should be live now.
If you're interested, you'll want to get your orders in fast as quantities are limited.
Orders over $45 ship free.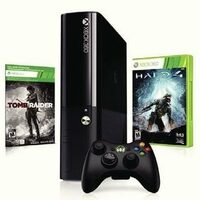 Xbox 360™ 250gb Holiday Value Bundle - $249.99 ($50.00 off)
Xbox 360™ 250gb Holiday Value Bundle - $249.99 ($50.00 off)
Western Digital® Wd Tv Live Streaming Media Player - $89.93 ($20.00 off)
Western Digital® Wd Tv Live Streaming Media Player - $89.93 ($20.00 off)
Wacom® Intuos® Small Creative Pen Tablet - $63.99 (20% off)
Wacom® Intuos® Small Creative Pen Tablet - $63.99 (20% off)
Wacom® Intuos® Small Creative Pen And Touch Tablet - $79.99 (20% off)
Wacom® Intuos® Small Creative Pen And Touch Tablet - $79.99 (20% off)
featured businesses for Computers, Laptops & Parts around me
Featured businesses for Computers, Laptops & Parts around me
Staples Business Depot 233 Main St, Moncton, NB

E1C 1B8

Recon Office Services 7-2001 Thickson Rd S, Whitby, ON

L1N 6J3



ICC Vanson Inc 17-2691 Markham Rd, Scarborough, ON

ABCO Group Office Solutions Simplified 2480 Lawrence Ave E, Scarborough, ON

M1P 2R7



ACE Moving & Installation Inc 140 Finchdene Sq, Toronto, ON

M1X 1B1



Calstone Inc 415 Finchdene Sq, Scarborough, ON

M1X 1B7



Babbco Office Services Limited 38 Skagway Ave, Scarborough, ON

M1M 3V1



Complete Office 380 Birchmount Rd, Scarborough, ON

M1K 1M6



Go Data & Office Products Ltd ON

M1V 5E4



Barry's Office Furniture Inc 186 Spadina Ave, Toronto, ON

M5T 2C2



Chanox 3836 Bloor St W, Etobicoke, ON

M9B 1L1



Toronto Office Disposal 900 Eglinton Ave E, Toronto, ON

M6C 2B6