Shoppers Drug Mart
83-1644 Hillside Ave

,

Victoria

,

BC

V8T 2C5
See all locations
250-595-5111
Shoppers Drug Mart - Details
Opening Hours
Monday 8:00 am - 12:00 am
Tuesday 8:00 am - 12:00 am
Wednesday 8:00 am - 12:00 am
Thursday 8:00 am - 12:00 am
Friday 8:00 am - 12:00 am
Saturday 8:00 am - 12:00 am
Sunday 8:00 am - 12:00 am

Categories
Shoppers Drug Mart - Deals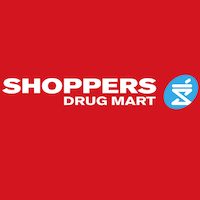 Shoppers Drug Mart Flyer Roundup: PC Natural Spring Water $1.88, Lay's Chips $1.88, Sally Hansen Xtreme Wear Enamel $2.99 + More
Shoppers Drug Mart's newest flyer is now up and available for you to check out! There are no bonus Optimum offers available in this week's flyer, but you be sure to check out their Ultimate Shop & Dine offer for some free promo cards with you purchase over $75.00.
If you're curious to see what kind of deals are available this upcoming week, take a look at some of our flyer highlights below:
Sunday, July 24 and Monday, July 25 Only:
PC Natural Spring Water 24 x 500ml - $1.88
Wonder Bread - $1.99
Lay's Potato Chips - $1.88
Mrs. Fields Cookies - $1.99
Sunlight or Palmolive Dish Soap - $1.88
[Food Store locations only] Grade A Large White Eggs - $1.99
[Food Store locations only] Maple Leaf Bacon - $3.79
Groceries:
Campbell's Condensed Soups - $0.69
Quaker Harvest Crunch Cereal - 2 for $5.00
Peek Freans Cookies - 2 for $4.00
Dr. Oetker Frozen Pizzas - $3.99
Breyers Ice Cream - $3.99
Household Essentials:
Royale Facial Tissues - $0.69
Bounty or PC Green Paper Towels - $5.99
Royale Bathroom Tissue - $6.99
PC Green Household Cleaners - 20% Off
Select Gain Laundry Products - $4.99
Health:
Imodium Caplets - 20% Off
Jamieson Omega Products - 35% Off
Life Brand Ibuprofen - 25% Off
Pepto Bismol - 20% Off
Personal Care:
Select L'Oreal Skin Care - 25% Off
Tresemme Hair Care - $4.99
L'Oreal Hair Care Expertise Shampoo - $3.99
Nivea, Right Guard or Secret Antiperspirant - $2.99
Select Colgate Toothpaste - $2.99
Beauty:
Revlon Nail Enamel - $3.99
Sally Hansen Xtreme Wear Nail Enamel - $2.99
Annabelle Kohl Eyeliner, Lipsies Balm or Lipliner - 2 for $7.00
Maybelline The Nudes Eyeshadow Palette - $14.99
NYX Vivid Brights Eyeliner or Liquid Suede Cream Lipstick - $9.99
Flyer deals will go live on Saturday, July 23 and run through Thursday, July 28. Prices may vary by location, so make sure to check out your local flyer here.
Shoppers Drug Mart: Get a $10 Ultimate Dining Promo Card + $10 Shoppers Drug Mart Card with $75 Purchase (July 23 & 24)
If you're feeling a bit peckish, you'll want to check out this weekend's offer from Shoppers Drug Mart!
Saturday, July 23 and Sunday, July 24, spend $75.00 or more on almost anything at Shoppers Drug Mart and you'll receive a free $10.00 Ultimate Dining Promo card and a $10.00 Shoppers Drug Mart Card! The $10.00 dining card will be valid at restaurants including Harvey's, Swiss Chalet, Milestones, Montana's, Kelsey's and more -- giving you plenty to choose from. And while there are no bonus Optimum offers this week, Shoppers Drug Mart is also throwing in a $10.00 shopping card for you to use on your next purchase.
This offer is valid July 23 and 24 only. Note that the following items will be excluded from this offer: prescription purchases, products with codeine, tobacco products (where applicable), stamps, passport photos, lottery tickets, event tickets, transit tickets and passes, electronic gift cards, and prestige cosmetics and fragrances.
Each customer is limited to one of each promo card per purchase. Click here to find a Shoppers Drug Mart near you.
featured businesses for Pharmacies around me
Featured businesses for Pharmacies around me