Rexall Drug Stores
3098 Nanaimo St

,

Victoria

,

BC

V8T 5A6
250-384-7196
Rexall Drug Stores - Details
Opening Hours
Please call 250-384-7196 for opening hours.
Categories
Rexall Drug Stores - Deals
Advil Extra, Regular Strength Or Arthritis Pain Liqui-Gels Or Caplets Or Convenience Packs - $12.99
Advil extra, regular strength. Arthritis pain liqui-gels. Caplets 40's-72's. Convenience packs 36's.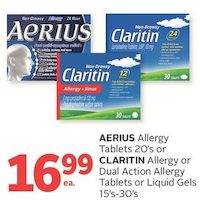 Aerius Allergy Tablets Or Claritin Allergy Or Dual Action Allergy Tablets Or Liquid Gels - $16.99
Aerius allergy tablets 20's. Claritin allergy or dual action allergy tablets or liquid gels 15's-30's.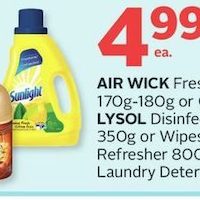 Air Wick Freshmatic Refills Or Candles, Lysol Disinfecting Spray Or Wipes Or Fabric Refresher Or Sunlight Laundry Detergent - $4
Air wick freshmatic refills 170 g-180 g. Candles 141 g-150 g. Lysol Disinfecting Spray 350 g. Wipes 80's. Fabric refresher 800 ml. Sunlight laundry detergent 1.15 L.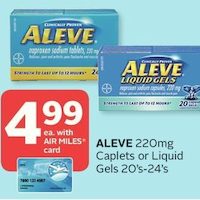 Aleve 220mg Caplets Or Liquid Gels - $4.99
20's-24's. With air miles card.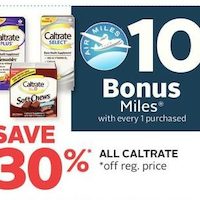 All Caltrate - 30% off
10 Bonus miles with every 1 purchased.
featured businesses for Pharmacies around me
Featured businesses for Pharmacies around me
Rexall Drug Stores 3098 Nanaimo St, Victoria, BC

V8T 5A6

Shoppers Drug Mart

Peoples Drug Mart 491 Lawrence Ave W, North York, ON

M5M 1C7


Distance -

8.6 km

Total Health Pharmacy 149 997 Gerrard St E, Toronto, ON

M4M 1Z4


Distance -

4.4 km

Hooper's Pharmacy 2136 Queen St E, Toronto, ON

M4E 1E3


Distance -

7.8 km

Vitality Compounding Pharmacy 918 Kingston Rd, Toronto, ON

M4E 1S5


Distance -

8.5 km

Canadian Compounding Pharmacy 2917 Bloor St W, Toronto, ON

M8X 1B4


Distance -

9.8 km

Pape Drug Mart (Pape Pharmacy Ltd) 751 Pape Ave, Toronto, ON

M4K 3T1


Distance -

4.8 km

Glenholme Pharmacy 896 St Clair Ave W, York, ON

M6C 1C5


Distance -

5.2 km

Sone's Pharmacy 991 Dovercourt Rd, Toronto, ON

M6H 2X6


Distance -

4.2 km

Smith's Pharmacy 3463 Yonge St, North York, ON

M4N 2N3


Distance -

9.6 km

Keele & Rogers Pharmacy 605 Rogers Rd, York, ON

M6M 1B9


Distance -

8.1 km