KFC
6487 Knight St

,

Vancouver

,

BC

V5P 2V9
Directions
604-321-1612
KFC - Details
Opening Hours
Please call 604-321-1612 for opening hours.
Categories
KFC - Deals
KFC Facebook Coupon: Get a Free Piece of Sweet Chili Crunch (Drums or Thighs) with Purchase of Any Regular Priced Menu Item
KFC has just introduced a new flavour: Sweet Chili Crunch! Curious about the taste? They first marinate the chicken for 12 hours, double-bread it and then drizzle it with a Sweet Chili glaze.
If you're interested in trying this new flavour without committing to a full meal purchase, KFC has a Facebook coupon that will allow you to get a taste for free.
Through November 2, head on over to KFC's Facebook page here and claim this offer. Once you do so, you'll receive a confirmation email that you'll need to present to get a free piece (drums or thigh) of this Sweet Chili Crunch chicken with the purchase of any regular priced menu item! Note that you may have to first "Like" KFC Canada on Facebook to see the offer.
This coupon cannot be combined with any other offer and each customer is limited to just one coupon.
Offer expires on November 2.
Thanks to rayalan for letting us know about this delicious treat!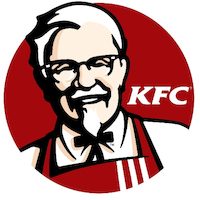 New Downloadable Coupons From KFC Available Now! (Expires December 14)
All-new KFC coupons are now up for grabs online at KFC.ca!
Just follow this link and scroll down until you see "Fall Savings". Then, select your province and hit the arrow to get your coupons. Coupons vary from province to province, but here's what Ontarians will get:
$5.99 Big Boss Meal
$5.99 3 Piece Chicken & Fries
$6.99 4 Piece Chicken & Fries
$7.99 Ultimate 4 Piece Box Meal
$8.99 Two Can Dine Double Krunch or Zinger D.K.
$11.99 Two Can Dine Big Crunch
$12.99 Two Can Dine 3 Piece Meals
$16.99 9 Piece Family Special
$16.99 12 Piece Bucket
$24.99 14 Piece Family Special
$29.99 18 Piece Family Special
These coupons are live now through December 14. Coupons for Maritime provinces will expire at the end of the day on December 7.
Posted:
2014-10-20
| Expires:
2014-12-15
Deal source:
www.kfc.ca
featured businesses for Restaurants around me
Featured businesses for Restaurants around me
KFC 6487 Knight St, Vancouver, BC

V5P 2V9

Bairrada Churrasqueira Grill 1002 College Street, Toronto, ON

M6H 1A7


Distance -

3.5 km

Red Lobster 790 Burnhamthorpe Rd W, ,

L5C 3X3


Distance -

23.0 km

Bardi's Steak House 56 York St, Toronto, ON

M5J 1S8


Distance -

0.3 km

The Keg Steakhouse & Bar
Distance -

331.7 km

Astoria Shish Kebob House 390 Danforth Ave, Toronto, ON

M4K 1P3


Distance -

4.2 km

Yumei Sushi 2116 Queen St E, Toronto, ON

M4E 1E2


Distance -

7.7 km

Parmagiano 3186 Yonge St, Toronto, ON

M4N 2L1


Distance -

8.9 km

El Trompo Taco Bar & Cactus Grill 277 Augusta Ave, Toronto, ON

M5T 2M1


Distance -

1.6 km

Monarchs Pub 33 Gerrard St W, Toronto, ON

M5G 1Z4


Distance -

1.2 km

The Bottom Line Restaurant & Bar 22 Front St W, Toronto, ON

M5J 1C4


Distance -

0.6 km

KI Restaurant & Lounge 181 Bay St, Toronto, ON

M5J 2T3


Distance -

0.5 km