KFC
6487 Knight St

,

Vancouver

,

BC

V5P 2V9
Directions
604-321-1612
KFC - Details
Located at 6487 Knight St in Vancouver, KFC is a local business within the restaurants section of Canpages website.
Feel free to call 604-321-1612 to get in contact with KFC that is located in your neighbourhood. Get the directions to 6487 Knight St from your location. Or, simply add this enterprise to your personal business favorites list.
Finally, please send this page to your friends by clicking on Facebook or Twitter links. It's also possible to save this business information to your Outlook contacts.
Opening Hours
Please call 604-321-1612 for opening hours.
Categories
KFC - Deals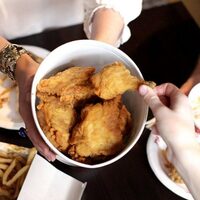 KFC: 9 Pieces of Drumsticks and Thighs for $9.99 is Back!
Craving some fried chicken? KFC has brought back an old favourite for a limited time only.
Pay just $9.99 and you'll get 9 pieces of drumsticks and thighs, which comes out to be around $1 per piece. With school now in session, you can go with a friend and split the bucket for a quick, easy and affordable lunch.
This offer is available at participating locations throughout Canada (with the exception of Newfoundland). You can order this bucket online here or head to a local store.
If you're a fan of KFC, you'll also want to check out their printable coupons now available here.
New Downloadable Coupons From KFC Available Now! (Expire September 28)
New KFC coupons are now up for grabs online at KFC.ca!/p>
Just follow this link and scroll down until you see "Summer Savings". Then, select your province and hit the arrow to get your coupons. Coupons vary from province to province, but here's what Ontarians will get:
$5.99 Big Boss Meal
$7.99 4 Piece Ultimate Box Meal
$5.99 3 Piece Chicken & Individual Fries
$6.99 4 Piece Chicken & Individual Fries
$11.99 Two Can Dine Big Crunch
$10.99 Two Can Dine Zinger BLT or BLT Deluxe
$12.99 Two Can Dine 3 Piece Value Meals
$16.99 9 Piece Family Special
$16.99 12 Piece Bucket
$24.99 14 Piece Family Special
$29.99 18 Piece Family Special
These coupons are live now through September 28th. Coupons for Maritime provinces will expire at the end of the day on October 19.
Posted:
2014-09-03
| Expires:
2014-09-29
Deal source:
www.kfc.ca
featured businesses for Restaurants around me
Featured businesses for Restaurants around me
KFC 6487 Knight St, Vancouver, BC

V5P 2V9

Bairrada Churrasqueira Grill 1002 College Street, Toronto, ON

M6H 1A7


Distance -

3.5 km

Bardi's Steak House 56 York St, Toronto, ON

M5J 1S8


Distance -

0.3 km

Red Lobster 790 Burnhamthorpe Rd W, ,

L5C 3X3


Distance -

23.0 km

Mr Greenjeans Restaurant & Bar 220 Yonge St., Toronto, ON

M5B 2H1


Distance -

0.7 km

KI Restaurant & Lounge 181 Bay St, Toronto, ON

M5J 2T3


Distance -

0.5 km

Yumei Sushi 2116 Queen St E, Toronto, ON

M4E 1E2


Distance -

7.7 km

Copa Cabana 230 Adelaide St W, Toronto, ON

M5H 1W7


Distance -

0.2 km

Copa Cabana Grilled Brazilian 150 Eglinton Ave E, Toronto, ON

M4P 1E8


Distance -

6.6 km

Astoria Shish Kebob House 390 Danforth Ave, Toronto, ON

M4K 1P3


Distance -

4.2 km

Honeybee Restaurant 2028 Queen St E, Toronto, ON

M4L 1J4


Distance -

7.4 km

El Trompo Taco Bar & Cactus Grill 277 Augusta Ave, Toronto, ON

M5T 2M1


Distance -

1.6 km