Brick, The
4730 Keith Ave

,

Terrace

,

BC

V8G 4K1
250-635-4111
Brick, The - Details
Opening Hours
Please call 250-635-4111 for opening hours.
Categories
Brick, The - Deals
10.2-Cu.ft. Chest Freezer - $397.00
If your fridge's freezer is overflowing with frozen foods, rest assured you'll never have that problem again thanks to this chest freezer from Midea. The 10.2 cu. ft. capacity offers plenty of storage so your family members won't have to fight over what treats to store.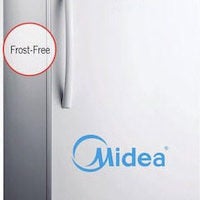 13.8-Cu.ft. Upright Frost-Free Freezer - $688.00
If you're in search of more space for your frozen food, this Midea upright freezer is the perfect find. Its large capacity easily stores your frozen goods, while the slide-out basket makes it quick and convenient to access your groceries.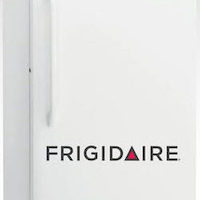 20.9-Cu.ft. Upright Freezer - $7.99
Keep your frozen pizzas savoury and your leftover casseroles hearty with this Frigidaire 20.9 cu. ft freezer. Its adjustable temperature control allows you to effortlessly customize your freezer's settings with a mechanical dial, and a power-on indicator light lets you know the freezer is still on.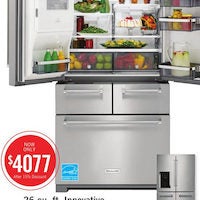 26-cu. ft. Innovative 5 Door Fridge - $4077.00 (15% off)
36" Wide. Bright LED interior lighting. Filtered ice ands water dispenser. Electronic control system. Buy1 or 2 Qualifying kitchenaid appliances. Save 15% off our ticket price. Buy 3 or 4 Qualifying kitchenaid appliances. Save 20% off our ticket price. Buy 5 or more qualifying kitchenaid appliances. Save 25% off our ticket price.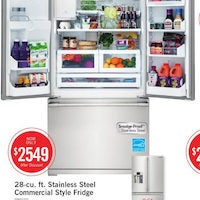 28-Cu. ft. Stainless Steel Commercial Style Fridge - $2549.00 (20% off)
Pure source water filtration. "Slide under" and "flip up" shelving. Pure Air filtration system. Frigidaire Professional Major appliances. Excludes discount. Clearance."Hot buy" Deals and commercial or builder products.
featured businesses for Furniture - Retail around me
Featured businesses for Furniture - Retail around me