Sears Canada Inc - Details
Opening Hours
Please call 250-564-8111 for opening hours.
Categories
Sears Canada Inc - Deals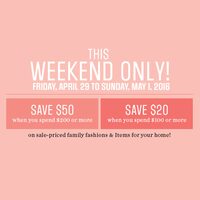 Sears: Take Up to $50 Off Your Purchase With Coupon (Online & In-Store)
If you're looking to spruce up your home or wardrobe, you'll want to take advantage of these new coupons from Sears!
This weekend only, you can take up to $50.00 off your purchase of sale-priced family fashions & home items with a coupon!
This weekend's offer is a tiered promotion, so you'll save a little more with the more you spend. The tiers are as follows:
Take $20.00 off a purchase of $100.00 or more with coupon code 941612701
Take $50.00 off a purchase of $200.00 or more with coupon code 941612712
The above coupon codes will need to be entered at checkout if you're shopping online. If you plan on heading in-store to shop, simply print out this coupon and show it to the cashier.
This coupon will work on a number of items that are already marked down, meaning you can keep a little bit more in your pocket when shopping. You should note however, that major appliances, cosmetics, BBQs, and outdoor power items are excluded from this offer.
This offer is valid through May 1 both online and in-store. Sears offers free shipping on online orders over $99.00, however larger items may require an additional delivery fee. Remember to log-in via RFD Cash Back to earn an additional 1.25% back on your purchase!
Posted:
2016-04-29
| Starts:
2016-04-29
| Expires:
2016-05-02
Deal source:
www.anrdoezrs.net
All Kenmore & Kenmore Elite Free Standing Double Oven Ranges - Up to 20% off
All Kenmore & Kenmore Elite Free Standing Double Oven Ranges - Up to 20% off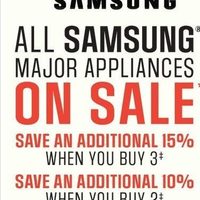 All Samsung Major Appliances On Sale - Up to 15% off
Save up to 15% when you buy 3 or more Samsung appliances.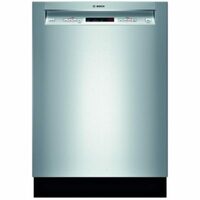 Bosch 300 Series Tall Tub Dishwasher - $999.99 ($400.00 off)
This 300 series dishwasher doesn't leave the factory until it tests 100%. Have confidence that this dishwasher will help you scrub the grime off the dirtiest plates and give your glassware that extra shine, performance you can rely on.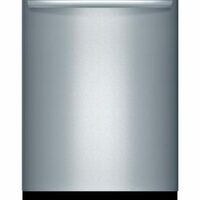 Bosch Integra Fully-Integrated Tall Tub Dishwasher - $749.99 ($250.00 off)
This 50 dBA SHX3AR75UC Dishwasher has a two pump suspension motor system plus tub dampening which ensures a quiet operation. The wash system has superior water efficiency, using as little as 2.54 gallons per load and the AQUASENSOR features an advanced scanning eye which examines the level of soil in the wash water and automatically deletes a secondary fresh water fill if not needed, saving you time and money.
featured businesses for Furniture - Retail around me
Featured businesses for Furniture - Retail around me