Canadian Tire - Details
Opening Hours
Please call 250-964-8258 for opening hours.
Categories
Canadian Tire - Deals
Mastercraft 16-Pc Cut Off And Grinder Accessories - $19.49 (70% Off)
16-pc Cut Off and Grinder Accessories include flap disc, cut off blades, cup brush, and knotted wire wheel brush. Kit is ideal for removing different materials at varying stages of the process. Flap discs are ideal for removing surface coatings and slight imperfections. Cut-off blades can be used to cut materials to length. Knotted cup and wire wheel brushes can be used for removing weld splatters, heavy scale, burrs and rust
Hanging Hammock - $29.99 (25% Off)
100% cotton swing hammock. Wood spreader bar. Steel fasteners for hanging. Coordinates with Classic-style grouping.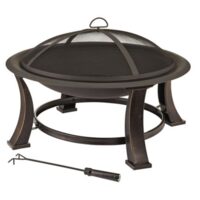 For Living Laurentian Firebowl - $59.99 (40% Off)
For Living Laurentian Firebowl features an antique bronze finish. Firebowl can be used with wood of candles. Made of a durable steel construction. Includes mesh cover and fire poker. Colour: antique finish. Assembled Dimensions: 30" (76.2 cm) diameter x 22" H (55.8 cm). Carton Dimensions: 31.5 W x 31 D x 6.5" H (80 x 79 x 16.5 cm)
For Living Lakeside Collection Gazebo - $259.99 (10% Off)
For Living Lakeside Collection Gazebo adds shade to your backyard seating area. Features fabric canopy top and steel frame. Includes 4 shelves. Easy assembly in 15 minutes with no tools needed. Dimensions: 9.84 L x 9.84 W x 8.69' H (2.99 L x 2.99 W x 2.64 H m). Weight: 79.2 lbs (36 kg). Coordinates with the Lakeside Collection. Purchase Walls (SKU 088-1611) separately for cover from weather, or Netting (SKU 088-1612) for bug protection. Please consult and respect your local by-laws regarding installation of this unit.
Canvas Portland Collection Patio Coffee Table - $79.99 (20% Off)
CANVAS Portland Collection Patio Coffee Table features an all-weather resin wicker design. Made of a rust-resistant, powder-coated steel frame. Tempered glass and second shelf. Dimensions: 31 L x 19.8 W x 17.75" H (78.5 x 48.5 x 45 cm). Coordinates with the Portland Conversation Collection.
featured businesses for Automobile Repairing & Service around me
Featured businesses for Automobile Repairing & Service around me
Canadian Tire 5008 Domano Blvd, Prince George, BC

V2N 4V8

Canadian Auto Electric & Constant Velocity Drives 18-5310 Finch Ave E, Scarborough, ON

M1S 5E8


Distance -

21.1 km

Collision 360 Inc 185 Toryork Dr, North York, ON

M9L 1X9


Distance -

18.6 km

Undercar Auto Parts 644 Magnetic Dr, North York, ON

M3J 2C4


Distance -

16.7 km

A & A Bumper & Fender Ltd 1111 Finch Ave W, North York, ON

M3J 2E5


Distance -

15.0 km

Avenue Motor Works Inc. 681 Rowntree Dairy Rd., Vaughan, ON

L4L 5T9


Distance -

20.5 km

Penn Auto Parts 4A-128 Manville Rd, Scarborough, ON

M1L 4J5


Distance -

11.9 km

Ahon Auto Parts 2405 St Clair Ave W, Toronto, ON

M6N 1K9


Distance -

8.1 km

Luxury European Auto Parts Inc 125 Union St, Toronto, ON

M6N 3N4


Distance -

7.5 km

Consumer Auto Parts Inc 2562 St Clair Ave W, York, ON

M6N 1L7


Distance -

8.6 km

Steady Tire Supply Inc 106-1772 Broadway St, Port Coquitlam, BC

V3C 2M8


Distance -

3333.5 km

MTR Lighting & Performance 7-1110 Finch Ave W, North York, ON

M3J 2T2


Distance -

15.0 km