Canadian Tire
5008 Domano Blvd

,

Prince George

,

BC

V2N 4V8
Directions
250-964-8258
Canadian Tire - Details
Opening Hours
Please call 250-964-8258 for opening hours.
Categories
Canadian Tire - Deals
Kitchenaid Polished Egg Poacher, 4-Cup - $19.99 (70% Off)
KitchenAid Polished Egg Poacher features a removable non-stick tray and cups. Made with a reinforced non-stick coating to minimize food sticking to surface. Includes glass lids for easy food monitoring. Stay cool handles make it easy to move and hold when cooking. Poacher is 8" (20 cm) wide. 5 cup capacity.
Royale Facial Tissue, 6-Pk - $3.99 (45% Off)
Tissue is certified hypoallergenic - pure and gentle for even the most sensitive skin. Available in different boxes to match any decor. 6-pack.
Blue Nesting Tote, 63 L - $4.99 (50% Off)
Nesting tote is stackable and nestable with capacity of 63 L. Blue base with white lid. Dimensions: 25 1/2 W x 16.25 D x 13.5"H.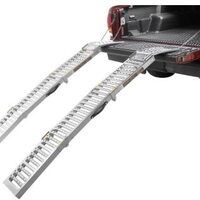 78.5-In Two-Way Load Or Lift Steel Ramp Pair - $99.99 ($100.00 Off)
Two-Way Load or Lift Steel Ramps are dual-purpose ramps that can be used to load equipment on trucks or trailers, or they can be folded and used as an oil change ramp.. Ramps fold away and store easily, taking up less space in your garage or truck. Made with a durable steel construction. Maximum load capacity of 2,500 lbs per ramp, or 5,000 lbs per pair as a folded vehicle lift ramp. 750 lbs per ramp, 1,500 lbs per pair as an extended loading ramp. Ramps sold as a pair. Includes angled starting ramps that can be used as deck plates, and two safety chains. 1" (2.5 cm) flat rungs with rounded eges, three with gripping cut-out holes, and one smooth rung pattern. Has a 1" (2.5 cm) rung-to-rung distance. Box includes two folding loading ramps with carry straps, two angled starting ramps with safety chains, two tire stops, and assembly hardware. Some assembly required, approximately 20 minutes. Always ensure loading ramps are securely fastened before loading to avoid slipping. Where possible, it is best to remove tailgates (or check their capacity) and winch your load up the ramp or walk it from the side. Always use caution when handling folding ramps near pinch points.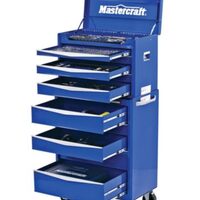 Mastercraft 5-Drawer Chest, Sky Blue, 30-In - $199.99 ($500.00 Off)
Mastercraft 5-Drawer Chest features a unique new "V" pull drawer front. 30" (76 cm) wide body. Includes an easy access top till. 50 lbs (23 kg) ball bearing slides. Drawer liners to provide grip under tools are included. Drawer has a 50 lb (22.5 kg) capacity. Total weight capacity of 250 lbs (113 kg) . Colour: Sky blue. Dimensions: 16 D x 30 W x 20.9" H (41 X 76 X 53 cm). Coordinates with Mastercraft 5-Drawer Cabinet (058-0968), shown in image.
featured businesses for Automobile Repairing & Service around me
Featured businesses for Automobile Repairing & Service around me
Canadian Tire 5008 Domano Blvd, Prince George, BC

V2N 4V8

Avenue Motor Works Inc. 681 Rowntree Dairy Rd., Vaughan, ON

L4L 5T9


Distance -

20.5 km

Collision 360 Inc 185 Toryork Dr, North York, ON

M9L 1X9


Distance -

18.6 km

Luxury European Auto Parts Inc 125 Union St, Toronto, ON

M6N 3N4


Distance -

7.5 km

A & A Bumper & Fender Ltd 1111 Finch Ave W, North York, ON

M3J 2E5


Distance -

15.0 km

Penn Auto Parts 4A-128 Manville Rd, Scarborough, ON

M1L 4J5


Distance -

11.9 km

Mister Starter - Zex Racing (Turbo-Chargers) 1670 O'Connor Dr, Toronto, ON

M4A 1W4


Distance -

10.1 km

Ahon Auto Parts 2405 St Clair Ave W, Toronto, ON

M6N 1K9


Distance -

8.1 km

Consumer Auto Parts Inc 2562 St Clair Ave W, York, ON

M6N 1L7


Distance -

8.6 km

Public Auto Parts Plus 1234 Dupont St, Toronto, ON

M6H 2A4


Distance -

5.0 km

MTR Lighting & Performance 7-1110 Finch Ave W, North York, ON

M3J 2T2


Distance -

15.0 km

Global Auto Parts 4000 Steeles Ave W, Woodbridge, ON

L4L 4V9


Distance -

18.9 km