Addition-Elle
154-6631 Island Hwy N

,

Nanaimo

,

BC

V9T 4T7
Directions
250-390-3321
Addition-Elle - Details
Located at 154-6631 Island Hwy N in Nanaimo, Addition-Elle is a company included in the women's apparel - retail category of Canpages website.
Phone 250-390-3321 to get in touch with Addition-Elle that is in your neighbourhood. Get the directions to this business from your location. Or, simply add this company to your personal business favorites list.
Finally, feel free to send this page to your friends by accessing Facebook or Twitter links. It's also possible to save this business information to your Outlook contacts.
Opening Hours
Please call 250-390-3321 for opening hours.
Categories
Addition-Elle - Deals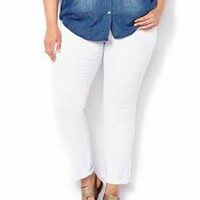 Slightly Curvy Bootleg Denim Pant - $34.99 ($25.01 Off)
A gorgeous pair of denim pants with a bootleg cut, a fonctional fly, and 5 pockets. These are a summer must-have, and can match with any top! Versatility and style all in one!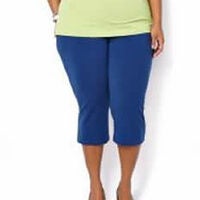 Jersey Capri Pant - $24.49 ($15.51 Off)
Achieve comfort and style with these fabulous plus-size capris made in soft jersey. Elastic waist and fake front fly. Inseam: 19 inches. Available in neutral colours, which make it a perfectly versatile casual style!
Savvy Fit Slit Jean Capri - $24.49 ($15.51 Off)
Fashion meets fabulous fit in our Savvy capri jeans! Features fake fly front with elastic waistband, functional pockets at front and back, and slits at bottom leg. Light sandblast effect at front and back. Inseam: 19 inches. Pair it with any top!
Curvy Fit Cropped Capri Pant - $27.99 ($17.01 Off)
This plus-size cropped pant is a modern classic! Features fly and button closure at front, functional pockets at front and non-functional pockets at back. Designed to flatter smaller waists with fuller hips, it is structured for a chic, work-ready style. Inseam: 24 inches. Pair it with a tee and flats or with a blazer and heels.
Slightly Curvy Fit Denim Capri Pant - $27.99 ($20.01 Off)
These trendy white denim capri pants are perfect to make a summer statement! These pants are ideal for well defined waists, and feature 5 functional pockets and stylish front thigh rips. Inseam: 21 inches
featured businesses for Women's Apparel - Retail around me
Featured businesses for Women's Apparel - Retail around me