Coast Mountain Sports
60-20150 Langley Bypass

,

Langley

,

BC

V3A 9J8
Directions
604-530-1404
Coast Mountain Sports - Details
Situated at 60-20150 Langley Bypass near you, Coast Mountain Sports is a merchant in the sporting goods - retail section of Canpages.ca online directory.
Phone 604-530-1404 to contact Coast Mountain Sports that is close to your area. Find the directions to this merchant from your current location. Or, simply add this merchant to your business favorites at the bottom of this page.
Finally, you can share this with your contacts by clicking Facebook or Twitter icons. It's also possible to save this merchant information to your Outlook contacts.
Opening Hours
Please call 604-530-1404 for opening hours.
Categories
Coast Mountain Sports - Deals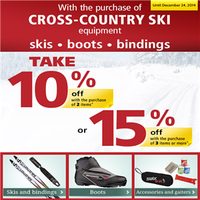 10% - 15% Off Select Cross-Country Ski Equipment Purchases
Get 10% - 15% off select cross-country ski equipment purchases at Atmosphere.
10% off the purchase of 2 items
15% off the purchase of 3+ items
Valid until Dec 24, 2014. om this promotion. Excludes layaways, special orders and previous purchases.
Posted:
2014-11-12
| Starts:
2014-10-18
| Expires:
2014-12-25
Deal source:
www.atmosphere.ca
Free Cross Country Ski Pass w/ Purchase of Skis
Purchase a pair of skis at Atmosphere and receive a free day pass to one of Sépaq's Cross Country Ski Centres.
Valid on purchases made until Dec 24, 2014. See store for full details.
Posted:
2014-11-12
| Starts:
2014-11-12
| Expires:
2014-12-25
Deal source:
www.atmosphere.ca
featured businesses for Sporting Goods - Retail around me
Featured businesses for Sporting Goods - Retail around me
Coast Mountain Sports 60-20150 Langley Bypass, Langley, BC

V3A 9J8

Toronto Hockey Repair 1592 Bloor St W, Toronto, ON

M6P 1A7


Distance -

5.6 km

Play It Again Sports 2488 Gerrard St E, Scarborough, ON

M1N 1W8


Distance -

9.2 km

Nike Canada Corp - Toronto Customers Call 175 Commerce Valley Dr W, Thornhill, ON

L3T 7P6


Distance -

21.5 km

Muskoka Surfboard Co 1001 Nithgrove Rd RR 1, Baysville, ON

P0B 1A0


Distance -

173.7 km

Avenue Road Sports 1775 Avenue Rd, North York, ON

M5M 3Y8


Distance -

9.4 km

Iklick Internet Lounge 1021 Pape Ave, East York, ON

M4K 3V8


Distance -

5.3 km