Dairy Queen - Delta
8555 120th St

,

Delta

,

BC

V4C 6R2
Directions
604-591-3131
Dairy Queen - Delta - Details
Opening Hours
Please call 604-591-3131 for opening hours.
Categories
Dairy Queen - Delta - Deals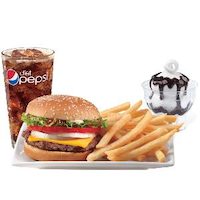 Dairy Queen: $6 Chicken Wrap/3-Pc Chicken Strip/Deluxe Cheeseburger Meal Deal + Upgrade To A Small Blizzard for $1!
Dairy Queen's introducing new $6 meal deals! For just $6, you can get a sandwich, wrap or chicken strips with fries, drink and a sundae!
At the moment, these are the three meals available:
Chicken Wrap Meal (Grilled or Crispy)
3-Piece Chicken Strip Meal
Deluxe Cheeseburger Meal
Plus, if you're feeling a little more indulgent, you can upgrade your sundae to a small Blizzard for just $1, which is perfect timing as S'mores Blizzards are back! Keep in mind that taxes will be extra.
This offer is valid at all participating Dairy Queen restaurants. Click here to find your local DQ!
Dairy Queen: Sign Up for the Email Newsletter + Get Six Buy One, Get One Blizzard Coupons Per Year
If you sign up for Dairy Queen's email newsletter, you'll get six Buy One, Get One Free Blizzard coupons over the course of a year! The Blizzard is a tasty treat and as far as we're concerned, the only thing better than one Blizzard is two Blizzards for the price of one!
The coupons expire two weeks from send date. To find your nearest Dairy Queen, visit their restaurant locator.
Dairy Queen Sweet Deals Menu Items - 2 for $4, 3 for $5 or 4 for $6
Save money with
Dairy Queen's Sweet Deals Menu
combos -- any two items are $4, any three items are $5, and any four items are $6.
Choose from these 9 menu items:
Cheeseburger
Hot Dog
Chicken Wrap
Regular French Fries
Onion Rings
Side Salad
Medium Drink
Small Sundae
Small Soft Cone
Valid at participating
Dairy Queen locations
across Canada.
featured businesses for Restaurants around me
Featured businesses for Restaurants around me
Dairy Queen - Delta 8555 120th St, Delta, BC

V4C 6R2

Red Lobster 790 Burnhamthorpe Rd W, ,

L5C 3X3


Distance -

23.0 km

Bardi's Steak House 56 York St, Toronto, ON

M5J 1S8


Distance -

0.3 km

Bairrada Churrasqueira Grill 1002 College Street, Toronto, ON

M6H 1A7


Distance -

3.5 km

Honeybee Restaurant 2028 Queen St E, Toronto, ON

M4L 1J4


Distance -

7.4 km

Astoria Shish Kebob House 390 Danforth Ave, Toronto, ON

M4K 1P3


Distance -

4.2 km

Copa Cabana Grilled Brazilian 150 Eglinton Ave E, Toronto, ON

M4P 1E8


Distance -

6.6 km

Yumei Sushi 2116 Queen St E, Toronto, ON

M4E 1E2


Distance -

7.7 km

KI Restaurant & Lounge 181 Bay St, Toronto, ON

M5J 2T3


Distance -

0.5 km

Moxie's Grill & Bar
Distance -

17.1 km

El Trompo Taco Bar & Cactus Grill 277 Augusta Ave, Toronto, ON

M5T 2M1


Distance -

1.6 km

Copa Cabana 230 Adelaide St W, Toronto, ON

M5H 1W7


Distance -

0.2 km