Subway Sandwich - Details
Opening Hours
Please call 403-938-4994 for opening hours.
Categories
Subway Sandwich - Deals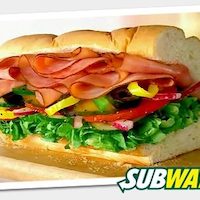 Subway Card Event: Purchase a $25 Cash Card & Get a Free Regular Six-Inch Sub
Subway's Card Event is back for the holidays!
Load $25 onto a Subway Card either for yourself or as a gift, and you'll be able to instantly get a 6-inch sub of your choice for free! This freebie must be redeemed during the same visit that you load the Subway Card so make sure to go hungry! Cards must be loaded in-store and you cannot use the Subway Card to purchase another Subway Card.
This special promotion is available at participating Subway locations for a limited time only. Follow this link to find a location near you.
featured businesses for Restaurants around me
Featured businesses for Restaurants around me
Subway Sandwich 420 Big Rock Ln, Okotoks, AB

T1S 1A9

Bardi's Steak House 56 York St, Toronto, ON

M5J 1S8


Distance -

0.3 km

Bairrada Churrasqueira Grill 1002 College Street, Toronto, ON

M6H 1A7


Distance -

3.5 km

Red Lobster 790 Burnhamthorpe Rd W, ,

L5C 3X3


Distance -

23.0 km

Honeybee Restaurant 2028 Queen St E, Toronto, ON

M4L 1J4


Distance -

7.4 km

The Bottom Line Restaurant & Bar 22 Front St W, Toronto, ON

M5J 1C4


Distance -

0.6 km

Bodega Restaurant Inc 30 Baldwin St, Toronto, ON

M5T 1L3


Distance -

1.1 km

Monarchs Pub 33 Gerrard St W, Toronto, ON

M5G 1Z4


Distance -

1.2 km

Lake House Bar & Grill 2252 Queen St E, Toronto, ON

M4E 1G2


Distance -

8.4 km

Chartreuse Restaurant 10512 Islington Ave, Kleinburg, ON

L0J 1C0


Distance -

29.2 km

El Trompo Taco Bar & Cactus Grill 277 Augusta Ave, Toronto, ON

M5T 2M1


Distance -

1.6 km

la Creole 810 St Clair Ave W, Toronto, ON

M6C 1B6


Distance -

5.1 km