Subway Sandwiches & Salads
94A 8 St NW

,

Medicine Hat

,

AB

T1A 6P1
Directions
403-529-0106
Subway Sandwiches & Salads - Details
Opening Hours
Please call 403-529-0106 for opening hours.
Categories
Subway Sandwiches & Salads - Deals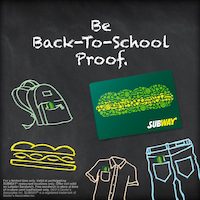 Subway: Purchase a $25 Cash Card & Get a Free Regular Six-Inch Sub
Looking for lunch options for your child? Buy them a $25 cash card from Subway and treat yourself to a free regular six-inch sub!
If you're considering this offer, keep in mind that you'll need to order your free sub at the same time that you reload or purchase the $25 cash card. You'll get to choose any regular sub as your freebie with the exception of the Lobster Sandwich.
This special back-to-school promotion is available at participating Subway locations for a limited time only.
Follow this link to find a location near you.
featured businesses for Restaurants around me
Featured businesses for Restaurants around me
Subway Sandwiches & Salads 94A 8 St NW, Medicine Hat, AB

T1A 6P1

Bairrada Churrasqueira Grill 1002 College Street, Toronto, ON

M6H 1A7


Distance -

3.5 km

Red Lobster 790 Burnhamthorpe Rd W, ,

L5C 3X3


Distance -

23.0 km

Bardi's Steak House 56 York St, Toronto, ON

M5J 1S8


Distance -

0.3 km

The Keg Steakhouse & Bar
Distance -

3387.4 km

The Bottom Line Restaurant & Bar 22 Front St W, Toronto, ON

M5J 1C4


Distance -

0.6 km

Honeybee Restaurant 2028 Queen St E, Toronto, ON

M4L 1J4


Distance -

7.4 km

Yumei Sushi 2116 Queen St E, Toronto, ON

M4E 1E2


Distance -

7.7 km

Astoria Shish Kebob House 390 Danforth Ave, Toronto, ON

M4K 1P3


Distance -

4.2 km

Annapurna Vegetarian Restaurant 1085 Bathurst St, Toronto, ON

M5R 3G8


Distance -

3.6 km

Bodega Restaurant Inc 30 Baldwin St, Toronto, ON

M5T 1L3


Distance -

1.1 km

Monarch's Pub 33 Gerrard St W, Toronto, ON

M5G 1Z4


Distance -

1.2 km